Superman
Action Comics, Vol. 3 #1002A
Invisible Mafia, Part 2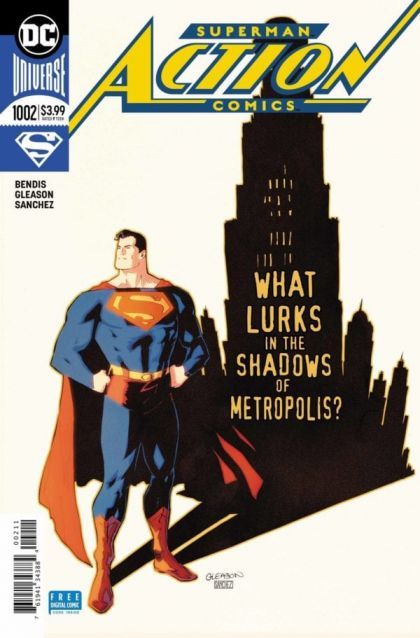 Rel: Aug 22, 2018 - Pub: Oct 2018
Super-Heroes
Modern Age | Color | USA | English
Regular Patrick Gleason Cover
A bold new era of the adventures of the Man of Steel continues as bodies fall from the sky and buildings burn around the City of Tomorrow. Even Superman must wonder how well he knows the city he protects as an unknown criminal element begins to rise throughout Metropolis.
---
Writer
Brian Michael Bendis
Penciller
Patrick Gleason
Inker
Patrick Gleason
Colorist
Alejandro Sanchez
Letterer
Josh Reed
Cover Artist
Patrick Gleason
Cover Colorist
Alejandro Sanchez
Editor
Jessica Chen, Brain Cunningham

,

Michael 'Mike' Cotton

Editor in Chief
Robert 'Bob' Harras
---
Lois Lane
Margaret 'Maggie' Sawyer
Whisper
Perry White
Boss Moxie
Catherine 'Cat' Grant
Superman (Kal-El / Clark Kent)
Guardian (James 'Jim' Harper)
Trish Q.
Red Cloud (Robinson Goode)
Mister Strong
Yogurt (James)
---
---