Superman
Action Comics, Vol. 3 #1004A
Invisible Mafia, Part 4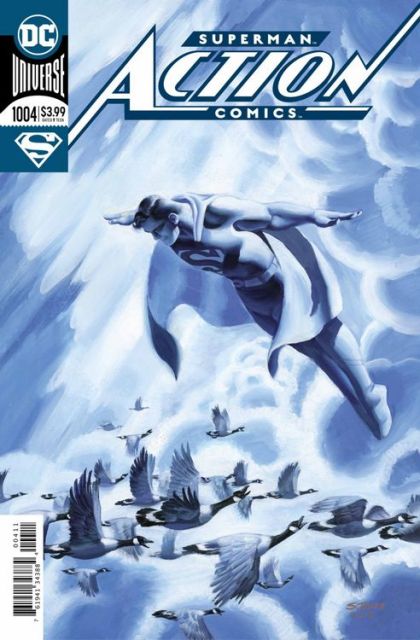 Rel: Oct 24, 2018 - Pub: Dec 2018
Super-Heroes
Modern Age | Color | USA | English
Regular Steve Rude Enhanced Foil Cover
Superman confronts Lois Lane and wants answers: Where is Jon Kent? What happened during Lois' trip into space with Jor-El? Why didn't she contact the Man of Steel when she returned? And most importantly, does she still love him? Or is the world-famous reporter looking to let Clark Kent down easy? Lois and Clark's relationship gets redefined in this issue illustrated by acclaimed artist Ryan Sook!
---
Writer
Brian Michael Bendis
Penciller
Ryan Sook
Inker
Wade von Grawbadger
Colorist
Brad Anderson
Letterer
Josh Reed
Cover Artist
Steve Rude
Editor
Brian Cunningham, Jessica Chen

,

Michael 'Mike' Cotton

Editor in Chief
Robert 'Bob' Harras
---
Bug-Eyed Bandit (Bertram Larvan)
Lois Lane
Lex Luthor
Abra Kadabra (Abhararakadhararbarakh)
Heat Wave (Mick Rory)
Perry White
Captain Cold (Leonard Snart)
Girder (Tony Woodward)
Cicada (David Hersch)
Double Down (Jeremy Tell)
Dr. Alchemy (Albert Desmond)
Superman (Kal-El / Clark Kent)
James Bartholomew 'Jimmy' Olsen
Murmur (Michael Christian Amar)
Copperhead (Jane Doe)
Trish Q.
Red Cloud (Robinson Goode)
---
---