Superman
Action Comics, Vol. 3 #1004C
Invisible Mafia, Part 4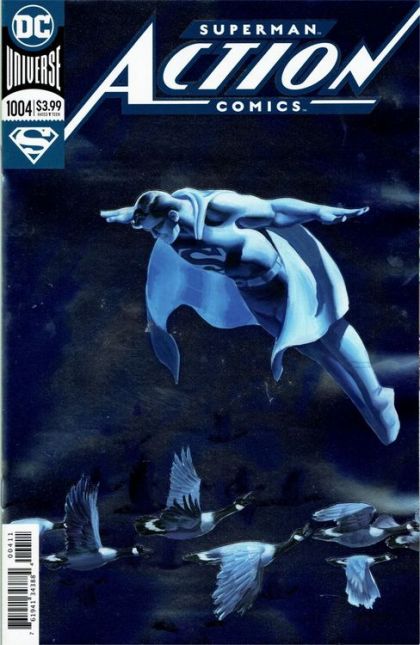 Rel: Oct 24, 2018 - Pub: Dec 2018
Super-Heroes
Modern Age | Color | USA | English
Foil Cover
Superman confronts Lois Lane and wants answers: Where is Jon Kent? What happened during Lois' trip into space with Jor-El? Why didn't she contact the Man of Steel when she returned? And most importantly, does she still love him? Or is the world-famous reporter looking to let Clark Kent down easy? Lois and Clark's relationship gets redefined in this issue illustrated by acclaimed artist Ryan Sook!
---
Writer
Brian Michael Bendis
Penciller
Ryan Sook
Inker
Wade von Grawbadger
Colorist
Brad Anderson
Letterer
Josh Reed
Cover Artist
Steve Rude
Editor
Brian Cunningham, Mike Cotton

,

Jessica Chen
---
Bug-Eyed Bandit (Bertram Larvan)
Weather Wizard (Mark Mardon)
Lois Lane
Lex Luthor
Perry White
Girder (Tony Woodward)
Double Down (Jeremy Tell)
Dr. Alchemy (Albert Desmond)
Superman (Kal-El / Clark Kent)
James Bartholomew 'Jimmy' Olsen
Murmur (Michael Christian Amar)
Copperhead (Jane Doe)
Robinson Goode
Trish Q.
---
---