Adventure Time, Vol. 1 #74A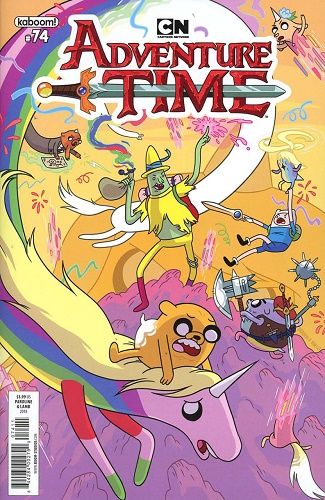 Rel: Mar 07, 2018 - Pub: Mar 2018
Kaboom!
Adventure, Children, Comedy, Fantasy
Modern Age | Color | USA | English
Magic Man is causing all of Ooo to lose its color! Only the brave hero holding this book has the power to bring color back to Ooo and set Everything right before Finn, Jake, and everyone else is in black-and-white forever!
---
Writer
Conor McCreery
Artist
Jorge Monlongo
Colorist
Maarta Laiho
Letterer
Mike Fiorentino
Cover Artist
Shelli Paroline, Braden Lamb
Editor
Whitney Leopard, Katalina Holland

,

Michael Moccio
---
Finn the Human
Jake the Dog
Princess Bubblegum (Bonnibel Bubblegum)
Peppermint Butler
Magic Man
Princess Cockatoo
---
---