X-Men
All-New X-Men, Vol. 1 #1A
What Happens Now?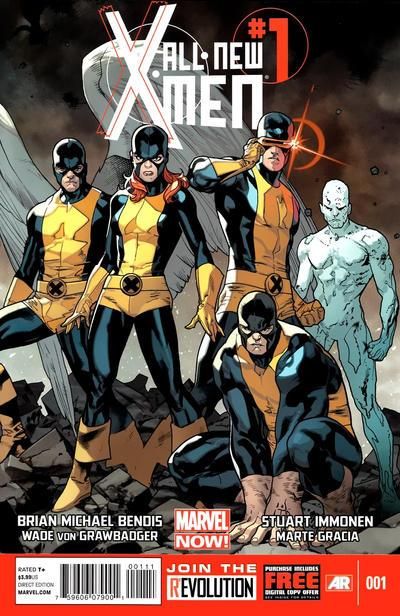 Rel: Nov 14, 2012 - Pub: Jan 2013
Action, Adventure, Super-Heroes
Modern Age | Color | USA | English
Regular Stuart Immonen Cover
It's a blast from the past as the original five students of Professor X - Cyclops, Marvel Girl, Iceman, Angel and Beast - are plucked from the past and brought to the present. But what they find, the state that their future selves are in and the state of Xavier's dream, is far from the future they dreamed of. And how will the X-Men of the present deal with their past coming crashing forward?
---
| | |
| --- | --- |
| Writer | Brian Michael Bendis |
| Penciller | Stuart Immonen |
| Inker | Wade von Grawbadger |
| Colorist | Martegod Gracia |
| Letterer | Cory Petit |
| Cover Penciller | Stuart Immonen |
| Cover Inker | Wade von Grawbadger |
| Cover Colorist | Martegod Gracia |
| Editor | Nick Lowe |
| Editor in Chief | Axel Alonso |
---
Cyclops (Scott Summers)
White Queen (Emma Frost)
Magneto (Max / Erik Magnus Eisenhardt / Lehnsherr)
Magik (Illyana Nikolievna Rasputina)
Beast (Henry 'Hank' McCoy)
Storm (Ororo Munroe)
Shadowcat (Katherine 'Kitty' Pryde)
Iceman (Robert 'Bobby' Drake)
Christopher (Marvel Mutant)
Eva (Marvel Mutant)
Eva Bell
Christopher Muse
David
Steven
Angel (Earth-TRN240) (Warren Worthington III)
Beast (Earth-TRN240) (Henry 'Hank' McCoy)
Iceman (Earth-TRN240) (Robert 'Bobby' Drake)
Marvel Girl (Earth-TRN240) (Jean Grey)
Cyclops (Earth-TRN240) (Scott Summers)
---
---