Batman: A Lonely Place of Dying #TPB
A Lonely Place Of Dying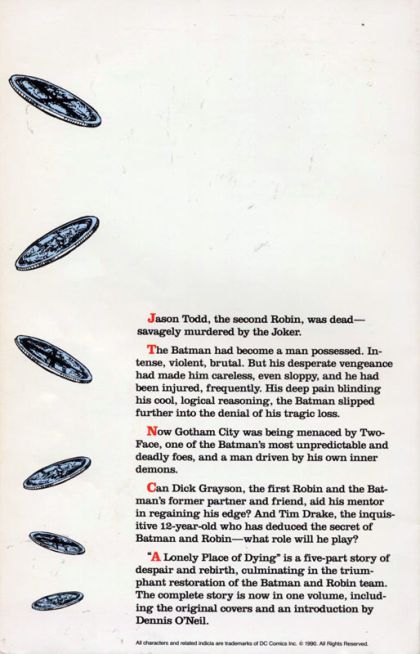 Rel: 1990 - Pub: 1990
Adventure, Super-Heroes
Modern Age | Color | USA | English
Trade Paperback | 128 pages | $3.95
Jason Todd, the second Robin, was dead--savagely murdered by the Joker. The Batman had become a man possessed. Intense, violent, brutal. But his desparate vengeance had made him careless, even sloppy, and he had been injured, frequently. His deep pain blinding his cool, logical reasoning, the Batman slipped further into the deinal of his tragic loss. Now Gotham City was being menaced by Two-Face, one of the Batman's most unpredictable and deadly foes, and a man driven by his own inner demons. Can Dick Grayson, the first Robin and the Batman's former partner and friend, aid his mentor in regaining his edge? And Tim Drake, the inquisitive 12-year-old who has deduced the secret of Batman and Robin--what role will he play?

"A Lonely Place of Dying" is a five-part story of despair and rebirth, culminating in the triumphant restoration of the Batman and Robin team. The complete story is now in one volume, including the original covers and an introduction by Dennis O'Neil.

Collects Batman #440-442 and The New Teen Titans #60-61.
---
| | |
| --- | --- |
| Writer | Marv Wolfman |
| Plotter | George Pérez, Marv Wolfman |
| Penciller | Tom Grummett, Jim Aparo |
| Inker | Bob McLeod, Mike DeCarlo |
| Colorist | Adrienne Roy |
| Letterer | John Costanza |
| Layouts | George Pérez |
| Cover Artist | George Pérez |
---
Nightwing (Richard 'Dick' Grayson)
Alfred Pennyworth
Raven (Rachel Roth)
Cyborg (Victor Stone)
Two-Face (Harvey Dent)
Troia (Donna Troy)
Joker
Starfire (Koriand'r / Kory Anders)
Jericho (Joseph Wilson)
James 'Jim' Gordon
Speedy (Roy Harper)
Changeling (Garfield Logan)
Batman (Bruce Wayne)
Robin (Tim Drake)
---
---