Batman By Jeph Loeb And Tim Sale Omnibus HC #HC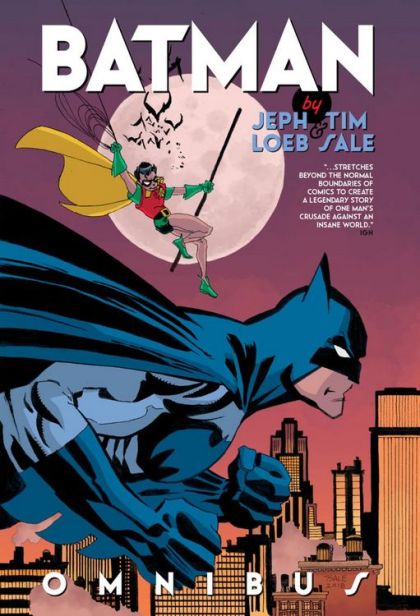 Rel: Sep 05, 2018 - Pub:
Super-Heroes
Modern Age | Color | USA | English
Hardcover | 1176 pages | $125.00
The legendary team of writer Jeph Loeb and artist Tim Sale devised some of the most memorable Batman tales of all time - and now their stories starring the Dark Knight (not to mention Catwoman!) are all collected in a single omnibus. This amazing new title includes BATMAN: LEGENDS OF THE DARK KNIGHT HALLOWEEN SPECIAL #1, BATMAN: MADNESS #1, BATMAN: GHOSTS #1, BATMAN: THE LONG HALLOWEEN #1-13, BATMAN: DARK VICTORY #0-13 and CATWOMAN: WHEN IN ROME #1-6, plus stories from SUPERMAN/BATMAN SECRET FILES 2003, SUPERMAN/BATMAN #26 and SOLO #1.
---
Writer
Jeph Loeb
Artist
Tim Sale
Colorist
Gregory Wright, Dave Stewart
Letterer
Todd Klein, Richard Starkings
Separator
Android Images, Heroic Age Studios
Cover Artist
Tim Sale
Editor
Mark Chiarello, Chuck Kim

,

Bill Kaplan, Michael Siglain, Archie Goodwin, Denny O'Neil
---
Alfred Pennyworth
Harvey Dent
Thomas Wayne
Cheetah (Barbara Minerva)
Two-Face (Harvey Dent)
Mad Hatter (Jervis Tetch)
Lucius Fox
Joker
Martha Wayne
Sal Maroni
Barbara Gordon
Solomon Grundy (Cyrus Gold)
Selina Kyle
Robin (Dick Grayson)
Carmine Falcone
Catwoman (Selina Kyle)
Poison Ivy (Pamela Isley)
Solomon Grundy
Arnold Flass
Riddler (Edward Nigma)
James 'Jim' Gordon
James Gordon Jr.
Batman (Bruce Wayne)
Mario Falcone
Calender Man (Julian Day)
Gillian B. Loeb
Penguin (Oswald Chesterfield Cobblepot)
Calendar Man (Julian Day)
Gilda Dent
C.C. Haly
Dr. Leslie Thompkins
Anthony 'Tony' Zucco
Johnny Viti
Mr. Freeze (Dr. Victor Fries)
James Gordon
Penguin (Oswald Cobblepot)
Scarecrow (Dr. Jonathan Crane)
Barbara Eileen Gordon
Holiday (Alberto Falcone)
Richard Grayson
Janice Porter
Alberto Falcone
Edward Skeevers
Sofia Gigante
Pino Maroni
Umberto Maroni
Lucia Vitti
Jillian Maxwell
Richard Daniel
Carla Viti
Mickey Sulivan
Luigi Maroni
Vincent Falcone
Christopher Castillo
Fillipe Verinni
Guillermo Verinni
---
---