Batman
Batman, Vol. 1 #700C
Time and the Batman, Yesterday/Today/Tomorrow/And Tomorrow...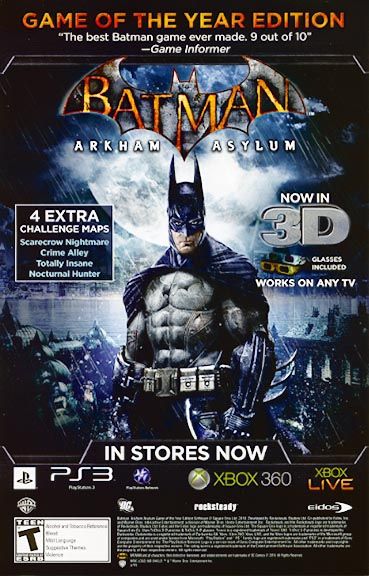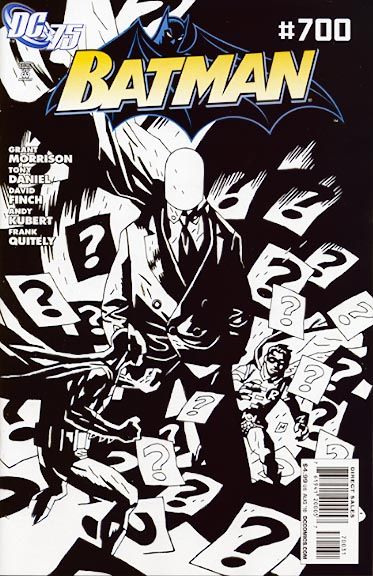 Rel: Jun 09, 2010 - Pub: Aug 2010
Action, Adventure, Super-Heroes
Modern Age | Color | USA | English
Mike Mignola DC 75th Anniversary Black And White Variant Cover
Written by GRANT MORRISON ? Art by TONY DANIEL, ANDY KUBERT & FRANK QUITELY Cover by DAVID FINCH ? 1:25 'DC 75th Anniversary' variant cover by MIKE MIGNOLA 1:75 'DC 75th Anniversary' variant black and white cover by MIKE MIGNOLA Grant Morrison returns to BATMAN with this oversized special! And he's brought an all-star roster of artists along with him including Andy Kubert, Tony Daniel and Frank Quitely to celebrate this milestone 700th issue featuring stories spotlighting each of the Batmen from different eras - Bruce Wayne, Dick Grayson and Damian Wayne. You won't want to miss this blockbuster story that paves the way for the return of Bruce Wayne and sports mind-boggling covers by superstars David Finch (BRIGHTEST DAY) and Mike Mignola (BATMAN: GOTHAM BY GASLIGHT, Hellboy)!
---
Writer
Grant Morrison
Artist
Andy Kubert, Frank Quitely

,

Scott Kolins, Tony S. Daniel

Penciller
David Finch
Inker
Richard Friend
Colorist
Alex Sinclair, Brad Anderson

,

Tony Aviña, Peter Steigerwald, Scott Hannin

Letterer
Jared K. Fletcher
Cover Artist
Mike Mignola
Editor
Janelle Siegel, Mike Marts
---
Oracle (Barbara Gordon)
Mad Hatter (Jervis Tetch)
Joker
Carter Nichols
Catwoman (Selina Kyle)
Riddler (Edward Nigma)
Mr. Freeze (Victor Fries)
James 'Jim' Gordon
Robin (Damian Wayne)
Batman (Bruce Wayne)
Batman (Damian Wayne)
Batman (Terrence 'Terry' McGinnis)
Batman (Dick Grayson)
Scarecrow (Jonathan Crane)
Penguin (Oswald Chesterfield Cobblepot)
---
---