Captain America
Captain America: Winter Soldier #1HC-A
Winter Soldier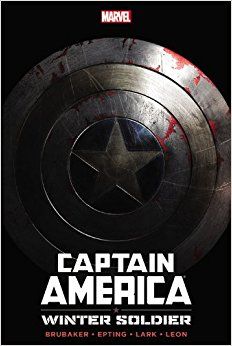 Rel: Jan 2014 - Pub: Jan 2014
Action, Adventure, Super-Heroes
Modern Age | Color | USA | English
Premiere Edition
Hardcover | 168 pages | $34.99
For more than fifty years, the Soviets employed an undercover agent - an unstoppable, untraceable killer known as the Winter Soldier. His suspected identity? Bucky Barnes, Captain America's one-time partner, thought to have died during World War II. Now, the Winter Soldier is back, working for the ruthless General Lukin - who has obtained a functional Cosmic Cube, a weapon of limitless power that can bend reality itself. Vowing to end Lukin's reign of terror and destruction, Captain America relentlessly tracks the Cube - only to find himself face-to-face against the Winter Soldier. Will Cap be forced to battle his resurrected partner so soon after finally learning the astonishing truth? Five-time Eisner Award-nominee Ed Brubaker's tale of suspense and intrigue has had both critics and fans reeling! Featuring never-before-seen extras and a new introduction by Ed Brubaker! Collecting CAPTAIN AMERICA (2005) #1-9 and #11-14.
---
| | |
| --- | --- |
| Writer | Ed Brubaker |
| Artist | Steve Epting, Michael Lark |
| Penciller | John Paul Leon |
| Inker | Tom Palmer Sr. |
| Colorist | Frank D'Armata |
| Letterer | Randy Gentile |
| Cover Artist | Steve Epting |
| Editor | Tom Brevoort |
---
Sharon Carter
Aleksander Lukin
Bucky (James Buchanan Barnes)
Nicholas 'Nick' Fury Sr.
Crossbones (Brock Rumlow)
Red Skull (Johann Schmidt)
Captain America (Steve Rogers)
---
---