Dark Reign: Accept Change #TP
Dark Reign: New Nation, Secret Invasion: Dark Reign, Dark Avengers #1, Uncanny X-Men Annual #2, Dark Reign Files, and Marvel Spotlight: Dark Reign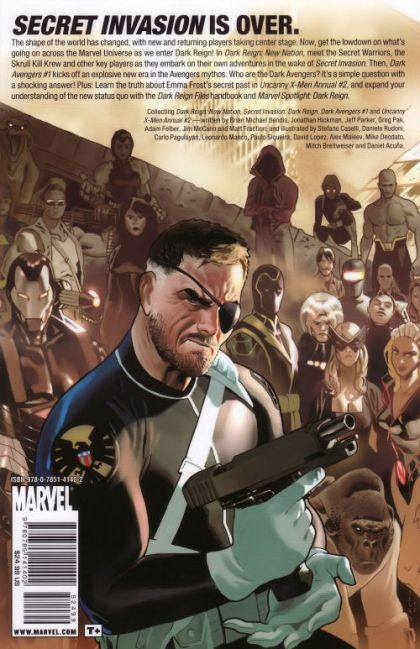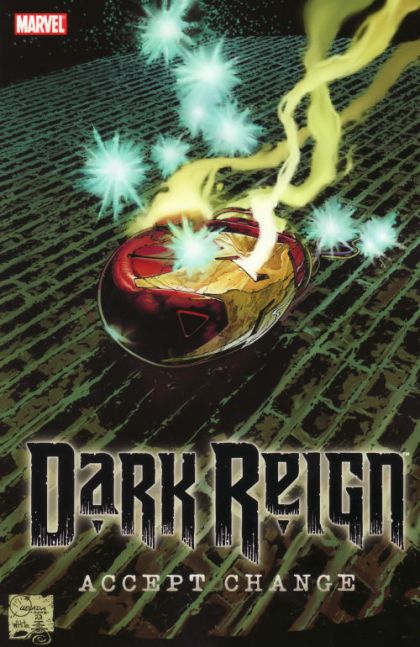 Rel: Jun 24, 2009 - Pub: Aug 2009
Action, Adventure, Super-Heroes
Modern Age | Color | USA | English
Trade Paperback | 256 pages | $24.99
Norman Osborn has called together a select group of movers and shakers to offer them a different, better way to do things. This includes various levels of autonomy and immunity, provided the players all play by his rules.
---
Writer
Chris Arrant, David Wiltfong

,

Eric J. Moreels, Jeff Parker, Sheila Johnson, Michael Hoskin, Adam Felber, Jim McCann, Gabriel Schechter, Ronald Byrd, Stuart Vandal, Anthony Flamini, Madison Carter, Brian Michael Bendis, Mark O'English, Markus Ettinger, John Rhett Thomas, Matt Fraction, Dugan Trodglen, Jonathan Hickman, Chad Anderson, Rich Green

Penciller
Stefano Caselli, Alex Maleev

,

Mike Deodato Jr., David López, Mitch Breitweiser, Carlo Pagulayan, Paulo Siqueira, Daniel Acuña

Inker
Amilton Santos, Álvaro López

,

Paulo Siqueira, Jason Paz

Colorist
Jana Schirmer, Chris Sotomayor

,

Rain Beredo, Dean White, Daniele Rudoni, Elizabeth 'Bettie' Breitweiser

Letterer
Chris Eliopoulos, Nate Piekos

,

Dave Lanphear, Joe Caramagna, Cory Petit

Cover Penciller
Joe Quesada
Cover Inker
Danny Miki
Cover Colorist
Dean White
Editor
Tom Brevoort, Mark Paniccia

,

Cory Levine, Stephen Wacker, Nick Lowe, Jeanine Schaefer

Editor in Chief
Joe Quesada
---
Selene (Selene Gallio)
Donald Pierce
Sebastian Shaw
Nicholas 'Nick' Fury Sr.
Sentry (Robert Reynolds)
Ryder (Skrull Kill Krew)
Ms. Marvel (Carol Danvers)
Loki (Loki Laufeyson)
Druid (Sebastian Druid)
Suzi Endo
Marvel Boy (Robert Grayson)
Gorilla-Man (Kenneth Hale)
Norman Osborn
Swordsman (Andreas von Strucker)
Cyclops (Scott Summers)
Hood (Parker Robbins)
Ronin (Clint Barton)
Green Goblin (Norman Osborn)
Captain America (Steve Rogers)
Jimmy Woo
White Queen (Emma Frost)
Maria Hill
Quake (Daisy Johnson)
Ghost (Marvel)
Timothy 'Dum Dum' Dugan
Stonewall (Jerry Sledge)
Iron Patriot (Norman Osborn)
Captain Marvel (Noh-Varr)
Wolverine (Daken Akihiro)
Spider-Man (Mac Gargan)
Victoria Hand
Slingshot (Yo Yo Rodriguez)
Phobos (Alexander Aaron)
Anton Aubuisson III
Morgana Le Fay (Marvel)
Ms. Marvel (Karla Sofen)
Ares (John Aaron)
Hellfire (J.T. Slade)
Hawkeye (Lester / Benjamin Poindexter)
War Machine (James 'Rhodey' Rhodes)
Sub-Mariner (Namor McKenzie)
Iron Man (Anthony 'Tony' Stark)
Namora (Aquaria Nautica Neptunia)
Dr. Doom (Victor von Doom)
Shadowcat (Katherine 'Kitty' Pryde)
M-11 the Human Robot
Mockingbird (Barbara 'Bobbi' Morse-Barton)
---
---