Deathstroke / Yogi Bear Special #1B
Jellystone Dark / Secret Squirrel Part One: Pinkie Problems!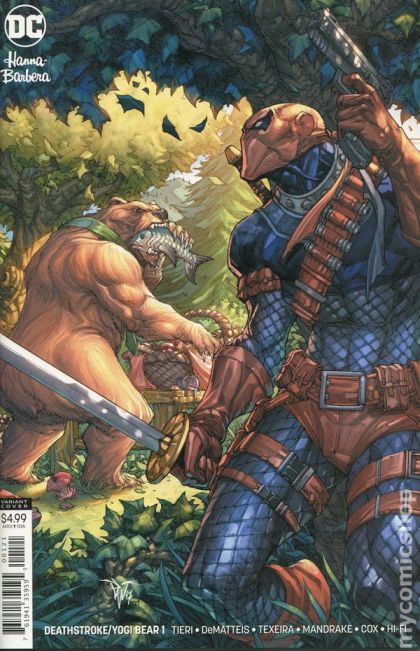 Rel: Oct 31, 2018 - Pub:
Super-Heroes
Modern Age | Color | USA | English
Variant Paolo Pantalena Cover
In Yellowstone Park, legends speak of a spirit bear referred to as "the Yogi," which few if any have actually encountered. Real or not, when a bear seems to have graduated from stealing picnic baskets to kidnapping actual campers, Ranger Smith decides it's time to stop this menace-so he calls on the services of Slade Wilson-a.k.a. Deathstroke-to get the job done. Plus, part one of a Secret Squirrel backup story written by J.M. DeMatteis.
---
Writer
Frank Tieri, J. M. DeMatteis
Artist
Tom Mandrake, Mark Texeira
Colorist
Jeromy Cox, Hi-Fi Colour Design
Letterer
Travis Lanham, Wes Abbott
Cover Artist
Paolo Pantalena, Arif Prianto
Editor
Harvey Richards, Jim Chadwick

,

Liz Erickson
---
---