Fantastic Four By Waid & Wieringo Omnibus HC #HC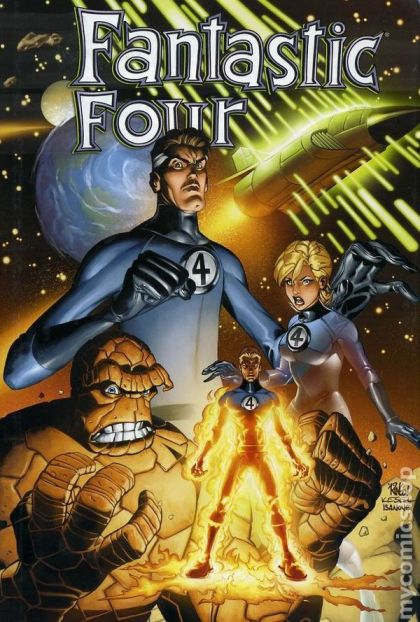 Rel: Dec 05, 2018 - Pub:
Super-Heroes
Modern Age | Color | USA | English
Hardcover | 896 pages | $100.00
Mark Waid and Mike Wieringo deliver some of the most daring and humorous adventures the Fantastic Four have ever seen! Giant bugs! Living equations! Johnny Storm, C.E.O.! Exploding unstable molecules! The secret behind the Yancy Street Gang! And Doctor Doom's plans are truly unthinkable! Victor will push the FF beyond their limits - and when his actions lead to the death of one of their own, they'll storm the gates of Heaven to save their beloved teammate! Plus: Spider-Man and the Human Torch take on Hydro-Man! But with the Fantastic Four's reputation in tatters, is associating with a misunderstood wall-crawler really wise? And when Manhattan finds itself surrounded by a fleet of miles-high alien spacecraft, it's time for the Fantastic Four to do what they do best! Collecting FANTASTIC FOUR (1998) #60-70, #500-524 and #500 DIRECTOR'S CUT. Rated T+
---
Writer
Karl Kesel, Mark Waid
Artist
Casey Jones, Mark Buckingham

,

Mike Wieringo

Penciller
Mark Buckingham, Paco Medina

,

Howard Porter, Mike Wieringo

Inker
Norm Rapmund, Danny Miki

,

Juan Vlasco, Karl Kesel, Roy Allan Martinez, Lary Stucker

Colorist
Matt Milla, Paul Mounts

,

Avalon Studios

Letterer
Rus Wooton, Albert Deschesne

,

Richard Starkings, Randy Gentile, Chris Eliopoulos

Cover Artist
Gene Ha, Mike Wieringo

,

Paolo Rivera

Cover Penciller
Tony Harris, Mike Wieringo
Cover Inker
Karl Kesel, Tom Feister
Cover Colorist
Paul Mounts, Richard Isanove

,

Morry Hollowell

Editor
Tom Brevoort, Joe Quesada
Editor in Chief
Joe Quesada
---
Franklin Richards
Valeria Richards
Franklin Storm
Mary Storm
Jack Kirby
Trapster (Peter Petruski)
Nicholas 'Nick' Fury Sr.
Hydro-Man (Morris Bench)
Valeria
Salamandra
Zius
Karragan the Unforgiving
Alicia Masters
Mindless Ones
Queen-Marie LaVoie
Daniel Grimm
Mr. Shertzer
Modulus
Lockjaw
Wizard (Bentley Wittman)
Quasar (Wendell Vaughn)
Galactus (Galan)
Medusa (Medusalith Amaquelin-Boltagon)
Spider-Man (Peter Parker)
Invisible Woman (Susan Storm-Richards)
Crystal (Crystalia Amaquelin-Maximoff)
Jian Feeta
Ethan Crane
Christi Stoger
Jacob Suarti
Cole Wittman
Human Torch (Jonathan 'Johnny' Storm)
Mr. Fantastic (Reed Richards)
Dr. Doom (Victor von Doom)
Dr. Strange (Stephen Strange)
Thing (Benjamin J. Grimm)
---
---