Green Lanterns HC / TP #6
World Of Our Own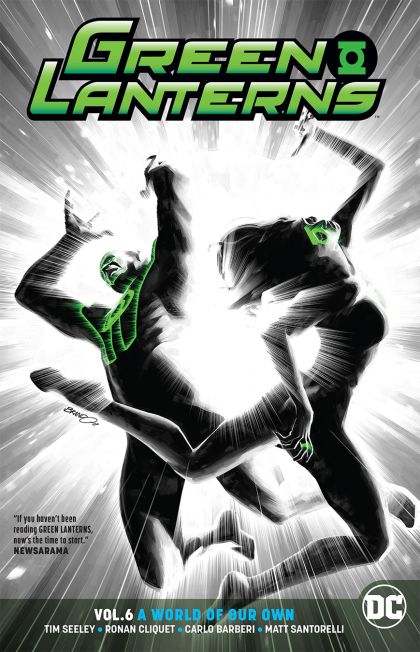 Rel: Jun 27, 2018 - Pub:
Super-Heroes
Modern Age | Color | USA | English
Green Lanterns Simon Baz and Jessica Cruz face down a Chimera monster as the conflict on Ungara comes to a head. With the power of a hundred alien races, this beast plans to wash Ungara and the Green Lanterns clean with a red tide of blood and violence. Collects GREEN LANTERNS #33-39.
---
Writer
Tim Seeley
Artist
Ronan Cliquet, German Peralta
Penciller
Eduardo Pansica, Carlo Barberi
Inker
Julio Ferreira, Matt Santorelli
Colorist
Ulises Arreola, Alex Sollazzo

,

Hi-Fi, Ulises Arrelola

Letterer
Dave Sharpe
Cover Artist
Shane Davis, Mike McKone

,

Riccardo Federici

Cover Penciller
Shane Davis
Cover Inker
Michelle Delecki
Cover Colorist
Jason Wright, Tomeu Morey

,

Dinei Ribeiro

Editor
Eddie Berganza, Mike Cotton

,

Andrew Marino
---
Green Lantern (John Stewart)
Green Lantern (Abin Sur)
Green Lantern (Kyle Rayner)
Hal Jordan
Green Lantern (Guy Gardner)
Green Lantern (Salaak)
Green Lantern (Kilowog)
Green Lantern (Simon Baz)
Sira Baz
Green Lantern (Jessica Cruz)
Bolphunga
Regent Anthene Vok
Liseth Vok
Podfather Vob
Anthene Vok
Commodore Psyt
Kesh Cur
Admiral Bolphunga
Night Pilot (Veronika)
Singularity Jain
Vigiles Tet
Admiral Bolphunga The Unrelenting
Boff The Unkillable
Green Lantern (Dasim)
Jombus The Churt
Podfather Vob
Grace Barclay
---
---