Hack / Slash TP #3TP
Collects Hack/Slash vs. Vampirella (2017) #1-5, Hack/Slash vs. Vampirella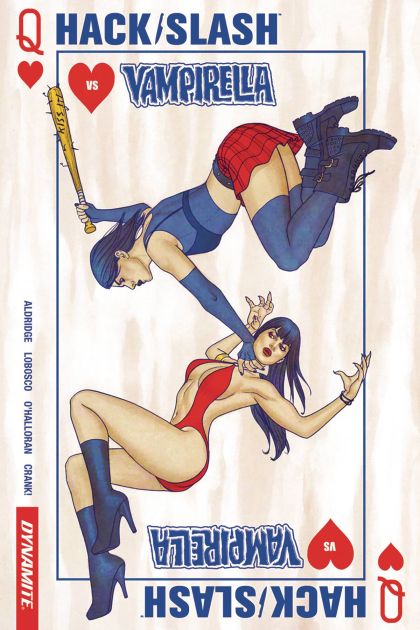 Rel: Jun 05, 2018 - Pub: Jun 2018
Action, Adventure, Horror, Mature
Modern Age | Color | USA | English
Trade Paperback Edition
Trade Paperback | 140 pages | $19.99
The Heart Is A Lonely Killer:
Part 1 -
The Vegas strip heats up as Cassie Hack and her companion Vlad are on the trail of a deadly slasher and meet the lovely, yet deadly Vampirella. The team-up event you've been waiting for is a high stakes game of chance when they have to take on The Queen of Hearts!

Part 2 -
The Blood Red Queen of Hearts continues her quest to win the love of the Mad-god Chaos by sacrificing innocents. Cassie Hack and Vampirella have teamed up to put a stop to it by any means necessary. Including a good, old fashioned baseball bat beating.

Part 3 -
When the Queen of Hearts starts possessing bodies, Cassie and Vampi's alliance hits a bit of a rough patch and things turn into a battle you can really sink your teeth into. Because…vampires!

Part 4 -
Cassie and Vampirella's Vegas Vacation continues as they take the fight to the Blood Queen and her horde to the scenic Nevada desert, where the secrets buried there will come back to haunt them. But not in a charming "old lady who died 100 years ago sitting in a rocking chair" kinda way.

Part 5 -
The final hand is dealt as Cassie, Vlad, and Vampirella try to stop the Blood Queen from getting the final heart she needs to summon the Mad God Chaos…and before one of them falls. Listen, someone is falling in this issue!
---
Writer
Shawn Aldridge
Artist
Rapha Lobosco
Colorist
Chris O'Halloran
Letterer
Crank!
Cover Artist
Michael Dooney, Billy Tucci

,

Jenny Frison, Chrissie Zullo, Kyle Strahm, Carli Idhe, Jen Vaughn, Goran Sudžuka, Fran Strukan

Cover Colorist
Greg Smallwood
---
Blood Red Queen of Hearts
Cassie (Cassandra Hack)
Vlad Vladislov
Vampirella (Ella Normandy)
---
---