Harley Quinn, Vol. 3 #1R
Die Laughing, Afterbirth!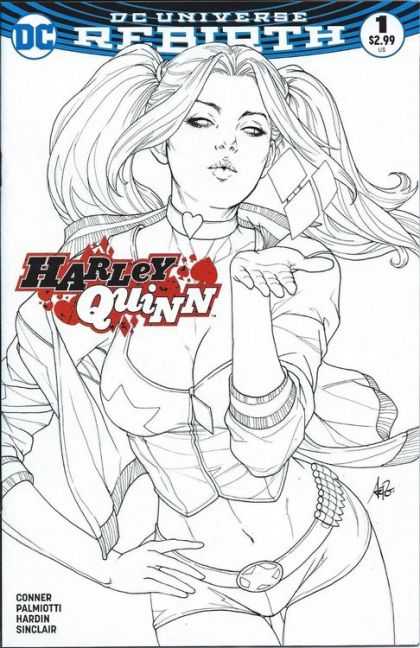 ---
Oct 2016
Action, Comedy, Super-Heroes
Modern Age | Color | USA | English
Legacy Edition Lineart Exclusive
'Die Laughing' part one! Welcome back to Harley Quinn's crazy world on Coney Island…now get ready to wave goodbye, because everyone there just might get eaten alive! Harley's gotta protect her neighborhood against an all-out zombie apocalypse! Break out the chainsaws, everybody!
---
Writer
Amanda Conner, Jimmy Palmiotti
Artist
Chad Hardin
Colorist
Alex Sinclair
Letterer
Dave Sharpe
Cover Artist
Stanley Lau
Editor
Mark Doyle, Chris Conroy

,

Dave Wielgosz
---
Joker
Goatboy
Queenie (DC)
Summer Daze
Tanya Tank
Skye Scrapper
Egg Fu (Edgar Fullerton Yeung)
Power Girl (Earth-2) (Kara Zor-El/Karen Starr)
Coach (Holly Hamden)
Carli Quinn (Carlita Alvarez)
Bolly Quinn (Shona Choudhary)
Harlem Harley (Antonia Moore)
Hanuquinn (Hannah Borgman)
Harvey Quinn (Harvey McPhearson)
Bernie the Beaver
Harley Queens (Erica Zhang)
Mike the Rooster
Nathan the Wiener Dog
Red Tool (Wayne Wilkins)
Bowling Belle
Harley Quinn (Harleen Frances Quinzel)
Poison Ivy (Pamela Lillian Isley)
Big Tony (Tony Delfini)
Frankie and Johnnie
Jimm Salabim
---
---