Harley Quinn, Vol. 3 #5B
Undercover Punker, Part 1: Eat To This Beat!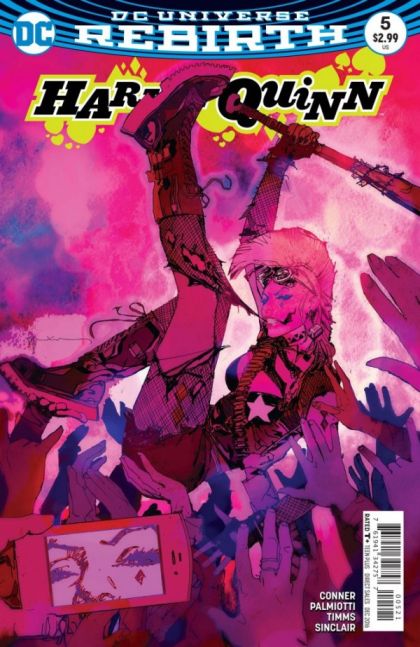 ---
Dec 2016
Action, Comedy, Super-Heroes
Modern Age | Color | USA | English
Variant Bill Sienkiewicz Cover
"EAT TO THIS BEAT" part one! There's been a string of brutal robberies and slayings up and down the East Coast, and the assailants are...knights on horseback?! Harley's got a lead on the men behind the iron masks, but to find them she's going to have to go undercover in the strangest place of all...New York's punk scene!
---
Writer
Amanda Conner, Jimmy Palmiotti
Artist
John Timms
Colorist
Alex Sinclair
Letterer
Dave Sharpe
Cover Artist
Bill Sienkiewicz
Editor
Mark Doyle, Chris Conroy

,

Dave Wielgosz
---
Egg Fu (Edgar Fullerton Yeung)
Carli Quinn (Carlita Alvarez)
Bolly Quinn (Shona Choudhary)
Harlem Harley (Antonia Moore)
Hanuquinn (Hannah Borgman)
Harvey Quinn (Harvey McPhearson)
Bernie the Beaver
Harley Queens (Erica Zhang)
Red Tool (Wayne Wilkins)
Harry Spoonsdale
Harley Quinn (Harleen Frances Quinzel)
Big Tony (Tony Delfini)
Jello
---
---