Justice League By Giffen & Dematteis Omnibus HC #1HC
Volume 1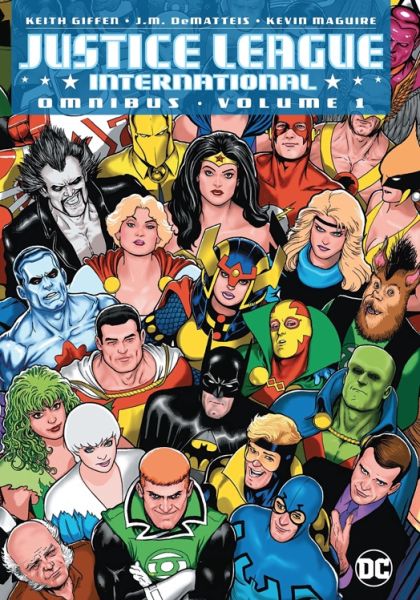 Rel: Oct 17, 2017 - Pub: 2017
Action, Adventure, Super-Heroes
Modern Age | Color | USA | English
Hardcover | 1080 pages | $99.99
The classic 1980s super-team series is collected in a giant Omnibus starring Batman, Blue Beetle, Booster Gold, Green Lantern Guy Gardner, Ice, Fire and dozens of other colorful heroes! This first volume includes Justice League #1-6, Justice League International #7-25, Justice League America #26-30, Justice League International Annual #1-3, Justice League Europe #1-6.
---
Writer
David Levin, Keith Giffen

,

J.M. DeMatteis, Mark Askwith, John Ostrander

Plotter
Keith Giffen
Scripter
Keith Giffen, J.M. DeMatteis
Artist
Dean Haspiel, Kevin Maguire

,

Tim Gula

Penciller
Bill Willingham, Keith Giffen

,

Luke McDonnell, Jim Webb, Ty Templeton, Bart Sears, Steve Leialoha, Kevin Maguire, Tim Gula, Mike McKone

Inker
Bill Wray, Bob Lewis

,

Bruce Patterson, Dennis Janke, Terry Austin, Pablo Marcos, Al Gordon, Bruce D. Patterson, Joe Rubinstein, Tim Gula, Dick Giordano, Robert Campanella, Mark Pennington, P. Craig Russell

Colorist
Carl Gafford, Daniel Vozzo

,

Gene D'Angelo, Matt Webb

Letterer
Augustin Mas, John Costanza

,

John D'Agostino, Albert DeGuzman, Tim Harkins, John Workman, Todd Klein, Duncan Andrews, Bob Lappan, Albert De Guzman

Layouts
Keith Giffen
Cover Artist
Ty Templeton, Bart Sears

,

Steve Leialoha, Kevin Maguire, Joe Rubinstein, Bill Willingham

Cover Penciller
Bill Willingham, Ty Templeton

,

Bart Sears, Steve Leialoha, Kevin Maguire, Mike McKone, Kerry Gammill

Cover Inker
Keith Giffen, Terry Austin

,

Al Gordon, Joe Rubinstein

Cover Colorist
Bob Le Rose
Editor
Joey Cavalieri, Bob Greenberger

,

Kevin Dooley, Andrew Helfer

Editor in Chief
Jenette Kahn, Dick Giordano
---
Creeper (Jack Ryder)
Ronald Reagan
Maxwell Lord
Sue Dibny
Hawkman (Katar Hol)
Lobo
Amanda Waller
Lashina
Deadshot (Floyd Lawton)
Black Hand (William Hand)
Elongated Man (Ralph Dibny)
L-Ron
Nightshade (Eve Eden)
Harbinger (Lyla Michaels)
Clark Kent
Joker
Green Lantern (Katma Tui)
Rick Flag Jr.
Huntress (Helena Bertinelli)
Java
Clock King (William Tockman)
Simon Stagg
Hawkgirl (Shayera Hol)
Manga Khan
Wandjina the Thunderer
Javelin
Jack O'Lantern (Daniel Cormac)
Mighty Bruce (Bruce)
Construct
Owlwoman (Wenonah Littlebird)
Wild Huntsman (Albrecht von Mannheim)
Rising Sun (Izumi Yasunari)
Catherine Cobert
Starman (Will Payton)
Virman Vundabar
Green Lantern (Hal Jordan)
Oberon
Colonel Rumaan Harjavti
Captain Marvel (Billy Batson)
Atom (Ray Palmer)
Blue Jay (Jay Abrams)
Major Disaster (Paul Booker)
Cluemaster (Arthur Brown)
Big Barda (Barda Free)
Multi-Man (Duncan Pramble)
Big Sir (Dufus P. Rachet)
Geo-Force (Brion Markov)
Metron
Guy Gardner
Red Star (Leonid Kovar)
Granny Goodness
Metamorpho (Rex Mason)
Green Lantern (Driq)
Booster Gold (Michael Jon Carter)
Sapphire Stagg
Manhunters
Rocket Red #07 (Vladimir Mikoyan)
Herupa Hando Hu
Nadia Safir
Dr. Mist (Nommo)
Queen of Spades (Royal Flush Gang) (Mona Taylor)
King of Spades (Royal Flush Gang) (Joe Carny)
Ace of Spades (Royal Flush Gang)
Ten of Spades (Royal Flush Gang) (Wanda Wayland)
Crimson Fox (Vivian D'Aramis)
Silver Sorceress (Laura Cynthia Neilsen)
Inspector Camus
Icemaiden (Tora Olafsdotter)
Beefeater (Michael Morice)
Queen Bee of Bialya
Gray Man
Ice (Tora Olafsdotter)
Flash (Wally West)
Tuatara (Jeremy Wakefield)
Captain Boomerang (George 'Digger' Harkness)
Green Lantern (Guy Gardner)
Rumaan Harjavti
Mikhail Gorbachev
Rocket Red Brigade
Janwillem Kroef
Wonder Woman (Diana Prince)
Nemesis (Thomas Tresser)
Vixen (Mari Jiwe McCabe)
Kanto
Rocket Red (Dmitri Pushkin)
Captain Atom (Nathaniel Christopher Adam)
Green Flame (Beatriz da Costa)
Lords of Order
Helga Jace
Jack of Spades (Royal Flush Gang) (Kerry)
Duchess (Lashina)
Green Lantern (Kilowog)
Oberon
Green Lantern (Arisia Rrab)
Hammer (Boris Ulyanov)
Sickle (Natasha Ulyanov)
Batman (Bruce Wayne)
Belphegor
Major Force (Clifford Zmeck)
Inspector Camus
Martian Manhunter (J'onn J'onzz)
Bronze Tiger (Ben Turner)
Wonder Woman (Diana)
Dr. Fate (Kent Nelson)
Fire (Beatriz DaCosta)
Dr. Light (Arthur Light)
Dr. Light (Kimiyo Hoshi)
Mr. Miracle (Scott Free)
Blue Beetle (Ted Kord)
Superman (Kal-El / Clark Kent)
Black Canary (Dinah Laurel Lance)
Captain Atom (Nathaniel Adam)
Black Canary (Dinah Lance)
Animal Man (Buddy Baker)
Rocket Red (Vladimir Mikoyan)
Power Girl (Karen Starr)
Halo (Violet 'Gabrielle Doe' Harper)
Captain Boomerang (Digger Harkness)
Marene Herald
Mister Miracle (Scott Free)
Green Lantern (G'Nort)
Nabu
Molotov (Kirill Yakerim)
Jack O'Lantern (Daniel Cormack)
Firestorm (Ronnie Raymond / Mikhail Arkadin)
Darkseid
Dominators
Captain Speed (Harry Christos)
Green Flame (Beatriz DaCosta)
---
---