Justice League Of America, Vol. 5 #29B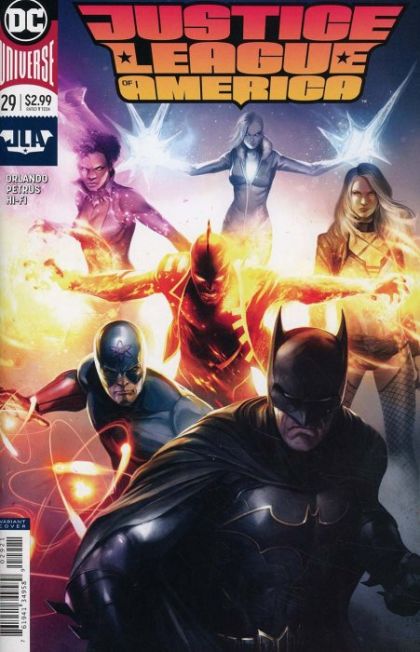 Rel: Apr 25, 2018 - Pub:
Super-Heroes
Modern Age | Color | USA | English
Variant Francesco Mattina Cover
"DAWN OF TIME" finale! Chronos has won. Super heroes are non existent in the new timeline he's manipulated into existence. The League will have to find each other, reform and fix the time stream or all of time will be at Chronos's command.
---
| | |
| --- | --- |
| Writer | Steve Orlando |
| Artist | Hugo Petrus |
| Letterer | Clayton Cowles |
| Cover Artist | Francesco Mattina |
| Editor | Brian Cunningham |
---
Lobo
Chronos (David Clinton)
Atom (Ryan Choi)
Promethea (Sophie Bangs)
Extrano (Gregorio De La Vega)
Vixen (Mari Jiwe McCabe)
Batman (Bruce Wayne)
Freedom Beast (Dominic Mnawe)
Strange Visitor (Sharon Vance)
Black Canary (Dinah Lance)
Killer Frost (Caitlin Snow)
Aztek (Nayeli Constant)
Insight
Ray (Ray Terrell)
Lorraine Bedy
---
---