Lab Rats #4
Tomorrow Was A Long Time Ago...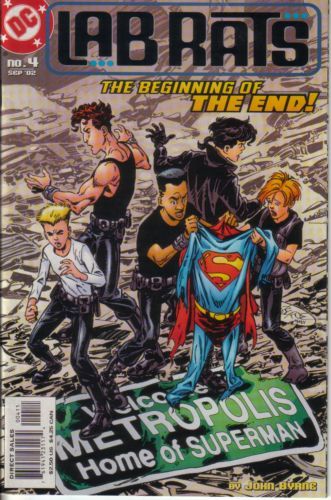 Rel: Sep 2002 - Pub: Sep 2002
Adventure
Modern Age | Color | USA | English
WRITTEN AND ILLUSTRATED BY JOHN BYRNE; COVER BY BYRNE In stores July 3. Part 1 of a 3-part time-travel adventure that brings the Rats face-to-face with the Man of Steel! Launched fifty years into the future, the Lab Rats discover a devastated Metropolis...and a mystery only an elderly Jimmy Olsen may be able to solve. But will discovering the source of Metropolis's troubles enable the Rats to return to the present? Also: Who is this future city's mysterious master? And why does he harbor so much hatred for Superman? For more information, see the feature article. FC, 32 PG. $2.50 Cover price $2.50.
---
| | |
| --- | --- |
| Writer | John Byrne |
| Artist | John Byrne |
| Penciller | John Byrne |
| Cover Artist | John Byrne |
| Cover Penciller | John Byrne |
---
---