L.A.W.: Living Assault Weapons #4
Martial L.A.W.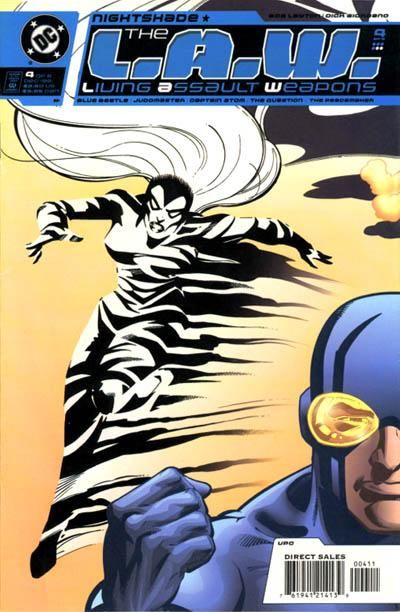 Rel: Dec 1999 - Pub: Dec 1999
Adventure, Super-Heroes
Modern Age | Color | USA | English
Written by Bob Layton; art and cover by Dick Giordano and Layton In stores October 20. The heroes of the L.A.W. struggle to rescue the JLA before time runs out for all the world's heroes! In the midst of a world-threatening conflict, look back at the life of Ripley Jagger -- also known as the legendary martial-artist Judomaster! Forged in the fires of World War II, his origins contain the beginnings of Avatar -- the being that, in the present day, threatens the entire world! FC, 32 pg. (4 of 6)" Cover price $2.50.
---
| | |
| --- | --- |
| Writer | Bob Layton |
| Penciller | Dick Giordano |
| Inker | Bob Layton |
| Colorist | Tom Ziuko |
| Letterer | John E. Workman |
| Separator | Digital Chameleon |
| Cover Artist | Dick Giordano |
| Editor | Joey Cavalieri |
---
Question (Charles Victor Szasz)
Nightshade (Eve Eden)
Avatar (Tanaka)
Judomaster (Hadley 'Rip' Jagger)
Peacemaker (Mitchell Black)
Tiger (Tanaka)
Martian Manhunter (J'onn J'onzz)
Sarge Steel
Blue Beetle (Ted Kord)
---
---