Plastic Man, Vol. 4 #5
The Wrong Man To Save Them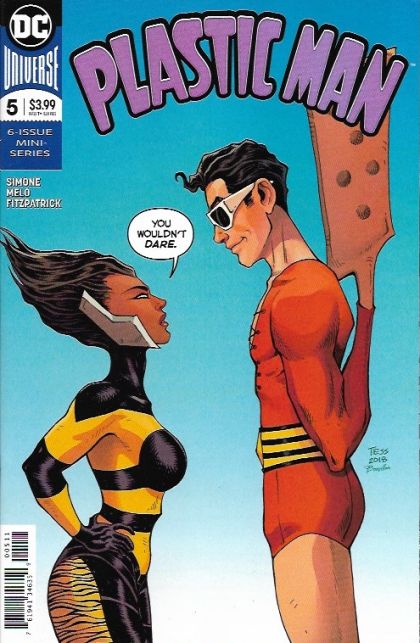 Rel: Oct 10, 2018 - Pub:
Super-Heroes
Modern Age | Color | USA | English
Eel O'Brian takes a flexible view of morality: you walk on your side of the line, he'll keep his feet on his (no promises about his hands, eyes, ears or midsection). That all stopped when his alter ego Plastic Man got suckered into the high-stakes world of super-heroic traitors and super-villainous cabals. Now he's gonna stiffen his spine, screw up his courage and take the law into his own hands. Or he's going to swat Queen Bee into next Tuesday with his fly-swatter hand. One or the other.
---
| | |
| --- | --- |
| Writer | Gail Simone |
| Artist | Adriana Melo |
| Colorist | Kelly Fitzpatrick |
| Letterer | Simon Bowland |
| Cover Artist | Tess Fowler |
| Cover Colorist | Tamra Bonvillain |
| Editor | Kristy Quinn |
---
Amazo
Dr. Psycho (Edgar Cizko)
Hugo Strange
Queen Bee (Zazzala)
Per Degaton
Man-Bat (Kirk Langstrom)
Plastic Man (Eel O'Brian)
Obscura
Granite Janet (Sheila Sorrell)
---
---