RWBY: Official Manga Anthology #4
Burn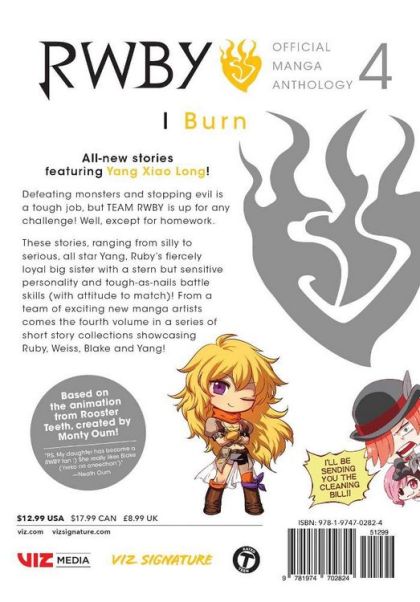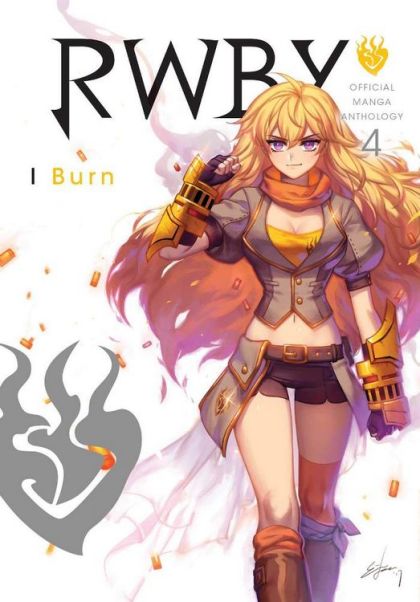 Rel: Feb 2019 - Pub: Feb 2019
Action, Adventure, Anthology, Comedy, Fantasy, Manga, Martial Arts, Science Fiction
Black & White / Color
Manga | 184 pages | $12.99
Straight from Rooster Teeth's hit animation series, a new four-volume anthology series featuring stories from various manga creators, each focusing on a different member of Team RWBY!

Defeating monsters and stopping evil is a tough job, but TEAM RWBY is up for any challenge! Well, except for homework.

These stories, ranging from silly to serious, all star Yang, Ruby's fiercely loyal big sister with a stern but sensitive personality and tough-as-nails battle skills (with attitude to match)! From a team of exciting new manga artists comes the fourth volume in a series of short story collections showcasing Ruby, Weiss, Blake and Yang!

Plus, bonus messages from the illustrators and creators included in this volume, with longer notes from RWBY character designer Ein Lee and actress Barbara Dunkelman, the voice of Yang Xiao Long!
---
---
---