Scooby-Doo... Where Are You!, Vol. 3 #59
Scooby-Doo and the Isle of Corfu / Hot Time in the Old Temple Tonight / What Are You Afraid Of?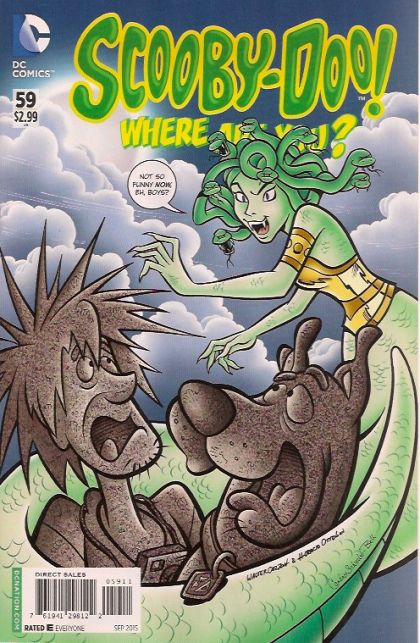 Rel: Jul 08, 2015 - Pub: Jul 2015
Adventure, Comedy, Mystery
Modern Age | Color | USA | English
What do you do when you're on an island with a terrible monster that has hissing snakes for hair and one look at her could turn you into stone?! Well, in Shaggy and Scooby's case, you run as fast as you can with your eyes closed, and hope you don't fall into the ocean!
---
Writer
Scott Cunningham, Frank Strom

,

Georgia Ball

Artist
Dan Davis
Penciller
Walter Carzon, Leo Batic
Inker
Horacio Ottolini
Colorist
Heroic Age Studios, Candace Schinzler-Bell
Letterer
Travis Lanham, Mike Sellers

,

Saida Temofonte

Cover Penciller
Walter Carzon
Cover Inker
Horacio Ottolini
Cover Colorist
Candace Schinzler-Bell
Editor
Michael Siglain, Jessica Chen

,

David Piña
---
Scooby-Doo
Shaggy Rogers
Daphne Blake
Fred Jones
Velma Dinkley
---
---