Scooby-Doo... Where Are You!, Vol. 3 #74
Scaring Room Only / Velma's Monsters of the World: Griffin / Karmic Chaos / A Well-Laid Trap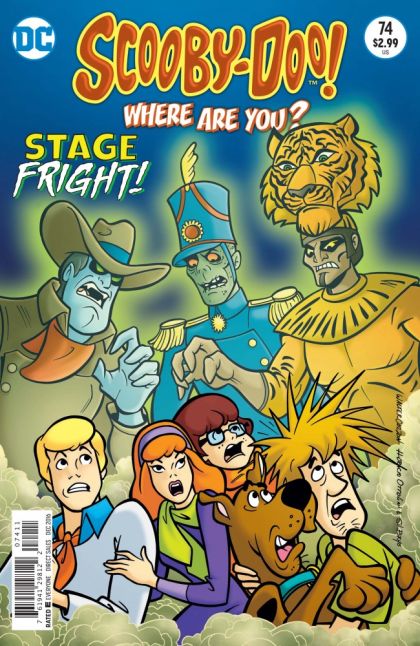 Rel: Oct 12, 2016 - Pub:
Adventure, Comedy, Mystery
Modern Age | Color | USA | English
Scooby and the gang go backstage at Broadway's hottest musical-"Franklin!"-when ghosts threaten to bring the curtain down on the show for good! Is the ghostly Founding Father really to blame, or is there an understudy scaring everyone from the wings?
---
Writer
John Rozum, Ivan Cohen

,

Ivan Velez Jr.

Artist
Fabio Laguna, Vince Deporter
Penciller
Walter Carzon
Inker
Horacio Ottolini
Colorist
Heroic Age Studios, Silvana Brys
Letterer
Travis Lanham, Mike Sellers

,

Saida Temofonte

Cover Penciller
Walter Carzon
Cover Inker
Horacio Ottolini
Cover Colorist
Silvana Brys
Editor
Harvey Richards, Jeanine Schaefer

,

Brittany Holzherr
---
Scooby-Doo
Shaggy Rogers
Daphne Blake
Fred Jones
Velma Dinkley
---
---