Scooby-Doo... Where Are You!, Vol. 3 #75
Swords and Sorcery / Learn to Draw the M.I. Gang / Hot Time in the Old Temple Tonight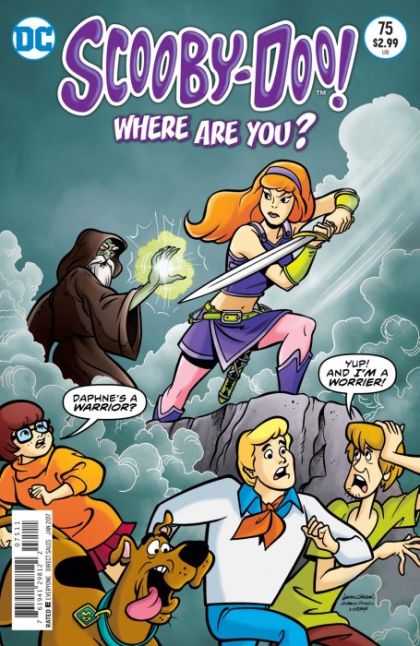 Rel: Nov 16, 2016 - Pub:
Adventure, Comedy, Mystery
Modern Age | Color | USA | English
Ordinarily, nothing would make Daphne happier than meeting the star of her favorite TV action show, Zorna the Warrior Woman. But when the set of her show is haunted by the spirit of Zorna's greatest enemy, she might even beat Shaggy and Scooby out the door! If Daphne ever wants to see another episode of the show, Daphne will have to lead the gang to save the day...by becoming a warrior woman herself!
---
Writer
Sholly Fisch, Frank Strom
Artist
Scott Neely
Penciller
Walter Carzon, Leo Batic
Inker
Horacio Ottolini
Colorist
Heroic Age Studios, Silvana Brys
Letterer
Travis Lanham, Mike Sellers

,

Saida Temofonte

Cover Penciller
Walter Carzon
Cover Inker
Horacio Ottolini
Cover Colorist
Silvana Brys
Editor
Michael Siglain, Jeanine Schaefer

,

Brittany Holzherr
---
Scooby-Doo
Shaggy Rogers
Daphne Blake
Fred Jones
Velma Dinkley
---
---