Scooby Doo... Where Are You!, Vol. 3 #90
Bubble, Bubble, Toil and Trouble / The Creeping Horror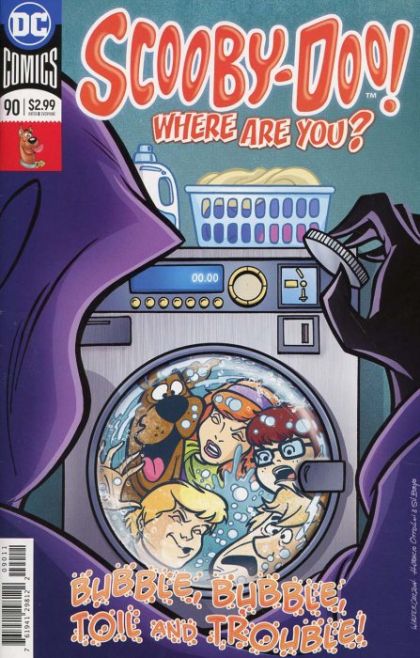 Rel: Feb 14, 2018 - Pub:
Adventure, Comedy, Mystery
Modern Age | Color | USA | English
Ghosts may wear sheets, but our heroes never expected to find one haunting their local laundromat! Will Shaggy be doomed to wear dirty socks forever? It gives whole new meaning to the phrase "Bubble, bubble, toil and trouble" when Scooby and the gang have to clean up the menace of the Spin-Dry Specter!
---
Writer
John Rozum, Sholly Fisch
Penciller
Walter Carzon, Don Perlin
Inker
Horacio Ottolini, Scott McRae
Colorist
Paul Becton, Silvana Brys
Letterer
John Costanza, Saida Temofonte
Cover Penciller
Walter Carzon
Cover Inker
Horacio Ottolini
Cover Colorist
Silvana Brys
Editor
Heidi MacDonald, Harvey Richards

,

Rob Levin
---
Scooby-Doo
Shaggy Rogers
Daphne Blake
Fred Jones
Velma Dinkley
---
---