Secret Invasion #TP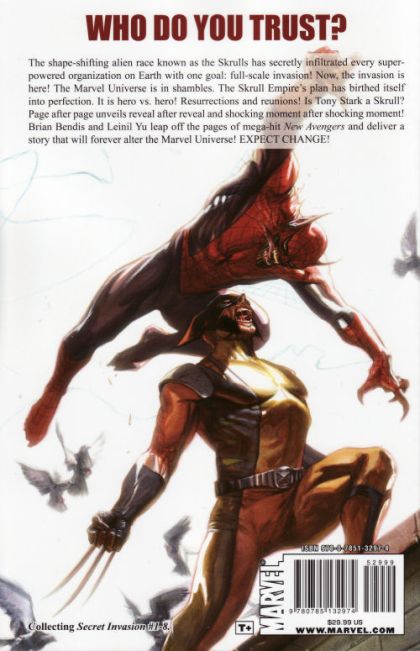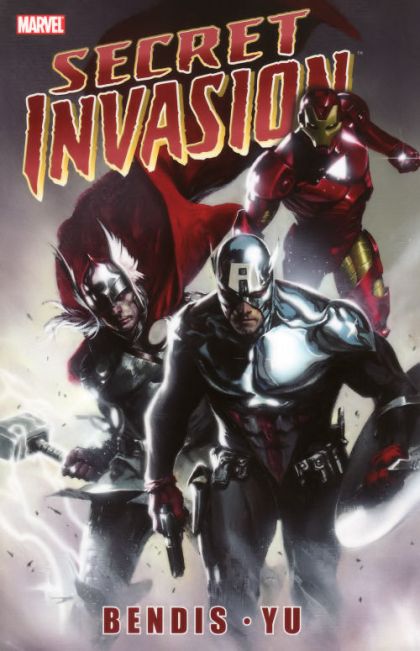 Secret Invasion
Secret Invasion - Secret Invasion #1-8
Mar 2009
Modern Age / USA / English
Trade Paperback / 200 pages / $29.99
---
| | |
| --- | --- |
| Writer | Brian Michael Bendis |
| Penciller | Leinil Francis Yu |
| Inker | Mark Morales |
| Colorist | Christina Strain, Laura Martin |
| Letterer | Chris Eliopoulos |
| Cover Artist | Gabriele Dell'Otto |
| Cover Colorist | Justin Ponsor |
| Editor | Tom Brevoort, Jeanine Schaefer |
| Editor in Chief | Joe Quesada |
| Colorist | Emily Warren |
Hawkeye (Katherine 'Kate' Bishop)
Edwin Jarvis
Abigail Brand
Firestar (Angelica Jones)
Franklin Richards
Crusader (Z'reg / Aubrey Thompson)
Valeria Richards
Griffin (Johnny Horton)
Wrecker (Dirk Garthwaite)
Nicholas 'Nick' Fury Sr.
Sentry (Robert Reynolds)
Venom (MacDonald 'Mac' Gargan)
Stonewall (Louis Hamilton)
Daisy Johnson
Prodigy (David Alleyne)
Luke Cage
Geiger (Delilah Deerborn)
Wonder Man (Simon Williams)
Spider-Woman (Jessica Drew)
Corruptor (Jackson Day)
Mentallo (Marvin Flumm)
Pixie (Megan Gywnn)
Ms. Marvel (Carol Danvers)
Sabra (Ruth Bat-Seraph)
Diamondback (Rachel Leighton)
Vision (Jonas)
Echo (Maya Lopez)
Black Panther (T'Challa)
Loki (Loki Laufeyson)
Gargoyle (Isaac Christians)
Bulldozer (Henry Camp)
Druid (Sebastian Druid)
Madame Masque (Whitney Frost)
Taskmaster (Tony Masters)
Norman Osborn
Wasp (Janet van Dyne)
Atlas (Erik Josten)
Batwing (James Santini)
Swordsman (Andreas von Strucker)
Cyclops (Scott Summers)
Hood (Parker Robbins)
Penance (Robbie Baldwin)
Wizard (Bentley Wittman)
Ronin (Clint Barton)
Songbird (Melissa Joan Gold)
Green Goblin (Norman Osborn)
Watcher (Uatu)
Elektra (Elektra Natchios)
Mandrill (Jerome Beechman)
Constrictor (Frank Payne)
Annex (Alexander Ellis)
Jessica Jones
Howard the Duck
Marvel Boy (Noh-Varr)
Griffin (Eliot Franklin)
Emma Frost
Daredevil (Matt Murdock)
Danielle Cage
Gauntlet (Joseph Green)
Melee
Shanna the She-Devil (Shanna O'Hare-Plunder)
Piledriver (Brian Philip Calusky)
Medusa (Medusalith Amaquelin-Boltagon)
Captain America (James Buchanan Barnes)
Red 9 (Wallace Jackson)
Proton (Geldoff)
Blood Brother
Bullseye (Lester / Benjamin Poindexter)
Spider-Man (Peter Parker)
Captain Marvel (Khn'nr)
Maria Hill
Gorilla Girl (Fahnbullah Eddy)
Sunstreak (Jennifer Burke)
Spider-Woman (Veranke)
Edwin Jarvis (Skrull)
Yo Yo (Yo Yo Rodriguez)
Quake (Daisy Johnson)
Marvel Girl (Skrull)
Beast (Skrull)
Yellowjacket (Criti Noll)
Moonstone (Karla Sofen)
Ka-Zar (Kevin Plunder)
Mockingbird (Skrull)
Thor (Skrull)
Emma Frost (Skrull)
Jewel (Skrull)
Ms. Marvel (Skrull)
Wonder Man (Skrull)
Skrulls
Invisible Woman (Susan Storm-Richards)
Valentina Allegra de Fontaine
Blackout (Lilin)
Timothy 'Dum Dum' Dugan
Stonewall (Jerry Sledge)
Pixie (Megan Gwynn)
Yellowjacket (Henry 'Hank' Pym)
Thor (Donald Blake)
Black Widow (Natasha Romanoff)
Phobos (Alexander Aaron)
Stature (Cassandra 'Cassie' Lang)
Henry 'Hank' Pym
Ares (John Aaron)
Hellfire (J.T. Slade)
Human Torch (Jonathan 'Johnny' Storm)
Thunderball (Eliot Franklin)
Wiccan (William 'Billy' Kaplan)
Nightcrawler (Kurt Wagner)
Sub-Mariner (Namor McKenzie)
Speed (Thomas 'Tommy' Shepherd)
Hulkling (Dorrek VIII / Theodore 'Teddy' Altman)
Patriot (Elijah 'Eli' Bradley)
Mr. Fantastic (Reed Richards)
Iron Man (Anthony 'Tony' Stark)
Dr. Doom (Victor von Doom)
Iron Fist (Daniel 'Danny' Rand)
Zabu (Zabu Plunder)
Thing (Benjamin J. Grimm)
Mockingbird (Barbara 'Bobbi' Morse-Barton)
---
---
Plot
SECRET INVASION IS HERE! The shape-shifting alien race known as the Skrulls has secretly infiltrated every super-powered organization on Earth with one goal - full-scale invasion! In this collected edition, page-after-page unveils reveal-after-reveal and shocking moment-after-shocking-moment! Brian Bendis and Leinil Francis Yu leap off the pages of mega-hit New Avengers and deliver a story that will change the Marvel Universe forever! Collects Secret Invasion #1-8.
---