Skrull Kill Krew, Vol. 1 #TP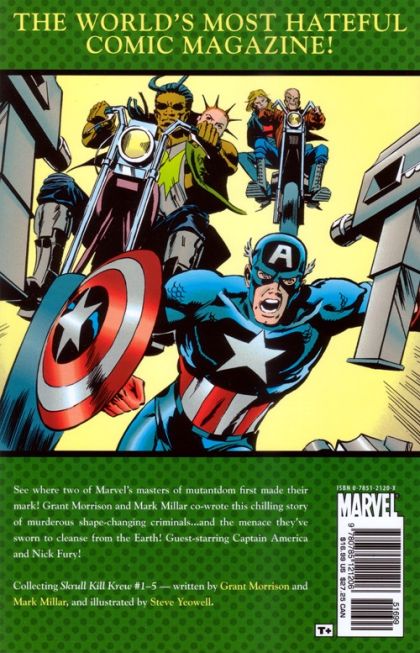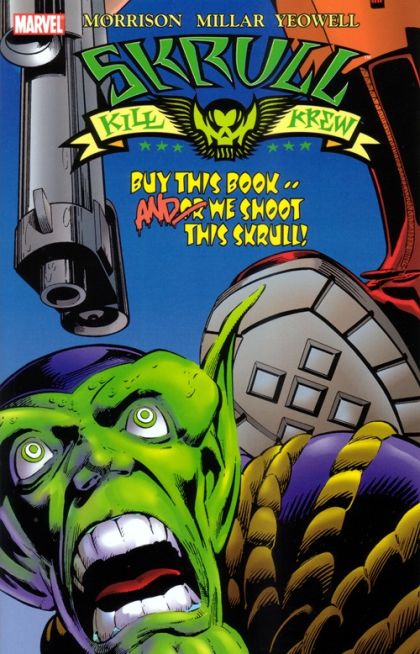 Skrull Kill Krew
Skrull Kill Krew #1-5
Jul 2006
Modern Age / USA / English
Trade Paperback / 120 pages / $16.99
---
| | |
| --- | --- |
| Writer | Mark Millar, Grant Morrison |
| Penciller | Steve Yeowell |
| Inker | Chris Ivy |
| Colorist | Chia-Chi Wang, Chris DeFelippo |
| Letterer | Comicraft, Richard Starkings |
| Cover Artist | Steve Yeowell |
| Cover Colorist | Tom Smith |
| Editor | Tom Brevoort |
| Editor in Chief | Joe Quesada |
| Colorist | Malibu, Digital Chameleon |
Nicholas 'Nick' Fury Sr.
Moonstomp
Dice (Rob Fortune)
Ryder (Skrull Kill Krew)
Captain America (Steve Rogers)
Baron Strucker (Wolfgang von Strucker)
Catwalk (Kimberly Dee)
Skrulls
Invisible Woman (Susan Storm-Richards)
Riot (Heidi Sladkin)
Human Torch (Jonathan 'Johnny' Storm)
Mr. Fantastic (Reed Richards)
Thing (Benjamin J. Grimm)
---
---
Plot
See where two of Marvel's masters of mutantdom first made their mark! Grant Morrison and Mark Millar co-wrote this chilling story of murderous shape-changing criminals... and the menace they've sworn to cleanse from the Earth! Guest-starring Captain America and Nick Fury! Collects Skrull Kill Krew #1-5.
---