Suicide Squad, Vol. 4 #13B
Burning Down the House, Part 3: Being Good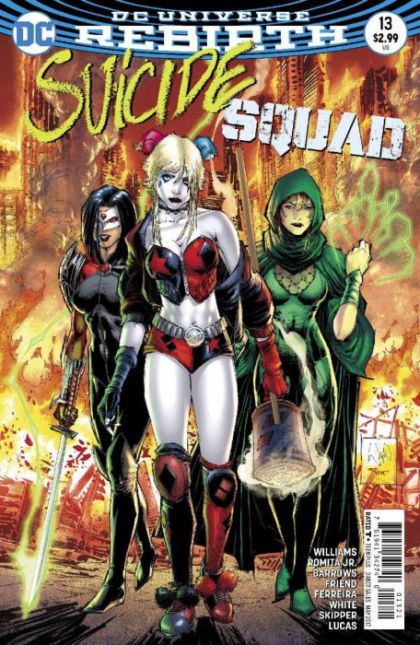 Rel: Mar 08, 2017 - Pub: May 2017
Super-Heroes
Modern Age | Color | USA | English
Variant Whilce Portacio Cover
"BURNING DOWN THE HOUSE" part three! Shot. Stabbed. Beaten. Maimed. Brought back from the edge of death and sent out to do it all over again and again and again. This has been the life of Floyd Lawton, a.k.a. Deadshot. But not anymore. The moment Suicide Squad fans never thought would come finally arrives when Deadshot achieves that which no one else has: escape! All it will cost is one of his teammates' lives...
---
Writer
Rob Williams
Penciller
Eddy Barrows, John Romita Jr
Inker
Richard Friend, Eber Ferreira
Colorist
Adriano Lucas, Dean White

,

Jeremiah Skipper

Letterer
Pat Brosseau
Cover Artist
Whilce Portacio
Cover Colorist
Alex Sinclair
Editor
Harvey Richards, Brian Cunningham

,

Andy Khouri

Editor in Chief
Bob Harras
---
Katana (Tatsu Yamashiro)
Deadshot (Floyd Lawton)
Killer Croc (Waylon Jones)
Djinn
Rick Flag Jr.
Enchantress (June Moone)
Rustam (Raza Kattuah)
Captain Boomerang (George 'Digger' Harkness)
Harley Quinn (Harleen Frances Quinzel)
Hack (Zalika)
Emilia Harcourt
---
---