Suicide Squad, Vol. 4 #2A
The Black Vault, Part Two: Blitzkrieg Bop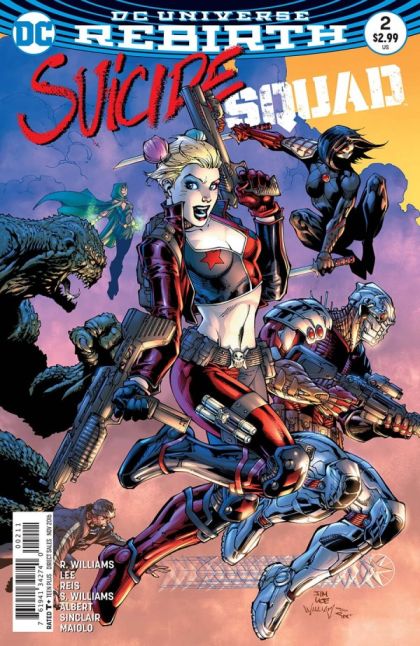 Rel: Sep 14, 2016 - Pub: Nov 2016
Super-Heroes
Modern Age | Color | USA | English
Regular Jim Lee Cover
'THE BLACK VAULT' part 2! What was meant to be a routine mission to retrieve a 'cosmic item' from an undersea fortress has become a nightmare beyond anything the Suicide Squad ever expected. And with half the team down, it's up to Harley Quinn, Katana, and a demon-possessed graphic designer named June Moore to save the Squad from the most dangerous man in the DC Universe. That's right...they're screwed.
---
Writer
Rob Williams
Penciller
Ivan Reis, Jim Lee
Inker
Scott Williams, Oclair Albert
Colorist
Alex Sinclair, Marcelo Maiolo
Letterer
Nate Piekos
Cover Penciller
Jim Lee
Cover Inker
Scott Williams
Cover Colorist
Alex Sinclair
Editor
Harvey Richards, Brian Cunningham

,

Andy Khouri, Diego Lopez
---
Katana (Tatsu Yamashiro)
Amanda Waller
Deadshot (Floyd Lawton)
Killer Croc (Waylon Jones)
Flash (Barry Allen)
Captain Boomerang (George 'Digger' Harkness)
General Zod (Dru-Zod)
Harley Quinn (Harleen Frances Quinzel)
Enchantress (June Moon)
Rick Flag, Jr.
Hack (Zalika)
Harcourt (NSA)
---
---