Suicide Squad, Vol. 4 #8A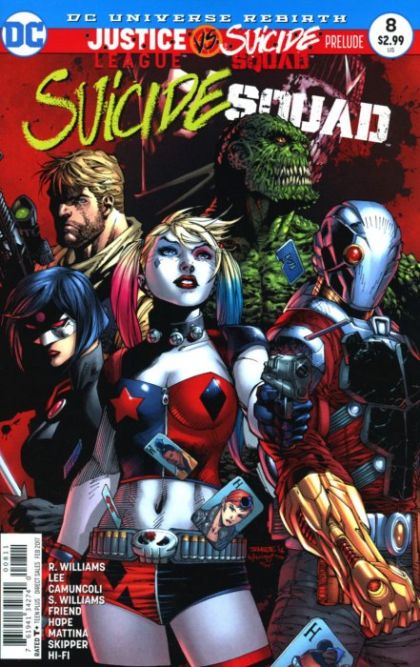 Going Sane, Part Four: I Believe In Miracles
Feb 2017 / Regular Jim Lee Cover
Modern Age / USA / English
Comic / 32 pages / $2.99
---
| | |
| --- | --- |
| Writer | Rob Williams, Rob Williams |
| Artist | Francesco Mattina |
| Penciller | Jim Lee |
| Inker | Scott Williams, Richard Friend |
| Colorist | Hi-Fi Colour Design, Jeremiah Skipper |
| Letterer | Pat Brosseau, Josh Reed |
| Layouts | Giuseppe Camuncoli |
| Cover Penciller | Jim Lee |
| Cover Inker | Scott Williams |
| Cover Colorist | Alex Sinclair |
| Editor | Harvey Richards, Brian Cunningham |
| Inker | Sandra Hope |
| Editor | Andy Khouri |
Characters
Katana (Tatsu Yamashiro)
Amanda Waller
Killer Croc (Waylon Jones)
Rick Flag Jr.
Captain Boomerang (George 'Digger' Harkness)
El Diablo (Chato Santana)
Killer Frost (Caitlin Snow)
General Zod (Dru-Zod)
Harley Quinn (Harleen Frances Quinzel)
Enchantress (June Moon)
Hack (Zalika)
---
---
Plot
"THE BLACK VAULT" part eight! Harley Quinn goes sane! The prisoners and staff of Belle Reve Penitentiary have succumbed to the devastating effects of General Zod's Black Vault, rendering them all insane. But it has the opposite effect on Harley, who must fight her way through a crazed Suicide Squad-with the help of the Enchantress-to stop Zod from waking and conquering the world. No pressure, right? And in a bonus backup story written by Rob Williams with art by Giuseppe Camuncoli and Francesco Mattina, learn how super-villains are conscripted into the Suicide Squad! The unlucky Killer Frost is about to find out when she arrives for her first day at Belle Reve. Her story continues from this month's single issue of SUICIDE SQUAD directly into JUSTICE LEAGUE VS. SUICIDE SQUAD #1!
---