Superman
Superman, Vol. 1 #16
The World's Meanest Man / Terror From the Stars / The Case of the Runaway Skyscrapers / Racket on Delivery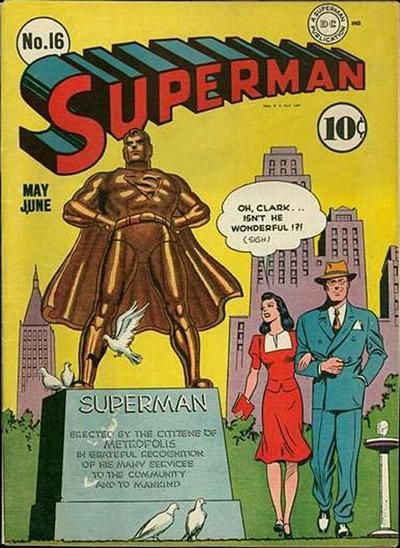 Rel: May 1942 - Pub: May 1942
Action, Adventure, Super-Heroes
Golden Age | Color | USA | English
The World's Meanest Man - The Daily Planet starts raising funds for a resort for underpriveleged children, but there are individuals around who wish to make sure the endeavour fails.

Terror From the Stars - On a slow news day, Clark writes an article condemning astrology as fraud to stir up sales. He is soon involved with an astrologer whose terrible predictions start to come true.

The Case of the Runaway Skyscrapers - The diabolical Mister Sinister has found a way to kidnap entire buildings and hold them for ransom. Can even Superman pursue a villain into another dimension?

Racket on Delivery - Lois and Clark stumble upon a racket of thugs extorting money from people for offloading their grocery shipments. It's up to Superman to trace the racket to the top of the chain.
---
| | |
| --- | --- |
| Writer | Jerry Siegel |
| Artist | John Sikela |
| Cover Artist | Fred Ray |
---
Lois Lane
Perry White
Sgt. Casey
Superman (Kal-El / Clark Kent)
---
---