Superman
Superman, Vol. 1 #19
The Case of the Funny Paper Crimes / Superman's Amazing Adventure / The Canine and the Crooks / Superman, Matinee Idol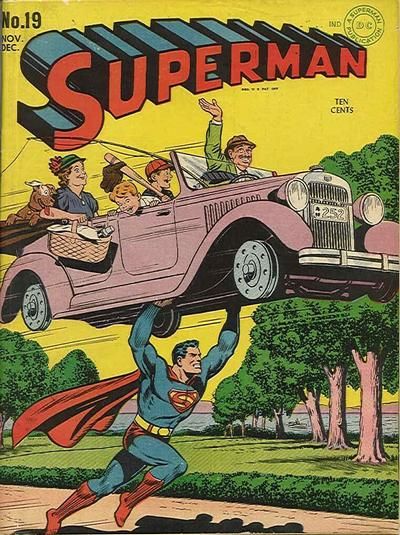 Rel: Sep 04, 1942 - Pub: Nov 1942
Action, Adventure, Super-Heroes
Golden Age | Color | USA | English
The Case of the Funny Paper Crimes - Characters from the funny pages are springing to life and going on a crime spree.
Superman's Amazing Adventure - Skeet Monahan isn't about to let two reporters mess up his racket, and he arranges things to make sure they can't. If Clark were a normal reporter, he'd have succeeded.
The Canine and the Crooks - Clark befriends a dog, only to find people have been hired to kill said dog.
Superman, Matinee Idol - Superman and Lois Lane go to the movies to check out the latest Superman short through Paramount Pictures, which is a sequel to the first Fleischer Superman cartoon.
---
| | |
| --- | --- |
| Writer | Jerry Siegel |
| Artist | Leo Nowak |
| Penciller | John Sikela, Joe Shuster |
| Inker | John Sikela, Ed Dobrotka |
---
Lois Lane
Perry White
Sgt. Casey
Superman (Kal-El / Clark Kent)
Oscar Lanchester
Skeet Monahan
---
---