Superman
Superman, Vol. 1 #3
Superman and the Runaway / Superman and the Jewel Smugglers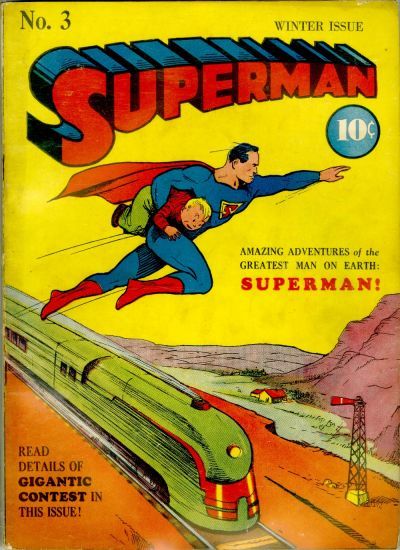 Rel: Jan 1940 - Pub: Jan 1940
Action, Adventure, Super-Heroes
Golden Age | Color | USA | English
"Superman and the Runaway" - Superman saves an unconscious runaway from a speeding train, only to learn the boy was fleeing terrible conditions at a local orphanage. After convincing Perry White to assign Lois to the case with him, Clark learns of the terrible conditions that the children are subjected to. That night, he returns as Superman when Lois returns to investigate, and they find undeniable evidence to print. Knowing he was caught, the superintendant locks Lois and the runaway in the attic before setting the building on fire and running away. His choice of escape routes takes him directly into Superman's path, which doesn't work out so well for him.

"Superman and the Jewel Smugglers" - After being demoted to the lovelorn column, Lois uncovers a tip about a ring of jewel smugglers operating out of a local dive. Tricking Clark into taking her there on a date, she gets the scoop, but gets caught in the act. The smugglers capture Lois but leave Clark for dead, which allows him to change clothes and spring into action as Superman.

This issue also reprints "Superman and the Dam" from Action Comics #5 and "Superman's Phony Manager" from Action Comics #6.
---
| | |
| --- | --- |
| Writer | Jerry Siegel |
| Artist | Joe Shuster |
---
Lois Lane
Pery White
Superman (Kal-El / Clark Kent)
---
---