Superman
Superman, Vol. 1 #4
The Challenge of Luthor / Luthor's Undersea City / The Economic Enemy / Terror In The Trucker's Union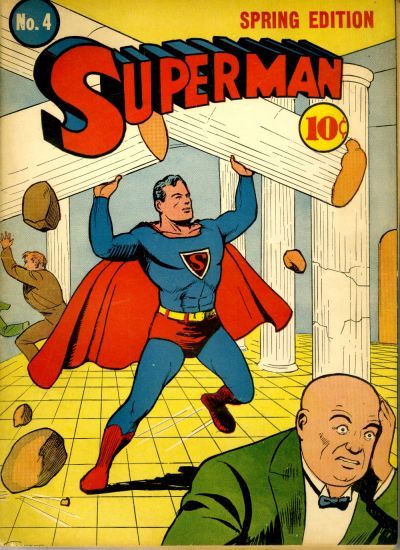 Rel: Apr 1940 - Pub: Apr 1940
Action, Adventure, Super-Heroes
Golden Age | Color | USA | English
"The Challenge of Luthor" - An army scientist has developed a weapon that can cause earthquakes. Luthor soon captures the scientist involved, but in an uncharacteristic display of fair play, he offers Superman a contest to determine the victor in their conflict.

"Luthor's Undersea City" - Oil derricks are being robbed of their oil, and the ocean is overflowing near the coast. When Lois and Clark investigate, they learn that Luthor has uncovered an ancient underwater city he plans to use as a new home base.

"The Economic Enemy" - A series of sabotage and other crimes are undermining the economy, and it's up to Superman to track down and stop those responsible.

"Terror In The Trucker's Union" - Superman uncovers a plot against the Truck Drivers' Union, but he doesn't have enough evidence gathered to put an end to it. He takes the only option he can, and joins ranks with the criminals.
---
| | |
| --- | --- |
| Writer | Jerry Siegel |
| Artist | Joe Shuster |
---
Lois Lane
Lex Luthor
Perry White
Superman (Kal-El / Clark Kent)
---
---