Superman
Superman, Vol. 1 #683A
New Krypton - Part Nine: Hard Times!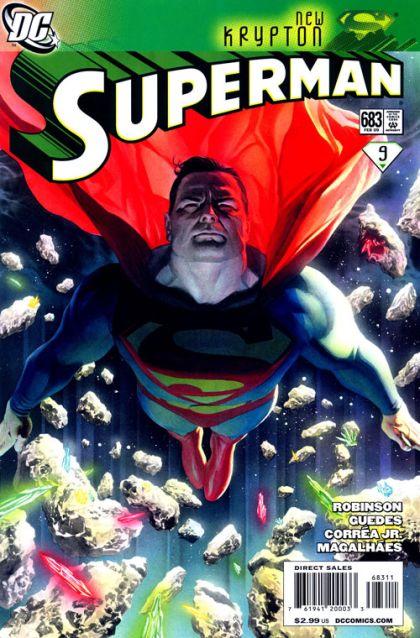 Rel: Jan 02, 2009 - Pub: Feb 2009
Action, Adventure, Super-Heroes
Modern Age | Color | USA | English
Alex Ross Regular Cover
Superman is trying to negotiate a peaceful settlement between his two people, but it doesn't work out as he'd hoped. In fact, he finds himself caught in the middle of a battle, and doesn't have the allies he thought he'd have.
---
| | |
| --- | --- |
| Writer | James Robinson |
| Penciller | Renato Guedes, Jorge Correa Jr. |
| Inker | Jorge Correa Jr., Jose Wilson Magalhaes |
| Colorist | David Curiel |
| Letterer | John J. Hill |
| Editor | Matt Idelson |
| Cover Painter | Alex Ross |
---
Green Lantern (Alan Scott)
Jakeem Thunder (Jakeem Williams)
Steel (John Henry Irons)
Green Lantern (John Stewart)
Ibis the Invincible (Daniel Khalifa)
Sargon the Sorcerer (David John Sargent)
Zatanna (Zatanna Zatara)
Hawkgirl (Kendra Saunders)
Green Lantern (Hal Jordan)
Guardian (Jim Harper)
Enchantress (June Moone)
Mr. Terrific (Michael Holt)
Flash (Jay Garrick)
Shazam (Freddy Freeman)
Starfire (Koriand'r / Kory Anders)
Zatara (Giovanni 'John' Zatara)
Dr. Occult (Richard Occult)
Hawkman (Katar / Carter Hol / Hall)
Supergirl (Kara / Linda Zor-El / Lang)
Power Girl (Kara / Karen Zor-L / Starr)
Wonder Woman (Diana Prince)
Black Lightning (Jefferson Pierce)
Alura Zor-El
Fer-Gor
Dr. Fate (Kent V. Nelson)
Superman (Kal-El / Clark Kent)
---
---