Spider-Man
The Amazing Spider-Man, Vol. 2 #695
Danger Zone, Part One: Warning Signs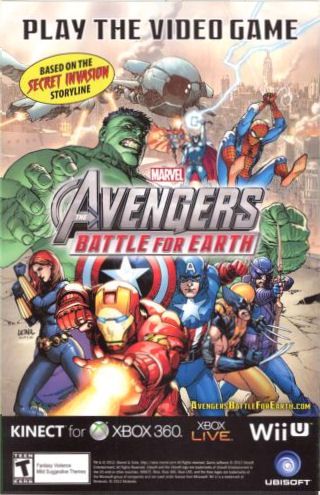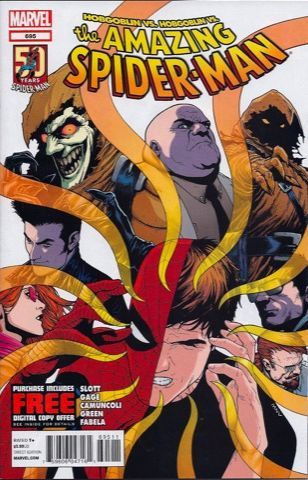 Rel: Oct 03, 2012 - Pub: Dec 2012
Action, Adventure, Super-Heroes
Modern Age | Color | USA | English
DANGER ZONE Part 1 - Dark times are coming for Peter Parker and change is closer than you even fear. - As we aim headlong to ASM #700, The Kingpin 's latest plan turns one of Spider-Man's greatest strengths against him. - Hobgoblin is back…but his days may be numbered as the past sharpens its blades.
---
| | |
| --- | --- |
| Writer | Christos N. Gage, Dan Slott |
| Penciller | Giuseppe Camuncoli |
| Inker | Dan Green |
| Colorist | Antonio Fabela |
| Letterer | Chris Eliopoulos |
| Cover Artist | Steve McNiven |
| Editor | Stephen Wacker |
| Editor in Chief | Axel Alonso |
---
X-23 (Laura Kinney)
Hydro-Man (Morris Bench)
Sally Floyd
Norah Winters
Kingpin (Wilson Fisk)
Angel (Warren Worthington III)
Cyclops (Scott Summers)
Hobgoblin (Roderick Kingsley)
Rachel Carpenter
Morbius (Michael Morbius)
Ant-Man (Scott Lang)
Shang-Chi
Captain America (Steve Rogers)
Elektra (Elektra Natchios)
Carnage (Cletus Kasady)
Hawkeye (Clint Barton)
Lizard (Curt Connors)
Daredevil (Matt Murdock)
Joseph 'Robbie' Robertson
Marvel Girl (Jean Grey)
Spider-Man (Peter Parker)
Thor (Thor Odinson)
Punisher (Frank Castle)
Hulk (Robert Bruce Banner)
Hazmat (Jennifer Takeda)
Beast (Henry 'Hank' McCoy)
Max Modell
Hobgoblin (Phil Urich)
Madame Web (Julia Carpenter)
Deadpool (Wade Wilson)
Venom (Eugene 'Flash' Thompson)
Wolverine (Logan / James Howlett)
Scarlet Spider (Kaine Parker)
Nicholas 'Nick' Fury Jr.
Captain Marvel (Carol Danvers)
Tiberius 'Ty' Stone
---
---