The Incredible Hulk: Pardoned #TP
The Incredible Hulk: Pardoned - Incredible Hulk (1968) #269-285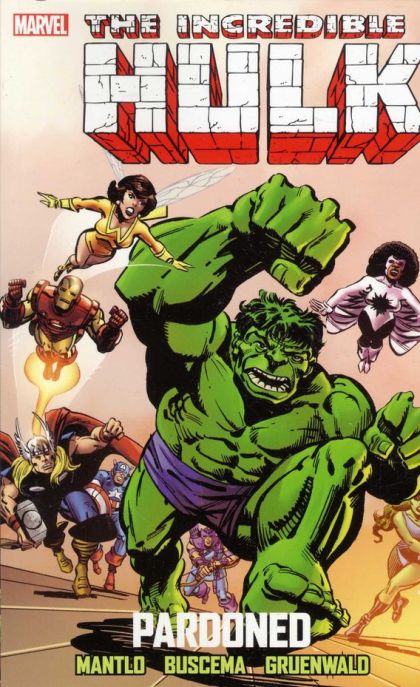 Rel: Apr 25, 2012 - Pub: Apr 2012
Super-Heroes
Modern Age | Color | USA | English
Trade Paperback | 400 pages | $39.99
One Of The Most Unique Chapters In The Life Of Marvel's Mightiest Mortal! The Hulk Battles The 'Hulk Hunters' And The Galaxy Master, Embarking On An Adventure In Space That Partners Him With Rocket Raccoon And Introduces Him To A New Alien Love Interest! Rick Jones' Guilt-Ridden Attempt To Become Another Hulk Backfires Badly! Bruce Banner Gains Control Of The Hulk's Brain, But Finds He Must Tap Into His Alter Ego's Savagery To Stay Alive When His Enemies Attack! Jade Jaws Saddles Up With His Old Team, The Avengers, To Fight The Leader! And The Hulk Is Granted Amnesty, Finally Lauded The World Over As A Hero! Collecting Incredible Hulk (1968) #269-285.
---
Writer
Bill Mantlo
Scripter
Bill Mantlo
Artist
Sal Buscema, Mark Gruenwald
Penciller
Greg LaRocque, Sal Buscema
Inker
Andy Mushynsky, Chic Stone

,

Joe Sinnott, Sal Buscema

Colorist
Bob Sharen
Letterer
Janice Chiang, Jim Novak

,

Rick Parker

Layouts
Mark Gruenwald
Cover Artist
Al Milgrom
Editor
Al Milgrom
Editor in Chief
Jim Shooter
---
Edwin Jarvis
Franklin Richards
Jack of Hearts (Jack Hart)
Power Man (Luke Cage)
Bucky (James Buchanan Barnes)
Hellstorm (Daimon Hellstrom)
Leader (Samuel Sterns)
Abomination (Emil Blonsky)
Willie Lumpkin
Triton
Torgo
Silver Surfer (Norrin Radd)
Nicholas 'Nick' Fury Sr.
Darkstar (Laynia Petrovna)
Torpedo (Brock Jones)
Northstar (Jean-Paul Beaubier)
Aurora (Jeanne-Marie Beaubier)
Machine Man (X-51 / Aaron Stack)
Stingray (Walter Newell)
Wonder Man (Simon Williams)
Alicia Masters
Luna (Luna Maximoff)
She-Hulk (Jennifer Walters)
Jim Wilson
Bereet
Dark-Crawler
Amphibion of Xantares
Empress Daydra
Major Ursus
Jackdaw
Arabian Knight (Abdul Qamar)
Defensor
Sabra (Ruth Bat-Seraph)
Vision (Jonas)
Sunfire (Shiro Yoshida)
Karnak (Karnak Mander-Azur)
Franklin 'Foggy' Nelson
Black Panther (T'Challa)
Thaddeus E. 'Thunderbolt' Ross
Bruce Banner
Gargoyle (Isaac Christians)
Vector (Simon Utrecht)
Wasp (Janet van Dyne)
Shamrock (Molly Fitzgerald)
Angel (Warren Worthington III)
Professor X (Charles Francis Xavier)
Vapor (Ann Darnell)
Cyclops (Scott Summers)
Captain Britain (Brian Braddock)
Lockjaw
Quasar (Wendell Vaughn)
Captain America (Steve Rogers)
Sasquatch (Walter Langkowski)
Watcher (Uatu)
Shaman (Michael Twoyoungmen)
Snowbird (Narya / Anne McKenzie)
Vindicator (James MacDonald Hudson)
Rick Jones
Hawkeye (Clint Barton)
Quicksilver (Pietro Maximoff)
Hellcat (Patsy Walker-Hellstrom)
Daredevil (Matt Murdock)
Zzzax
Blitzkrieg (Franz Mittelstaedt)
Black Bolt (Blackagar Boltagon)
Medusa (Medusalith Amaquelin-Boltagon)
Spider-Man (Peter Parker)
Scarlet Witch (Wanda Maximoff)
Betty Ross
Hulk (Robert Bruce Banner)
Invisible Woman (Susan Storm-Richards)
Falcon (Sam Wilson)
Megalith
Colossus (Piotr 'Peter' Nikolaievitch Rasputin)
Timothy 'Dum Dum' Dugan
Crystal (Crystalia Amaquelin-Maximoff)
Rocket Raccoon
Thor (Donald Blake)
Captain Marvel (Monica Rambeau)
Doc Samson (Leonard Samson)
Human Torch (Jonathan 'Johnny' Storm)
Iron Man (James 'Rhodey' Rhodes)
Beast (Henry 'Hank' McCoy)
Nightcrawler (Kurt Wagner)
Sub-Mariner (Namor McKenzie)
Tigra (Greer Grant-Nelson)
Mr. Fantastic (Reed Richards)
Valkyrie (Brunnhilde)
Iron Man (Anthony 'Tony' Stark)
J. Jonah Jameson Jr.
Dr. Strange (Stephen Strange)
Iron Fist (Daniel 'Danny' Rand)
Wendigo (Francois Lartigue)
Thing (Benjamin J. Grimm)
Iceman (Robert 'Bobby' Drake)
Ba't'll
Gorgon (Gorgon Petragon)
Ironclad (Mike Steel)
X-Ray (Jimmy Darnell)
Avengers
Galaxy Master
---
---