The Savage Dragon
Savage Dragon, Vol. 2 #200A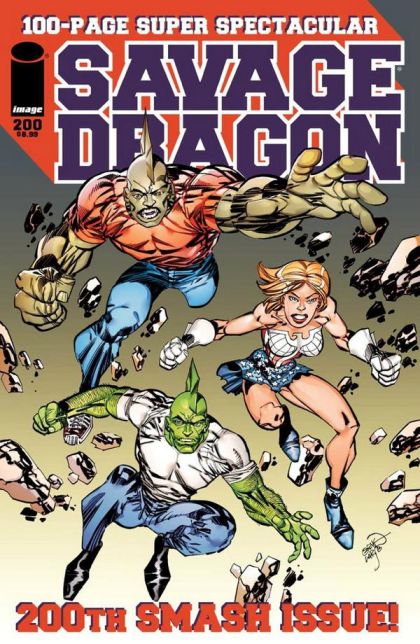 ---
Dec 2014
Action, Adventure, Super-Heroes
Modern Age | Color | USA | English
Squarebound | 96 pages | $8.99
Savage Dragon is out of prison and the Vicious Circle is gunning for him. Malcolm Dragon and his stepsister Angel join forces to keep their father alive against an all-out assault in this movie-length epic. Back up stories include an Angel and Mr. Glum story drawn by Batman alum CHRIS BURNHAM, Malcolm and Savage Dragon in WWII by legendary Incredible Hulk artist HERB TRIMPE, Special Agents Strikeforce by NIKOS KOUTSIS, Vanguard by GARY CARLSON and FRANK FOSCO and Malcolm Dragon by TRAVIS SENGAUS.
---
Writer
Erik Larsen, H. Karl

,

Gary Carlson, Elio, James Squires, Gavin Higgenbotham, Joe Keatinge, Chris Eliopoulos

Artist
Ryan Alexander-Tanner, Erik Larsen

,

H. Karl, Elio, Frank Fosco, James Squires, Chris Burnham, Michel Fiffe, Chris Eliopoulos, Mike Perkins, Travis Sengaus

Penciller
Erik Larsen, Herb Trimpe

,

Scott James, Nikos Koutsis

Inker
Erik Larsen, Herb Trimpe

,

Scott James, Mike Toris

Colorist
Rodgers, Pruett

,

Bill Crabtree, Scott James, Nikos Koutsis, Dylan McCrae, Courtland Brugger, David Branstetter

Letterer
Chris Eliopoulos, Ferran Delgado

,

Adam Pruett

Layouts
Ron Frenz
Cover Artist
Erik Larsen
Cover Colorist
David Seltzer
Editor
Gavin Higgenbotham
---
Uncle Sam
Spawn (Al Simmons)
Ripclaw (Robert Bearclaw)
Thor
SuperPatriot (John Quincy Armstrong)
She-Dragon (Amy Belcher)
Shadowhawk (Paul Johnstone)
Badrock (Thomas John McCall)
Phantom Lady
Barbaric (Barney Runningbear)
Ricochet (Rikki Shaefer)
Witchblade (Sara Pezzini)
Angel Murphy
Dart (Alison Summers)
Peewee
Curly
Jock
Shaft (Jeff Terrel)
Captain Freedom
Battle Tank (Rex Dexter)
Rock (Joe Manning)
Vanguard
Flash Mercury
Daredevil (Bart Hill)
Scarecrow
Wally
Fever
Samson
Brawn
Powerhouse
Horridus (Sara Hill)
Mister Glum (Ba-Goom)
Roughneck
Malcolm Eugene Jackson Dragon
Maxine Jung Lai
Dragon
Captain Jack Stewart
Frank Darling
Jr.
Brutalizer
Dung
Angel Murphy (Savage World)
Widow
Shock Gibson
Silver Streak
Wildhair
Lightning Bug
Lurch
Jordan Gordon
Deathwatch
Roxy
Modem
Thakka
---
---