The Wicked + The Divine: The Funnies #1A
The Wicked + The Canine / The Wicker + The Divine / The Lost God / Gentle Annie vs the World / Making a Difference / 5 Things Everyone Who's Lived With Samet Will Understand / 13 Go Mad in Wiltshire / Guilty Pleasure Song / Secret Origin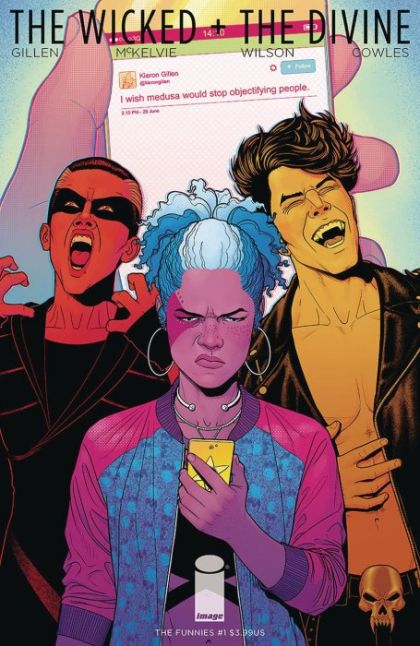 Rel: Nov 07, 2018 - Pub:
Fantasy
Modern Age | Color | USA | English
Regular Jamie McKelvie & Matt Wilson Cover
Every ninety years gods are reborn as dogs. They are good dogs. They are very good dogs. In two years, they may have learned how to sit, which is one of several (count 'em!) stories in this special. As THE WICKED + THE DIVINE prepares for its final arc, we invite a bunch of friends over, pass out the fizzy pop and sherbet and have a lovely time. Join us!
---
Writer
Kieron Gillen, Chip Zdarsky

,

Kate Leth, Chrissy Williams, Hamish Steele, Lizz Lunney, Romesh Ranganathan, Kitty Curran, Larissa Zageris

Artist
Chip Zdarsky, Margaux Saltel

,

Hamish Steele, Lizz Lunney, Kitty Curran, Larissa Zageris

Inker
Jamie McKelvie, Clayton Cowles

,

Erica Henderson, Julia Madrigal

Colorist
Juan Castro, Dee Cunniffe

,

Erica Henderson, Matt Wilson, Becka Kinzie
---
---