800 Words: Season 2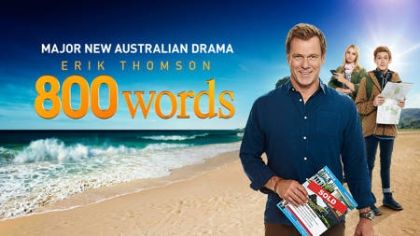 ---
---
Plot
A recently widowed father, quits his job as a popular 800 word columnist for a top selling Sydney newspaper. Over the internet he buys a house on an impulse in a remote New Zealand seaside town. He then has to break the news to his two teenage kids who just lost their mum, and now face an even more uncertain future. But the colourful and inquisitive locals ensure his dream of a fresh start does not go to plan.
Episodes
Episode 1: Episode 1
60 min Aug 23, 2016
George and Arlo implement a cunning plan to bring Shay back from Sydney. George and Jan's seek advice from the women of Weld about their relationship.
Episode 2: Episode 2
60 min Aug 30, 2016
The whole of Weld comes out for a party at The Turners while George almost destroys his friendship with Woody over a rather large invoice and a lawn that needs mowing.
Episode 3: Episode 3
60 min Sep 06, 2016
George lands a scoop on the first day of his new job at the newspaper, but why is he under orders not to write about an eight year old mystery that's gripping Weld?
Episode 4: Episode 4
60 min Sep 13, 2016
George's house is bursting with teenagers and he gets another chance to buy his dream house in Weld after all. But is it serendipity or just a bad idea?
Episode 5: Episode 5
60 min Sep 20, 2016
George's first date with Katie is the only news in Weld, while Constable Tom and Big Mac clash over the invasion of the freedom campers.
Episode 6: Episode 6
60 min Sep 27, 2016
After a jet-ski injures a local, George is appalled that you don't need a licence to drive a jet-ski in New Zealand and wants them all banned. He discovers Twitter and opens fire on jet-skiers.
Episode 7: Episode 7
60 min Oct 04, 2016
Laura's one year anniversary approaches. George and the family prepare to leave for Sydney. Shay gets the blame for Ike staying in Weld and Arlo gets serious with Emma.
Episode 8: Episode 8
60 min Oct 04, 2016
Shay gets the blame for Ike staying in Weld and Arlo gets serious with Emma.
Episode 9: Episode 9
60 min Jan 31, 2017
George and Fiona's dalliance is headline news in Weld, while Robbie goes on the offensive to save Fiona, all culminating with a rumble in the main street.
Episode 10: Episode 10
60 min Feb 07, 2017
George and Fiona put the heat on their new relationship with a dinner party. However, if they're to survive as a couple, there are many dramas to overcome both in and out of the kitchen.
Episode 11: Episode 11
60 min Feb 14, 2017
George sees red when Arlo secretly switches school subjects. Fiona struggles in her new parenting role. And Woody's comes up with a novel way to relieve Principal Tracey's stress.
Episode 12: Episode 12
60 min Feb 21, 2017
George and Fiona's escape to the city for a romantic weekend away from the kids is a disaster. Arlo almost burns down the house down and Jan has huge, huge news.
Episode 13: Episode 13
60 min Feb 28, 2017
Jan's pregnancy sparks a crisis between George and Fiona. Katie unwillingly gets Shay involved in an art scam. Arlo struggles with a long distance relationship.
Episode 14: Episode 14
60 min Mar 07, 2017
George struggles against the Terry-mania sweeping Weld. The town prepares to open its first fine dining restaurant, but not everyone's invited. Shay's art adventure has a public hanging.
Episode 15: Episode 15
60 min Mar 14, 2017
George fears that Weld is losing its innocence. Brother Terry goes all out to prove his love for Hannah, and there's a surprise visit from a very pregnant Jan.
Episode 16: Episode 16
60 min Mar 21, 2017
The fallout from George's savage article is immediate. Terry's true colours are revealed much to Hannah's horror, and a triple tragedy strikes Weld.
---
Editions
| Barcode | Format | Region | Release | Edition |
| --- | --- | --- | --- | --- |
| 054961255894 | DVD | 1 | 2017-04-18 | |
| 054961255993 | DVD | 1 | 2017-08-22 | |
| 9318500074713 | DVD | 4 | | |
| 9318500076151 | DVD | 4 | | |
---