A Place To Call Home
A Place To Call Home: Season 4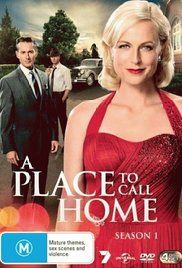 ---
Acorn Media (2013)
Drama
Australia | English | Color
A mysterious woman is perched between the harsh legacy of World War II and the hope of a new life in Australia.
---
---
1
A Nagging Doubt
60 min | Sep 10, 2016

Tensions arise at Ash Park while Sarah's life hangs in the balance and Carolyn's lifes falls apart. But how will George react when he learns of Regina's plot?
2
Bad in a Good Way
60 min | Sep 17, 2016

Regina weaves another tendril around George. James is rattled by Olivia's confession. Jack proves to Carolyn that she's worthy of him.
3
When You're Smiling
60 min | Sep 24, 2016

When Sarah and Roy go to Sydney, she finds more than she bargained for. Can Carolyn admit the truth to Elizabeth? Henry's confession forces James to sort out his true feelings.
4
Home to Roost
60 min | Oct 01, 2016

Elizabeth seizes the chance to battle Regina. Harry helps Sarah heal some deep emotional scars. George restores order at Ash Park.
5
Happy Days Are Here Again
60 min | Oct 08, 2016
Sarah, Elizabeth and Anna devise a plan to destroy Regina. James shares his feelings with Henry - but will Harry's return spell trouble in paradise? Regina initiates a dangerous new strategy to get rid of Sarah.
6
The Trouble with Harry
60 min | Oct 15, 2016

Elizabeth and Olivia work together to protect James from Harry. Jack and Carolyn are rattled as Sir Richard works his way back into their lives. Gino takes control of his marriage.
7
You're Just in Love
60 min | Oct 22, 2016

Jack and Carolyn's big day arrives, but has Sir Richard done enough to spoil it for them? Anna makes a huge confession. Gordon is convinced Sarah killed Milly? While Regina tempts Sgt Taylor.
8
There'll Be Some Changes Made
60 min | Oct 29, 2016

Jack and Douglas take matters with Sir Richard into their own hands when the refuge comes under threat. James grapples with his old feelings for Harry. Sarah and Elizabeth support Doris through matters of the heart.
9
Where Will The Baby's Dimple Be
60 min | Nov 06, 2016

Sarah's goes into labour. James supports Olivia as she faces a heartbreaking truth. Elizabeth gets a wonderful surprise. George's poor timing leaves him on shaky ground with Sarah. Roy tries to provide Sarah some comfort amongst the chaos.
10
And The Blind Shall See
60 min | Nov 13, 2016

Elizabeth executes Operation Vanquish Regina. Anna pushes Gino beyond his limit. Sarah's advice helps Olivia find a new direction. James offers Harry a chance to spend time with their own kind. Roy and Sarah discuss his commitment issues.
11
Catch the Tiger
60 min | Nov 20, 2016

While Regina's behaviour spirals, George asks for the family to go about business as usual while he plans a way to keep everyone safe from Regina. James and Henry's relationship hits shaky ground.
12
All Good Things
60 min | Nov 27, 2016

Olivia chooses a new path. Harry finds a new place to call home. Jack and Carolyn stand by their daughter. Sir Richard begins to draw up a blueprint for revenge against the Bligh family.
---
Editions
| Barcode | Format | Region | Released | Edition |
| --- | --- | --- | --- | --- |
| 9317731133824 | | | | |
| 054961247295 | | 1 | Feb 28, 2017 | |
| 9317731133800 | | 4 | 2016 | |
| 5036193033421 | | | | |
---
---