Airplane!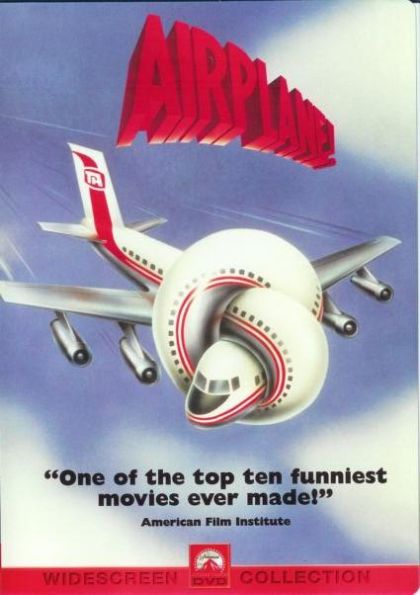 ---
Director
Writer
Jim Abrahams, David Zucker

, Hall Bartlett, Jerry Zucker, Arthur Hailey, John C. Champion

Producer
Jim Abrahams, David Zucker

, Jon Davison, Hunt Lowry, Howard W. Koch

Photography
Joseph F. Biroc
Musician
Elmer Bernstein
---
Trailer
Plot
Airplane is an American comedy that parodies the airplane catastrophe films from the 70's. The film was a huge commercial success and is one of the most important films in American cinema history.
---
Editions
| Barcode | Format | Region | Release | Edition |
| --- | --- | --- | --- | --- |
| 883929301768 | Blu-ray Disc | 1 | 2012-09-11 | Blu-Ray |
| 097361423548 | Blu-ray Disc | 1 | 2011-09-25 | Don't Call Me Shirley Edition |
| 032429272089 | Blu-ray Disc | 1 | 2017-05-23 | |
| 097361423524 | Blu-ray Disc | 1 | 2012-09-11 | |
| 5051368228839 | Blu-ray Disc | A | | 1 Disc |
| 9324915040847 | Blu-ray Disc | | | |
| 883929305957 | Blu-ray Disc | | | |
| 097361423562 | Blu-ray Disc | | | |
| 032429256331 | Blu-ray Disc | | | |
| 3333973175503 | Blu-ray Disc | | | |
| 097360130546 | DVD | 1 | 2000-00-00 | Paramount Widescreen Collection |
| 097360309041 | DVD | 1 | 2005-12-13 | Don't Call Me Shirley Edition |
| 097360309027 | DVD | 1 | 2005-12-13 | |
| 097360309065 | DVD | 1 | 2005-12-13 | Don't Call Me Shirley! Edition |
| 097360130522 | DVD | 1 | 2002-01-08 | |
| 8714865555439 | DVD | 1 | | |
| 097361378046 | DVD | 1 | 2008-08-05 | |
| 5014437893338 | DVD | 1 | 2006-05-29 | Special Collector's Edition |
| 9780792166887 | DVD | 1 | 2004-08-16 | |
| 097361378022 | DVD | 1 | 2008-08-05 | |
| 5014437804631 | DVD | 2 | 2001-03-05 | Collector's Edition |
| 5014437926333 | DVD | 2 | 2007-01-23 | Special Collector's Edition |
| 4010884500011 | DVD | 2 | 2003-05-05 | |
| 7393805004360 | DVD | 2 | 2003-05-05 | |
| 5014437884831 | DVD | 2 | 2005-09-12 | |
| 7332431019409 | DVD | 2 | 2001-07-06 | |
| 8010773200479 | DVD | 2 | 2001-00-00 | |
| 5055025303747 | DVD | 2 | 2003-05-05 | |
| 8414906400437 | DVD | 2 | | Widescreen Collection |
| 9324915059092 | DVD | 4 | 2006-00-00 | 1 Disc DVD |
| 9324915050402 | DVD | 4 | 1990-00-00 | |
| 9324915054165 | DVD | 4 | | |
| 9317206045881 | DVD | 4 | | 1 Disc DVD |
| 883929303731 | DVD | | 2013-01-08 | |
| 3333973120169 | DVD | | 2001-02-07 | |
| 9324915082588 | DVD | | | |
| 7072066052661 | DVD | | | |
| 4010889300012 | DVD | | | |
| 097360230567 | DVD | | | |
| 5014437969934 | DVD | | | |
| 883929323869 | DVD | | | |
| 7890552084343 | DVD | | | |
| 5050582804331 | DVD | | | |
| 6003285014018 | DVD | | | |
| 8027490131528 | DVD | | | |
| 032429271716 | DVD | | | |
| 9324915064911 | DVD | | | |
| 7896012211267 | DVD | | | |
| 097316378046 | DVD | | | |
| 8414906204127 | DVD | | | |
| 097360309058 | DVD | | | |
| 5601887417254 | DVD | | | |
| 097361378060 | DVD | | | |
| 883929317028 | DVD | | | |
| 097360130539 | VHS | 1 | 1997-07-22 | |
| 031504013050 | VHS | | | |
| 7391658802898 | VHS | | | |
| 5014437202925 | VHS | | 1997-07-22 | |
| 5014437254122 | VHS | | | |
| 8712581120153 | VideoCD | 1 | 2002-01-08 | |
| 097360130560 | LaserDisc | | | |
| 0775743216512 | | | | |
| 5014437017123 | | | 2001-08-06 | |
| 076476006389 | | | | |
| 1000000000689 | LaserDisc | | | |
| 6003805057020 | | | | |
---