Ash Vs. Evil Dead: The Complete Collection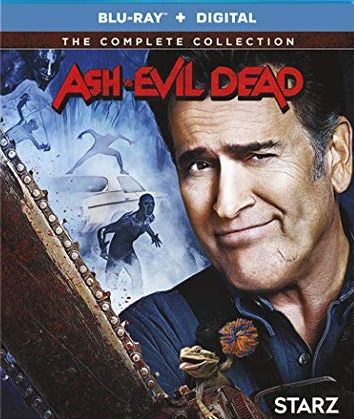 Lions Gate (2018)
Comedy, Comedy, Comedy, Horror, Horror, Horror, Fantasy, Fantasy, Fantasy, Thriller
USA | English | Color | 14h 20min
This collection contains:
- Ash Vs Evil Dead: Season 1 (2015)
- Ash vs Evil Dead: Season 2 (2016)
- Ash vs Evil Dead: Season 3 (2017)
---
---
Director
Sam Raimi
Michael Hurst
Rick Jacobson
Michael J. Bassett
Tony Tilse
Mark Beesley
David Frazee
Daniel Nettheim
Regan Hall
Andres Meza-Valdes
Diego Meza-Valdes
Writer
Sam Raimi, Rick Jacobson, Michael J. Bassett, Mark Verheiden, Ivan Raimi

,

Tom Spezialy, Hank Chilton, Steve Turner, Rob Fresco, Dominic Dierkes, Craig DiGregorio, Rob Wright, James Eagan, Cameron Welsh, Nicki Paluga, Zoë Green, Noelle Valdivia, Aaron Lam, Jennifer Ames, Sean Clements, William Bromell, Luke Kalteux, Nate Crocker, Suzanne Keilly, Caitlin Meares, Bryan Edward Hill, Alex Sobotowski

Producer
Sam Raimi, Rick Jacobson, Bruce Campbell, Robert G. Tapert, Mark Verheiden

,

Ivan Raimi, Hank Chilton, Steve Turner, Rob Fresco, Dominic Dierkes, Craig DiGregorio, Rob Wright, James Eagan, Cameron Welsh, Nicki Paluga, Noelle Valdivia, Charles Knight, Aaron Lam, Moira Grant, Jennifer Ames, Sean Clements, Luke Kalteux, Ian B. Williams

Photography
Kevin Riley, John Cavill, Dave Garbett, Andrew McGeorge
Musician
Joseph LoDuca
---
1
S1E1: El Jefe
30 min | Oct 31, 2015

Ash is baaack! 30 years after his last Deadite fight, badass blowhard Ash Williams unleashes the Evil in an act of stoned stupidity, bringing Deadite mayhem into his life again.
2
S1E2: Bait
30 min | Nov 07, 2015

Special Agent Fisher is tracking Ash. Pablo gets his first taste of blood in a manic battle, and a revelation changes Kelly's life forever.
3
S1E3: Books from Beyond
30 min | Nov 14, 2015

A mysterious woman finds the destruction at Kelly's parents' farm. Meanwhile, Ash, Pablo and Kelly reach Books from Beyond with the Necronomicon and Fisher finds herself in another terrifying, inexplicable situation.
4
S1E4: Brujo
30 min | Nov 21, 2015

Ruby helps Fisher and reveals her family's connection to the Evil Dead. Ash and team follow a clue from the demon Eligos, but Kelly pays a price.
5
S1E5: The Host
30 min | Nov 28, 2015

Kelly's current state puts others in jeopardy. This forces Pablo to make a brave move and Ash to reveal a new side to his character. Ruby and Fisher join forces in pursuit of Ash.
6
S1E6: The Killer of Killers
30 min | Dec 05, 2015

Thanks to his drug-induced vision, Ash knows what to do with the Necronomicon. Pablo and Kelly notice something ominous. Ash promises to visit Lem, but Fisher shows up for an almighty showdown with her former boss.
7
S1E7: Fire in the Hole
30 min | Dec 12, 2015

Ash, Pablo and Kelly, now joined by Fisher, arrive at the survivalist camp in the midst of chaos and must go to extreme measures to escape. Meanwhile, more is revealed of Ruby's mission.
8
S1E8: Ashes to Ashes
30 min | Dec 19, 2015

Ash attempts to bury the book to end the Evil, but first he must contend with other, more physical things from his past. Fisher faces a horrific change in Ash.
9
S1E9: Bound in Flesh
30 min | Dec 26, 2015

Ash battles someone all too familiar, and later hears a message from the Necronomicon. Meanwhile, the deadliest Deadite attacks.
10
S1E10: The Dark One
30 min | Jan 02, 2016
During a last-ditch effort to rid the world of the Evil, Ash receives an offer that could change his life forever.
11
S2E1: Home
30 min | Sep 22, 2016
Ash is forced to leave his cushy retirement in Jacksonville, return to his hometown of Elk Grove, Michigan, and mount up once again to face The Evil Dead. This time, he'll have to form an uneasy alliance with his former enemy Ruby as Elk Grove becomes the nucleus to the most dangerous horror Ash has faced to date.
12
S2E2: The Morgue
30 min | Oct 08, 2016

Pablo's grasp on reality is tested when Ruby reveals the Necronomicon has gifted him with premonitions. Meanwhile, in the morgue, Ash and Kelly discover Brock's date might not be the warm body he's banking on.
13
S2E3: Last Call
30 min | Oct 15, 2016

Local teens raise hell when they steal the Delta from Brock's house. Ash and his best buddy Chet devise a plan to throw a party at the bar, lure the thieves in, and get the Delta and the Necronomicon back .
14
S2E4: DUI
30 min | Oct 22, 2016

Ash goes on the hunt for his beloved Delta, but becomes the hunted. Ruby and Kelly engage in a battle royale with the evil spawn while Pablo suffers from a new Necronomicon condition.
15
S2E5: Confinement
30 min | Oct 29, 2016

Deadites are no match for our hero, but the Sheriff is, when Ash is brought up on charges. Ruby, Kelly, and Pablo go to break him out, but they discover some people are not who they seem to be. There's a new evil in town.
16
S2E6: Trapped Inside
30 min | Nov 06, 2016

An angry mob corners Ash and the team in Brock's house while Ruby tries to summon the spell to send Baal back to hell. Ash finally proves to the townsfolk he is not a murderer but a hero, when a familiar deadite comes for him.
17
S2E7: Delusion
30 min | Nov 13, 2016

Ash wakes up in an asylum and a seemingly helpful doctor tries desperately to get him to admit his horrific acts so his healing can begin. Ash's world seems to crumble around him. Was this all in his head? Is he really Ashy Slashy?
18
S2E8: Ashy Slashy
30 min | Nov 20, 2016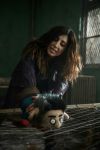 Ruby, Kelly and Pablo go to look for Ash and Baal in an abandoned asylum and encounter some crazy characters. They are all players in Baal's attempt to break Ash and find the Necronomicon. But did his plan work?
19
S2E9: Home Again
30 min | Nov 27, 2016

Ash, distraught about losing Pablo is determined to bring him back! Ruby and Kelly tag along as they travel back in time to make sure Young Ash never sees the Necronomicon. But the butterfly effect they create is something no one can believe!
20
S2E10: Second Coming
30 min | Dec 04, 2016

Ash, Ruby and Kelly battle the past to secure a future where Pablo is alive and the world is safe from evil, but the family from hell has other plans.
21
S3E1: Family
30 min | Feb 25, 2018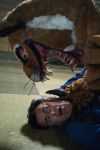 After being the hero of Elk Grove by defeating evil and saving humanity, Ash settles in and opens a hardware store; his peace is short lived when evil returns with a target close to his heart.
22
S3E2: Booth Three
30 min | Mar 04, 2018

Ruby gives birth to a form of evil and disguises herself to bond with Brandy. Kelly returns with a friend who is leading the search for The One to defeat The Dark One, while Ash realizes evil is out to get his daughter.
23
S3E3: Apparently Dead
30 min | Mar 11, 2018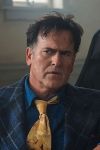 Ruby reveals herself to Ash as she tries to strengthen her bond with Brandy to defeat The Prophesized One; Pablo and Dalton continue to spar, unsure of one another.
24
S3E4: Unfinished Business
30 min | Mar 18, 2018

Brock warns Ash of an otherworldly hurricane brewing; Ash and Pablo make a discovery at the hardware store; Kelly and Brandy face a familiar foe.
25
S3E5: Baby Proof
30 min | Mar 25, 2018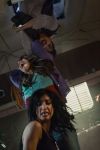 Ruby's house of horrors reveals her master plan as well as a little bundle of joy that terrorizes Ash; Pablo's Brujo ties bring him back to the path he needs to take.
26
S3E6: Tales from the Rift
30 min | Mar 31, 2018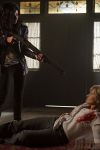 Ash's bond with his daughter strengthens as more Knights of Sumeria join Pablo and him to defeat evil; Kelly decides to go after Ruby while Ash, team, and the knights enter the rift and face a battle of their own.
27
S3E7: Twist and Shout
30 min | Apr 07, 2018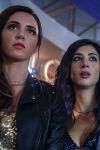 Ruby's latest creation is her most diabolical plan yet to turn Brandy against Ash; Pablo suspects something isn't right with Kelly when she meets him and Ash at the school; chaos ensues when evil shows up at the dance.
28
S3E8: Rifting Apart
30 min | Apr 14, 2018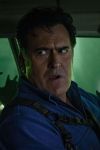 Ash and Pablo realize the rift in the cellar is the key to saving humanity and devise a plan to save the ones they love.
29
S3E9: Judgement Day
30 min | Apr 21, 2018

Pablo's role as Brujo Especiale has him straddle the worlds of good and evil to keep the rift open for Ash to save Brandy and Kelly, but they run into a snag; Ruby and Kaya faceoff with The Dark One.
Guest stars: Le Jugement dernier
30
S3E10: The Mettle of Man
30 min | Apr 28, 2018

Elk Grove undergoes a major battle that takes place on the streets, Ash rides high in a military tank, speeding across shaky, post-apocalyptic Elk Grove. Ash fights the biggest battle of them all - a sixty foot tall Kandarian demon.
---
Editions
| Barcode | Format | Region | Released | Edition |
| --- | --- | --- | --- | --- |
| 031398290940 | | 1 | Oct 16, 2018 | |
| 031398295808 | | 1 | Oct 16, 2018 | Blue Ray |
| 031398290933 | | | | |
| 5039036089562 | | | | |
| 031398290926 | | 1 | Oct 16, 2018 | |
| 031398311232 | | | | |
---
---