Ballers
Ballers: Season 3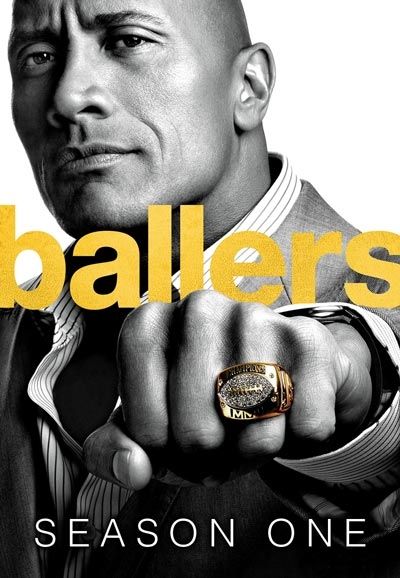 HBO (2015)
Comedy, Drama, Sports
USA | English | Color | 5h
Set in Miami, Ballers is a half-hour dramedy centered on a group of current and former professional football players, as well as their families, friends, and handlers. The series goes beyond the game and explores not only the challenges that current players face, but also takes a behind-the-scenes, real look into their lives both on and off the field.
---
---
Director
Rob Weiss
Julian Farino
Millicent Shelton
David Katzenberg
Chloe Domont
Writer
Rob Weiss, Stephen Levinson, Carter Harris, Zach Robbins, Steve Sharlet

,

Evan T. Reilly, Chloe Domont, Rashard Mendenhall

Producer
Rob Weiss, Janace Tashjian, David Levinson, Stephen Levinson, Carter Harris

,

Karyn McCarthy, Dany Garcia, Denis Biggs, Steve Sharlet, Evan T. Reilly, Sarah Potts, Spencer Strasmore, Julie Camino, Kelly Kreiser, Tommy Armour IV

Photography
Anthony Hardwick
---
1
Seeds of Expansion
30 min | Jul 22, 2017

Looking to score high-profile clients to pay off his debts to Ricky and Vernon, Spencer hits a roadblock with Mr. Anderson, who wants to focus on the Las Vegas market by partnering with casino magnate Wayne Hastings, Jr.. Ricky ponders fatherhood; Vernon and Reggie eye an edgy endorsement; Larry makes Charles the face of bad news at a team press conference.
Director: Julian Farino
Writer: Rob Weiss
2
Bull Rush
30 min | Jul 29, 2017

In Las Vegas on business, Spencer gets reacquainted with Chloe, an old flame now working for Wayne, while Ricky challenges the odds in a game of dice. Set up by Joe to represent top running back Kisan, Jason ends up sweating it out in a tough neighborhood. Charles gets a public-speaking primer from Julie; Vernon and Reggie make a risky endorsement deal.
Director: David Katzenberg
Writer: Evan Reilly
3
In the Teeth
30 min | Aug 05, 2017

Spencer encounters resistance to his Las Vegas expansion initiative in Los Angeles and Oakland. Meanwhile, Charles feels slighted by Larry for not getting credit after he landed a coveted lineman; Joe takes a detour with Reggie; Jason rebukes Kisan for his lack of transparency; and Ricky jumps to conclusions.
Director: David Katzenberg
Writer: Carter Harris
4
Ride and Die
30 min | Aug 12, 2017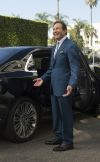 A key owner's blessing to bring professional football to Las Vegas hinges on equally critical meetings for Spencer and Joe. Meanwhile, Ricky stages his own private workout after being spurned by his new teammates; Vernon seeks a second chance; and tensions escalate between Charles and Larry after a Kisan's tryout.
Director: David Katzenberg
Writer: Rob Weiss
5
Make Believe
30 min | Aug 19, 2017

Spencer faces new challenges getting Wayne to finance his Vegas initiative, and ponders his place in the big picture. Looking to mend a long-festering feud between Larry and Coach Berg, Julie persuades Charles to invite both men over for a home-cooked meal. Vernon is surprised by an unscheduled visit from a league official; Joe becomes obsessed with virtual reality; Ricky loses focus and pays the price.
Director: Chloe Domont
Writer: Evan Reilly
6
I Hate New York
30 min | Aug 26, 2017

With the owners' meeting a week away, Spencer, Joe and Mr. Anderson head north in search of financing for a Vegas stadium. Larry tests the limits of Charles' loyalty and patience; Ricky gets a sobering diagnosis, and presses Jason to close a deal.
Director: Millicent Shelton
Writer: Steve Sharlet
7
Ricky-Leaks
30 min | Sep 02, 2017

Spencer finds himself in damage-control mode after an incident involving Ricky and a brash high-schooler. Excited over a possible plum job, Charles bristles at Julie's lack of disclosure at work. Looking to reduce Vernon's suspension, Reggie impresses Candace at the league office. Spencer and Joe find themselves at odds with Anderson over ASM's future.
Director: Rob Weiss
Writer: Rob Weiss
8
Alley-Oops
30 min | Sep 09, 2017

Spencer gets unexpected info that leads him to reassess his priorities. Joe considers the best way to break bad news to the ASM staff. Marginalized once again by Larry, Charles decides to take matters into his own hands.
Director: David Katzenberg
Writer: Rashard Mendenhall
9
Crackback
30 min | Sep 16, 2017

Spencer learns that his master plan to bring a team to Las Vegas may be in jeopardy. Ricky arrives at a crossroads, personally and professionally. Charles sees his wish come true in Miami, but ends up with regrets.
Director: Julian Farino
Writer: Evan Reilly & Steve Sharlet
10
Yay Area
30 min | Sep 23, 2017

Spencer and Joe get a late-game assist in their efforts to win over team owners. After soul-searching, Ricky maps out a new future. Jason gets Charles another crack at a coveted job. Reggie makes an impact at training camp. (Season Finale)
Director: Julian Farino
Writer: Evan Reilly
---
Editions
| Barcode | Format | Region | Released | Edition |
| --- | --- | --- | --- | --- |
| 883929614325 | | 1 | Apr 03, 2018 | |
| 9398700035479 | | | | |
| 7340112741266 | | | | |
| 5051890312150 | | | | |
| 883929614332 | | 1 | Apr 03, 2018 | |
| 5051888231739 | | | | |
| 5051892210942 | | | | |
| 9398700036612 | | | | |
---
---