BanG Dream!
BanG Dream!: Season 1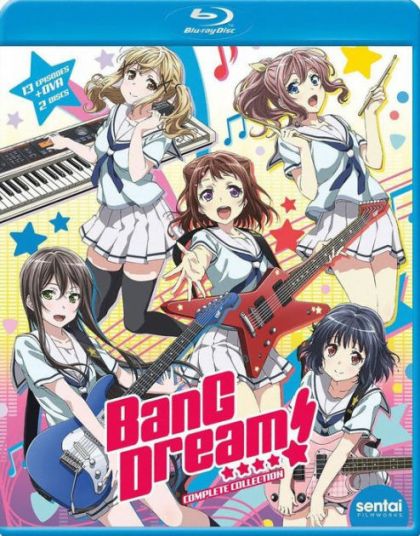 Sentai FilmWorks (2017)
Animation, Comedy, Family, Anime
English | Color
Since she was very young, Kasumi Toyama has always been searching for the "Star Beat", a sparkling and exciting sound she heard while looking up at the night sky. Just after getting into high school, Kasumi comes across a "star-shaped guitar" in the storage area of an old pawn shop. Feeling a rush and excitement she has never felt before, Kasumi teams up with four other girls and embarks on a journey to seek out the shiny place. We promise to perform a live here!
---
| | | |
| --- | --- | --- |
| | Ayaka Oohashi | Saaya Yamabuki |
| | Aimi Terakawa | Kasumi Toyama |
| | Ayasa Itou | Arisa Ichigaya |
| | Rimi Nishimoto | Rimi Ushigome |
| | Sae Ootsuka | Tae Hanazono |
| | Terakawa Aimi [Aimi] | Kasumi Toyama |
---
1
We Met!
25 min | Jan 21, 2017

One day, as she's still adjusting to her new high school, Kasumi Toyama discovers a trail of stars that leads her to an old thrift store. Inside, she makes a discovery.
2
We Did It!
25 min | Jan 28, 2017

Kasumi's heart is set on forming a band, but Arisa wants nothing do with it. In fact, Arisa is so determined to avoid her that she puts the star-shaped guitar up for auction.
3
I Ran Away!
25 min | Feb 04, 2017

Kasumi asks Rimi to join her band, but Rimi is reluctant. Meanwhile, Glitter*Green runs into an issue on the way to their show.
4
I Got Angry!
25 min | Feb 11, 2017

Kasumi starts staying after school to take guitar lessons from Tae. Meanwhile, Arisa seems to have a problem with all the time they are spending together.
5
My Heart Was Racing!
25 min | Feb 18, 2017
Asumi, Tae, and friends are preparing for their first performance. Are they going to be ready in time?
6
I Made It!
25 min | Feb 25, 2017
Kasumi begins to struggle in school and enlists Saya's help. Meanwhile, Arisa has been searching for the perfect band name.
7
We Fought!
25 min | Mar 04, 2017
Kasumi has a tall order in convincing Saya to join Poppin Party, is she able to do it? Meanwhile, they continue to get ready for the Culture Festival!
8
I Ran!
25 min | Mar 11, 2017
The Cultural Festival preparations are done, and it is time for it to begin. Meanwhile, Poppin' Party play their first show! How does it go?
9
I Got a Job!
25 min | Mar 25, 2017
Saya gets a new drum set and the girls all get jobs at Space! They learn what goes into putting on a live show.
10
I Was Surprised!
25 min | Mar 31, 2017
11
I Couldn't Sing Anymore
25 min | Apr 07, 2017
12
I Sparkled?!
25 min | Apr 14, 2017
13
I Sang It!
25 min | Apr 21, 2017
---
Editions
| Barcode | Format | Region | Released | Edition |
| --- | --- | --- | --- | --- |
| 816726028613 | | 1 | Jun 19, 2018 | |
---
---