Batman Beyond
Batman Beyond: Season 1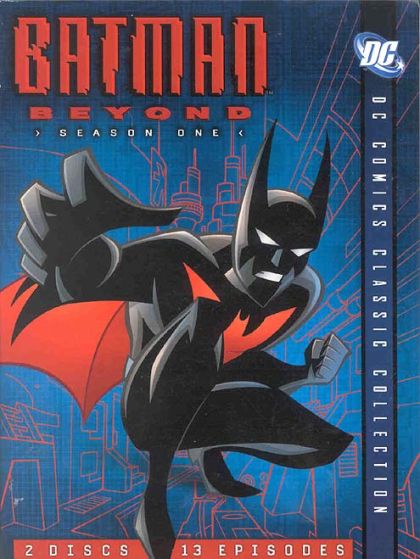 Warner Bros. (1999)
Animation, Drama, Adventure, Science Fiction, Thriller, Crime, Mystery, Action
USA | English | Color | 4h 40min
Batman Beyond, also known as Batman of the Future, is an Emmy Award-winning American animated television series created by The WB Television Network in collaboration with DC Comics and Warner Bros. Animation as a continuation of the Batman legacy. It began airing on January 10, 1999, and ended its run on May 18, 2002. After 52 episodes spanning three seasons and one direct-to-video film, the series was put on hold for the new Justice League animated series despite the network having announced plans for a fourth season.
---
---
Director
Curt Geda
Butch Lukic
Dan Riba
Yukio Suzuki
Writer
Frank Miller, Bob Kane, Paul Dini, Alan Burnett, Hilary Bader

,

Stan Berkowitz, Rich Fogel, Tom Horn, Bruce W. Timm, Glen Murakami, Bob Goodman, Steve Englehart, Walter Simonson

Producer
Paul Dini, Alan Burnett, Bruce W. Timm, Glen Murakami, Shaun McLaughlin

,

Jean MacCurdy

Photography
Sung-Il Cho
Musician
Shirley Walker, Michael McCuistion, Lolita Ritmanis, Kristopher Carter
---
1
Rebirth (Part 1)
30 min | Jan 10, 1999

Twenty years after the original series and with a brand new Batsuit, Bruce Wayne takes on a gang of kidnappers to rescue a hostage only to suffer a heart attack. Forced to take up a gun to save his life he decides to retire. Warren McGinnis, an employee of Wayne-Powers Industries, is given a disc containing classified information about a highly lethal kind of contaminant being manufactured by the company. The informant, a friend and fellow employee, vanishes. Terry McGinnis, Warren's son, breaks his curfew and has a run-in with a gang called "The Jokerz". He flees to the countryside where an elderly Bruce Wayne comes to his aid. Weakened after the fight Bruceallows Terry to help him back to the manor. While he is unconscious Terry stumbles upon the Batcave. Terry returns home to find his father dead. Swearing vengeance, he discovers the disc among his father's personal effects and returns to Wayne Manor to tells Bruce about the suspected corruption within his company...
Director: Curt Geda, Alan Burnett
Writer: Paul Dini, Alan Burnett
Guest stars: George Takei, Michael Gross, Rino Romano, Sam McMurray, Sherman Howard, Jack Roth, Bruce Timm, CCH Pounder, Clyde Kusatsu, Marc Worden
2
Rebirth (Part 2)
30 min | Jan 10, 1999

Bruce Wayne discovers the secret of the disc that was given to Terry's father, and instructs Terry to deliver the information directly to Commissioner Barbara Gordon. On the way to the police station he is accosted by the CEO of Bruce's company, Derek Powers, but manages to escape. Unhappy with the situation, he returns to Wayne Manor to steal the Batsuit and take out his vengeance on the man who killed his father. Although initially furious after discovering the theft, Wayne is impressed with Terry's performance and reluctantly agrees that the city of Gotham once again needs Batman, hiring Terry as his new assistant.
Director: Curt Geda, Alan Burnett
Writer: Stan Berkowitz
Guest stars: George Takei, Corey Burton, Sherman Howard, John Rubano, Phil Hayes
3
Black Out
30 min | Jan 31, 1999

Terry discovers how hard his new job as Batman is when he squares off against his first super-powered foe, Inque -- a shape-shifting woman sabotaging Foxteca for Derek Powers. Things go from bad to worse when he accidentally leads her right into the Batcave. Stockard Channing and Shannon Kenny make their first appearances as Commissioner Barbara Gordon and Inque.
Director: Dan Riba
Writer: Robert Goodman
Guest stars: Shannon Kenny, Jane Alan, Kevin Michael Richardson
4
Golem
30 min | Feb 07, 1999

Willie Watt, a nebbishy student at Terry's high school, is pushed around by everyone -- including his construction-worker dad, who insists that he needs to toughen up. Aching for revenge against Nelson, the jock that torments him, Willie steals a remote-controlled heavy-lifting robot (or "golem"), and rampages through Gotham. Batman stops the Golem quickly, but as a result of the fight he gains the power to control the golem mentally -- much to Nelson's dismay.
Director: Butch Lukic
Writer: Hilary J. Bader
Guest stars: Scott McAfee, Bill Smitrovich, Gregg Berger, Pauley Perrette, Mark Davis, Joe Lala, Melissa Disney
5
Meltdown
30 min | Feb 14, 1999

Derek Powers' body is continuing to deteriorate. Desperate, he has Victor Fries (Mr. Freeze) revived, and creates a new body for him under the pretense of medical research. Finally cured, Fries is repentant, but Bruce Wayne doesn't trust him. Batman halfheartedly shadows Freeze, convinced that he has reformed. But how long can he stay reformed once he discovers that Powers is using him?
Director: Curt Geda, Hilary J. Bader
Writer: Alan Burnett, Hilary J. Bader
Guest stars: Michael Ansara, Linda Hamilton, Corey Burton, Stuart Pankin, John Rubinow, Joe Spano
6
Heroes
30 min | Feb 21, 1999

Batman feels his thunder is being stolen by the Terrific Trio, a team of super-powered heroes: the 2-D Man, who can flatten and stretch his body to amazing lengths; Magma, a walking hulk of molten rock; and Freon, a woman who can turn to vapor and freeze objects with a touch. At Bruce's direction, Batman keeps a wary eye on them -- until he finds out that the accident that created them was no accident. The Batman Beyond creators are avid Jack Kirby fans, and this episode is one of the few that pays direct tribute to the King of Comics in almost every scene. Comics aficionados will get a kick out of the many homages to the Fantastic Four, right down to the Terrific Trio's origin, character interactions, and gadgetry.
Director: Butch Lukic
Writer: Rich Fogel
Guest stars: Robert Davi, Laura San Giacomo, Jeff Bennett, Kevin Dunn, Corey Burton, Jan Rabson, David Walsh
7
Shriek
30 min | Mar 14, 1999

Max Shreeve, a sound engineer working for Derek Powers, develops a suit that amplifies sound waves into awesomely destructive force. Powers is uninterested in the suit until Bruce Wayne interferes with his plans for Wayne-Powers once too often. On Powers' orders, Shreeve makes an attempt on Wayne's life, taking the name Shriek. Chris Mulkey makes his first appearance as the voice of Shriek.
Director: Curt Geda
Writer: Stan Berkowitz
Guest stars: Chris Mulkey, Ian Patrick Williams, Lauri Johnson, Gregg Berger
8
Dead Man's Hand
30 min | Mar 21, 1999

The latest generation of the Royal Flush gang, a dynasty of wealthy thieves using a card-playing motif, returns to Gotham. Meanwhile, Terry's commitments as Batman strain Terry's relationship with Dana to the breaking point -- so much so, he falls right into the arms of a new girl in town, Melanie Walker, who has her own problems with an overbearing father. Melanie never learns about Terry's double life, but he learns about hers -- as Ten, the youngest, reluctant Royal Flush gang member. Olivia D'Abo, George Lazenby, Amanda Donohoe, and Scott Cleverdon make their first appearances as Ten, King, Queen, and Jack.
Director: Dan Riba
Writer: Stan Berkowitz
Guest stars: George Lazenby, Amanda Donohoe, Olivia d'Abo, Scott Cleverdon, Candi Milo, Brian George, Joe Lala
9
The Winning Edge
30 min | Apr 10, 1999

Terry's late nights as Batman are starting to take a toll on his personal life when he can barely stay awake during the day. When he discovers that several jocks are using "slappers" -- patches that deliver the super-steroid Venom -- he investigates, only for his mother to catch him carrying the drugs. Then he has to find a way to stop the flow of Venom into Gotham and clear his name, all while being grounded.
Director: Yukio Suzuki
Writer: Rich Fogel
Guest stars: Larry Drake, Peter Jason, Ian Ziering, David Walsh, Marc Worden
10
Spellbound
30 min | Apr 30, 1999

Gotham's teenagers fall prey to the "evil eye" mind control techniques of a mysterious villian named Spellbinder, who causes them to hallucinate and do his bidding as unwitting accomplices. How can Batman defeat a foe who can control what he sees, hears, and feels? Jon Cypher makes his first appearance as the voice of Spellbinder.
Director: Butch Lukic
Writer: Robert Goodman
Guest stars: Jon Cypher, Omar Gooding, Richard Sanders, Vernee Watson-Johnson, Sam McMurray, Dorian Harewood, Andrew Bowen
11
Disappearing Inque
30 min | May 07, 1999

When Aaron, Inque's caretaker, is fired because of his infatuation with her, he cuts the power to her restraints. Injured and unable to regain her human form, she tries to coerce him to help her until he proves quite willing -- so long as she can make him like her. When Batman tries to stop her, she captures him and uses him as bait to lure Bruce Wayne into a trap.
Director: Curt Geda
Writer: Stan Berkowitz
Guest stars: Shannon Kenny, William H. Macy, Kevin Michael Richardson, Miriam Flynn, Kimmy Robertson, Barry Dennen, Victor Raider-Wexler
12
A Touch of Curaré
30 min | May 14, 1999

Sam Young, Gotham's district attorney and Commissioner Barbara Gordon's husband, is targeted for assassination by Curaré, a silent and deadly member of the Society of Assassins. Armed with a molecule-thin sword that can slice through anything, she presents a formidable enough challenge for Barbara to reveal to Terry that she knows he's Batman. As the former Batgirl, she warns him that he should quit being Batman while he can. Paul Winfield makes his first appearance as the voice of D.A. Sam Young.
Director: Dan Riba
Writer: Hilary J. Bader
Guest stars: Victor Rivers, Larry Cedar, Brian George, Mark Jonathan Davis, Melissa Disney, Paul Winfield
13
Ascension
30 min | May 21, 1999

Batman is becoming increasingly frustrated with Blight, Derek Powers' radioactive form. Powers is also frustrated as he wrestles with controlling his power, and puts his son Paxton in charge of Wayne-Powers. His identity as Blight is revealed moments later, and he goes into hiding until he can find a way out of the city. Paxton begs Batman to help capture his father, and he warily agrees. Terry wants Blight to pay for murdering his father, and Paxton may have other plans -- but who is double-crossing whom?
Director: Yukio Suzuki
Writer: Robert Goodman
Guest stars: Cary Elwes, Miguel Sandoval, Tress MacNeille, John Rubinow, Javier Grajeda
---
Editions
| Barcode | Format | Region | Released | Edition |
| --- | --- | --- | --- | --- |
| 012569750081 | | 1 | Mar 21, 2006 | DC Comics Classic Collection |
| 883929623235 | | 1 | Jun 19, 2018 | |
| 9325336049051 | | 4 | | |
| 7509036237983 | | | | |
---
---