Big Brother (Australia)
Big Brother (Australia): Season 5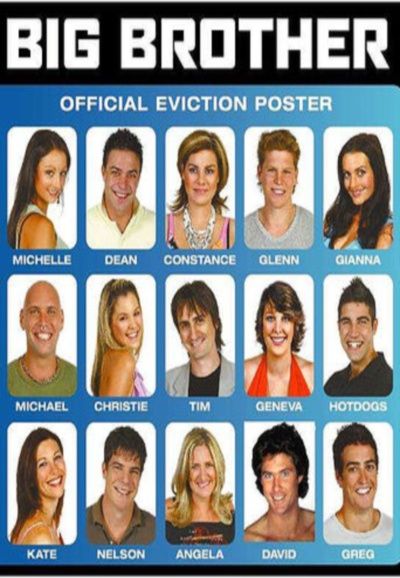 ---
2005
Reality
English | Color
The craze of Big Brother is simple - 14 people in a house on camera 24/7. Each week, one is evicted. Throw in 3 specials a week and voila - a hit series! The phenomenon has swept the world and has finally reached Australia and New Zealand, and by the ratings, it's here to stay. Each year the producers try to come up with fresh un-used ideas. In previous years the winner of Big Brother has pocketed $250,000. That's enough money to set any young person up financially. But this year's prize money is out of control. The winner of Big Brother 2004 will become a millionaire! And it will be kept secret from the Housemates, until Big Brother decides to share it with them. Everybody seems to have a bit of a '70s feel about them at the moment. There's a bit of a resurgence of all of that. It just sort of made sense that people would love to have a disco floor in their house. Bean bags seem to have come back into vogue. The shag carpet came from all that as well. There's stuff like fun
---
| | | |
| --- | --- | --- |
| | Sonia Kruger | Host |
| | Trevor Butler | Trevor |
| | Ryan Fitzgerald | |
| | David Logan | David |
| | Sam Wallace | Sam |
| | Christina Davis | |
| | Peter Timbs | |
| | Anouska Golebiewski | |
| | Terri Mann | Terri |
| | Michael Farnsworth | Michael |
| | Joanne Ashton | |
| | Aphrodite Vuitton | |
| | Ray Baxter | Ray |
| | Krystal Ince | |
| | Belinda Thorpe | |
| | Leah White | |
| | Merlin Luck | |
| | Paul Dyer | |
| | Benjamin Archbold | |
| | Bree Quartermaine | |
| | Gordon Sloan | |
| | Dean | |
| | Daniel McInness | |
| | Carmel Hill | |
| | Greg Logan | Greg |
| | Angela Murray | Angie |
| | Michael Beveridge | Michael |
| | Benjamin Norris | Ben |
| | Ava David | Ava |
| | Zoe Westgarth | Zoe |
| | Stacey Wren | Stacey |
| | Sarah Wentworth-Perry | Sarah |
| | Ryan Buckingham | Ryan |
| | Layla Subritzky | Layla |
| | Josh Moore | Josh |
| | George Baramily | George |
| | Estelle Landy | Estelle |
| | Charne Louise | Charne |
| | Bradley Darke | Bradley |
| | Vesna Tosevska | Vesna |
| | Tim Brunero | Tim |
| | Rita Lazzarotto | Rita |
| | Rachael Burns | Rachael |
| | Nelson Russell | Nelson |
| | Michelle Carew-Gibson | Michelle |
| | Melanie Smerdon | Melsnie |
| | Richelle Benson | Kate |
| | Simon Deering | Hotdogs |
| | Heath Tournier | Heath |
| | Glenn Dallinger | Glenn |
| | Jane Pattison | Gianna |
| | Geneva Loader | Geneva |
| | Dean Glucina | Dean |
| | Constance Hall | Constance |
| | Christie Mills | Christie |
| | Angela Aiken | Angela |
| | Wesley Dening | Wesley |
| | Violeta Black | Violeta |
| | Mónica de Balso | Mónica |
| | Kane Dignum | Kane |
| | Igor Vurmeski | Igor |
| | Catherine Tremolada | Catherine |
| | Bree Amer | Bree |
| | Ashalea McWalters | Ashalea |
---
1
Opening Night
30 min | May 07, 2005
All the current BB house mates (we don't know if there are any intruders coming yet) entered the house. We found out the intruder is Logan (David or Greg) and that they will both earn a place in the BB house by tricking the other house mates into believing they are one person... Also the million dollars may not quite turn out to be that as the house mates will be fined for breaking rules and this will decrease their winning money!
2
Live Suprise
30 min | May 08, 2005
Gretal compares the two Logan twins traits. The two swap places in the Big Brother house for the first time
3
Friday Night Live #1
30 min | May 12, 2005
4
Lies Revealed
30 min | May 14, 2005
Big Brother has found out that three housemates (Constance, Dean & Nelson) lied to get into the big brother house - mainly about their relationship status. He has moved them into some sort of lock down area for the time being but the other housemates think that they have left... Also the twins have been discovered and officially intoduced to the house.
5
Live Nominations #1
30 min | May 15, 2005
6
Special Liars Eviction (Constance & Nelson)
30 min | May 16, 2005
7
Day 06: Friday Night Live #1
30 min | May 19, 2005
8
Live Eviction #1 (Angela)
30 min | May 21, 2005
Angela is evicted from the Big Brother house.
9
Live Nominations #2
30 min | May 22, 2005
10
Uncut 2005 #1
30 min | May 22, 2005
11
Day 11: Daily Show
90 min | May 17, 2005
12
Day 12: Daily Show
90 min | May 18, 2005
13
Day 13: Daily Show
90 min | May 19, 2005
14
Day 13: Friday Night Live #2
90 min | May 19, 2005
15
Day 15: Daily Show
90 min | May 20, 2005
16
Day 15: Live Eviction #1
90 min | May 21, 2005
17
Day 16: Daily Show
90 min | May 22, 2005
18
Day 16: Live Nominations #2
90 min | May 22, 2005
19
Day 16: Uncut #1
90 min | May 22, 2005
20
Day 17: Daily Show
90 min | May 23, 2005
21
Day 18: Daily Show
90 min | May 24, 2005
22
Day 19: Daily Show
90 min | May 25, 2005
23
Day 20: Daily Show
90 min | May 26, 2005
24
Day 20: Friday Night Live #3
90 min | May 26, 2005
25
Day 22: Daily Show
90 min | May 28, 2005
26
Day 22: Live Eviction #2
90 min | May 28, 2005
27
Day 23: Daily Show
90 min | May 29, 2005
28
Day 23: Live Nominations #3
90 min | May 29, 2005
29
Day 23: Uncut #2
90 min | May 29, 2005
30
Day 24: Daily Show
90 min | May 30, 2005
31
Day 25: Daily Show
90 min | May 31, 2005
32
Day 25: Housemates Incoming
90 min | May 31, 2005
33
Day 26: Daily Show
90 min | Jun 01, 2005
34
Day 27: Daily Show
90 min | Jun 02, 2005
35
Day 27: Friday Night Live #4
90 min | Jun 02, 2005
36
Day 29: Daily Show
90 min | Jun 04, 2005
37
Day 29: Live Eviction #3
90 min | Jun 04, 2005
38
Day 30: Daily Show
90 min | Jun 05, 2005
39
Day 30: Live Nominations #4
90 min | Jun 05, 2005
40
Day 30: Uncut #3
90 min | Jun 05, 2005
41
Day 31: Daily Show
90 min | Jun 06, 2005
42
Day 32: Daily Show
90 min | Jun 07, 2005
43
Day 33: Daily Show
90 min | Jun 08, 2005
44
Day 34: Daily Show
90 min | Jun 09, 2005
45
Day 34: Friday Night Live #5
90 min | Jun 09, 2005
46
Day 36: Daily Show
90 min | Jun 11, 2005
47
Day 36: Live Eviction #4
90 min | Jun 11, 2005
48
Day 37: Daily Show
90 min | Jun 12, 2005
49
Day 37: Live Nominations #5
90 min | Jun 12, 2005
50
Day 37: Uncut #4
90 min | Jun 12, 2005
51
Day 38: Daily Show
90 min | Jun 13, 2005
52
Day 39: Daily Show
90 min | Jun 14, 2005
53
Day 40: Daily Show
90 min | Jun 15, 2005
54
Day 41: Daily Show
90 min | Jun 16, 2005
55
Day 41: Friday Night Live #6
90 min | Jun 16, 2005
56
Day 43: Daily Show
90 min | Jun 18, 2005
57
Day 43: Live Eviction #5
90 min | Jun 18, 2005
58
Day 44: Daily Show
90 min | Jun 19, 2005
59
Day 44: Live Nominations #6
90 min | Jun 19, 2005
60
Day 44: Uncut #5
90 min | Jun 19, 2005
61
Day 45: Daily Show
90 min | Jun 20, 2005
62
Day 46: Daily Show
90 min | Jun 21, 2005
63
Day 47: Daily Show
90 min | Jun 22, 2005
64
Day 48: Daily Show
90 min | Jun 23, 2005
65
Day 48: Friday Night Live #7
90 min | Jun 23, 2005
66
Day 50: Daily Show
90 min | Jun 25, 2005
67
Day 50: Live Eviction #6
90 min | Jun 25, 2005
68
Day 51: Daily Show
90 min | Jun 26, 2005
69
Day 51: Live Nominations #7
90 min | Jun 26, 2005
70
Day 51: Uncut #6
90 min | Jun 26, 2005
71
Day 52: Daily Show
90 min | Jun 27, 2005
72
Day 53: Daily Show
90 min | Jun 28, 2005
73
Day 53: Intruders Arrive
90 min | Jun 28, 2005
74
Day 54: Daily Show
90 min | Jun 29, 2005
75
Day 55: Daily Show
90 min | Jun 30, 2005
76
Day 55: Friday Night Live #8
90 min | Jun 30, 2005
77
Day 57: Daily Show
90 min | Jul 02, 2005
78
Day 57: Live Eviction #7
90 min | Jul 02, 2005
79
Day 58: Daily Show
90 min | Jul 03, 2005
80
Day 58: Live Nominations #8
90 min | Jul 03, 2005
81
Day 58: Uncut #7
90 min | Jul 03, 2005
82
Day 59: Daily Show
90 min | Jul 04, 2005
83
Day 59: Intruder Eviction
90 min | Jul 04, 2005
84
Day 60: Daily Show
90 min | Jul 05, 2005
85
Day 61: Daily Show
90 min | Jul 06, 2005
86
Day 62: Daily Show
90 min | Jul 07, 2005
87
Day 62: Friday Night Live #9
90 min | Jul 07, 2005
88
Day 64: Daily Show
90 min | Jul 09, 2005
89
Day 64: Live Eviction #8
90 min | Jul 09, 2005
90
Day 65: Daily Show
90 min | Jul 10, 2005
91
Day 65: Live Nominations #9
90 min | Jul 10, 2005
92
Day 65: Uncut #8
90 min | Jul 10, 2005
93
Day 66: Daily Show
90 min | Jul 11, 2005
94
Day 67: Daily Show
90 min | Jul 12, 2005
95
Day 68: Daily Show
90 min | Jul 13, 2005
96
Day 69: Daily Show
90 min | Jul 14, 2005
97
Day 69: Friday Night Live #10
90 min | Jul 14, 2005
98
Day 71: Daily Show
90 min | Jul 16, 2005
99
Day 71: Live Eviction #9
90 min | Jul 16, 2005
100
Day 72: Daily Show
90 min | Jul 17, 2005
101
Day 72: Live Nominations #10
90 min | Jul 17, 2005
102
Day 72: Uncut #9
90 min | Jul 17, 2005
103
Day 73: Daily Show
90 min | Jul 18, 2005
104
Day 74: Daily Show
90 min | Jul 19, 2005
105
Day 74: Special Eviction
90 min | Jul 19, 2005
106
Day 75: Daily Show
90 min | Jul 20, 2005
107
Day 76: Daily Show
90 min | Jul 21, 2005
108
Day 76: Friday Night Live #11
90 min | Jul 21, 2005
109
Day 78: Daily Show
90 min | Jul 23, 2005
110
Day 78: Live Eviction #10
90 min | Jul 23, 2005
111
Day 79: Daily Show
90 min | Jul 24, 2005
112
Day 79: Live Nominations #11
90 min | Jul 24, 2005
113
Day 79: Uncut #10
90 min | Jul 24, 2005
114
Day 80: Daily Show
90 min | Jul 25, 2005
115
Day 81: Daily Show
90 min | Jul 26, 2005
116
Day 82: Daily Show
90 min | Jul 27, 2005
117
Day 83: Daily Show
90 min | Jul 28, 2005
118
Day 83: Friday Night Live #12
90 min | Jul 28, 2005
119
Day 85: Daily Show
90 min | Jul 30, 2005
120
Day 85: Live Eviction #11
90 min | Jul 30, 2005
121
Day 86: Daily Show
90 min | Jul 31, 2005
122
Day 86: Live Nominations #12
90 min | Jul 31, 2005
123
Day 86: Uncut #11
90 min | Jul 31, 2005
124
Day 87: Daily Show
90 min | Aug 01, 2005
125
Day 88: Daily Show
90 min | Aug 02, 2005
126
Day 89: Daily Show
90 min | Aug 03, 2005
127
Day 90: Daily Show
90 min | Aug 04, 2005
128
Day 90: Friday Night Live #13
90 min | Aug 04, 2005
129
Day 92: Daily Show
90 min | Aug 06, 2005
130
Day 92: Live Eviction #12
90 min | Aug 06, 2005
131
Day 93: Daily Show
90 min | Aug 07, 2005
132
Day 93: The Final Countdown
90 min | Aug 07, 2005
133
Day 94: Daily Show
90 min | Aug 08, 2005
134
Day 95: Daily Show
90 min | Aug 09, 2005
135
Day 96: Daily Show
90 min | Aug 10, 2005
136
Day 97: Daily Show
90 min | Aug 11, 2005
137
Day 97: Friday Night Live #14 - The Prize Fight
90 min | Aug 11, 2005
138
Day 99: Final Live Eviction
90 min | Aug 13, 2005
139
Day 100: The Finale
90 min | Aug 14, 2005
---
---