Black Clover
Black Clover: Season 1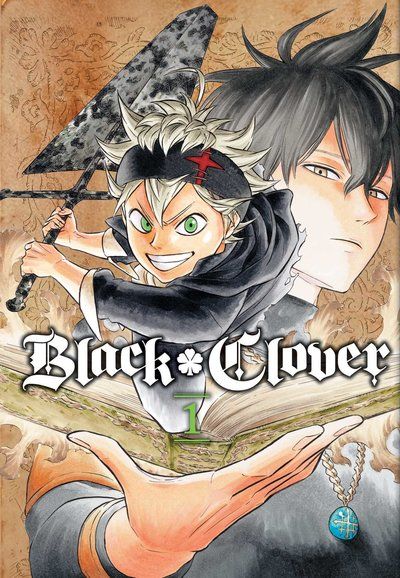 FUNimation (2017)
Animation, Comedy, Anime, Fantasy, Action
English | Color
Asta and Yuno were abandoned together at the same church, and have been inseparable since. As children, they promised that they would compete against each other to see who would become the next Emperor Magus. However, as they grew up, some differences between them became plain. Yuno was a genius with magic, with amazing power and control, while Asta could not use magic at all, and tried to make up for his lack by training physically. When they received their Grimoires at age 15, Yuno got a spectacular book with a four-leaf clover (most people receive a three-leaf-clover), while Asta received nothing at all. However, when Yuno was threatened, the truth about Asta's power was revealed, he received a five-leaf clover Grimoire, a "black clover"! Now the two friends are heading out in the world, both seeking the same goal!
---
---
1
Asta and Yuno
25 min | Oct 02, 2017

Asta and Yuno were orphaned boys who grew up together, but one was more fortunate than the other when it came to magic. When the day comes to receive their magical books, a grimoire, Yuno receives an extremely rare one while Asta does not receive one at all...
Director: Tatsuya Yoshihara
Writer: Kazuyuki Fudeyasu, Yuuki Tabata
Guest stars: Gakuto Kajiwara
2
The Boys' Promise
25 min | Oct 09, 2017

Yuno's book was stolen by Lebuty. Helpless without it, Asta jumps in to fight despite having no magic of his own to defend himself...or does he?
Director: Tatsuya Yoshihara
Writer: Kazuyuki Fudeyasu
3
To the Royal Capital of the Clover Kingdom!
25 min | Oct 16, 2017

Asta and Yuno spend six months training for the upcoming Magic Knights Entrance Exam. Everyone seems to think Yuno is sure to pass, but worries that Asta is just wasting his time.
Director: Tatsuya Yoshihara
Writer: Kazuyuki Fudeyasu
4
The Magic Knights Entrance Exam
25 min | Oct 23, 2017

Asta and Yuno head toward the colosseum in the royal capital for the Magic Knights Entrance Exam, while looking around and admiring all the things they've never seen before.
Director: Tatsuya Yoshihara
Writer: Kazuyuki Fudeyasu
5
The Road to the Wizard King
25 min | Oct 31, 2017

The entrance exam finally comes to a close. The time has arrives for the captains to decide which candidates they want to join their squads.
Director: Tatsuya Yoshihara
Writer: Kazuyuki Fudeyasu
6
The Black Bulls
25 min | Nov 07, 2017

Asta has arrived at the home of the Black Bulls, which Yami himself called the absolute worst Magic Knights Squad. He is greeted by the squad's unique members.
Director: Tatsuya Yoshihara
Writer: Kazuyuki Fudeyasu
7
The Other New Recruit
25 min | Nov 14, 2017

As a new member of the Black Bulls, Asta is thrilled to receive his very first private room, even though it's tiny. Everything Asta sees as Magna shows him around the squad's base is new and exciting to him.
Director: Tatsuya Yoshihara
Writer: Kazuyuki Fudeyasu
8
Go! Go! First Mission
25 min | Nov 21, 2017

The Magic Knights: heroes that everyone in the kingdom looks up to and dreams of becoming one day. But the new recruit, Asta, has yet to do anything that seems like what a Magic Knight should be doing, as he's stuck doing random chores.
Director: Tatsuya Yoshihara
Writer: Kazuyuki Fudeyasu
9
Beasts
25 min | Nov 28, 2017

On Yami's orders, Asta and Noelle go on their first mission with Magna to hunt wild boars. They successfully complete the mission and go to Saussy Village to meet with the mayor, Seyhe.
Director: Tatsuya Yoshihara
Writer: Kazuyuki Fudeyasu
10
Those Who Protect
25 min | Dec 05, 2017

Asta, Noelle, and Magna are doing their best to protect the villagers of Rayaka from the ice magic user Heath and his underlings, but Asta's attacks don't seem to be working, and Magna's magical powers are running low.
Director: Tatsuya Yoshihara
Writer: Kazuyuki Fudeyasu
11
What Happened on a Certain Day in the Castle Town
25 min | Dec 12, 2017

After Asta, Magna, and Noelle saved the villagers of Saussy Village, the Wizard King gives the Black Bulls a star of honor. Asta and Noelle also receive their first pay as Magic Knights, and Asta is filled with happiness.
Director: Tatsuya Yoshihara
Writer: Kazuyuki Fudeyasu
12
The Wizard King Saw
25 min | Dec 19, 2017

As they were visiting the Black Market, Asta and the others see an old woman get robbed, and Asta goes after the thief.
Director: Tatsuya Yoshihara
Writer: Kazuyuki Fudeyasu
13
The Wizard King Saw, Continued
25 min | Dec 26, 2017

While on an escort mission, Yuno, Klaus and Mimosa are attacked by a mysterious group of men. Klaus senses that they're in danger and wants to escort Salim as quickly as possible, but Salim insists on visiting Yuno's hometown, Hage Village.
Director: Tatsuya Yoshihara
Writer: Kazuyuki Fudeyasu
14
Dungeon
25 min | Jan 09, 2018

A dungeon appeared near the border of the Clover Kingdom and the Diamond Kingdom. The dungeon is like an ancient ruin. It may contain important treasures, but they're guarded by various magical traps.
Director: Tatsuya Yoshihara
Writer: Kazuyuki Fudeyasu
15
The Diamond Mage
25 min | Jan 16, 2018

Yuno, Klaus, and Mimosa from the Golden Dawn appear in front of Asta and Noelle, apparently sent on the same mission. Klaus mocks the Black Bulls for their awful reputation and gets in an argument with Asta.
Director: Tatsuya Yoshihara
Writer: Kazuyuki Fudeyasu
16
Friends
25 min | Jan 23, 2018

Yuno, Mimosa, and Klaus get close to the treasure chamber in the dungeon. However, a mage from the Diamond Kingdom named Mars gets in their way.
Director: Tatsuya Yoshihara
Writer: Kazuyuki Fudeyasu
17
Destroyer
25 min | Jan 30, 2018

In order to go to the treasure chamber together with his friends, Yuno confronts Mars alongside Klaus, so that the injured Mimosa can heal herself. But they have a hard time harming Mars at all.
Director: Tatsuya Yoshihara
Writer: Kazuyuki Fudeyasu
18
Memories of You
25 min | Feb 06, 2018

Asta, Yuno and the others finally get to the treasure chamber, and they're in awe at the mountain of treasure in front t of them. Yuno finds a strange scroll with strange writing, and then his grimoire does something strange.
Director: Tatsuya Yoshihara
Writer: Kazuyuki Fudeyasu
19
Destruction and Salvation
25 min | Feb 13, 2018

Asta is gravely injured in the battle against Mars and collapses. Despite his own injuries, something drives Mars onward, and he tries to finish off Asta.
Director: Tatsuya Yoshihara
Writer: Kazuyuki Fudeyasu
20
Assembly at the Royal Capital
25 min | Feb 20, 2018

Asta and Noelle head to the Magic Knights Headquarters in the Noble Realm to report on their mission to capture the dungeon. On their way, they run into Yuno, Klaus, and Mimosa, and they all head to the headquarters together.
Director: Tatsuya Yoshihara
Writer: Kazuyuki Fudeyasu
21
Capital Riot
25 min | Feb 27, 2018

Asta defends Noelle from her siblings at the decoration ceremony, and the other nobles try to put him in his place. Meanwhile, Leopold and Fuegoleon seem to have taken a liking to Asta, which causes an argument between Fuegoleon and Nozel.
Director: Tatsuya Yoshihara
Writer: Kazuyuki Fudeyasu
22
Wild Magic Dance
25 min | Mar 06, 2018

After hearing about the attack on the capital, Asta rushed out, and the rest of the Magic Knights quickly followed. They found that corpses being controlled by Rades's wraith magic were attacking the citizens.
Director: Tatsuya Yoshihara
Writer: Kazuyuki Fudeyasu
23
The King of the Crimson Lions
25 min | Mar 13, 2018

Thanks to Noelle's help, Asta is now able to concentrate on the battle. However, because of the attack he took earlier, Asta continues to lose stamina and isn't able to move as well as he'd like.
Director: Tatsuya Yoshihara
Writer: Kazuyuki Fudeyasu
24
Blackout
25 min | Mar 20, 2018

While the masses were praising the Magic Knights for saving them, most of the Magic Knights present are swallowed up by a spatial magic spell known as Blackout.
Director: Tatsuya Yoshihara
Writer: Kazuyuki Fudeyasu
25
Adversity
25 min | Mar 26, 2018

Captain Fuegoleon is swallowed up by spatial magic right in front of Asta and the others. Noelle realizes that the spellcaster must be nearby, since the spell pinpointed Fuegoleon. Asta finds the spellcaster, but something unbelievable happens next.
Director: Tatsuya Yoshihara
Writer: Kazuyuki Fudeyasu
26
Wounded Beasts
25 min | Apr 02, 2018

More enemies appear before Asta and the others. Despite being badly wounded, Asta and Leopold haven't lost their fighting spirit, and they charge at the new enemies. The enemies realize how dangerous they are and try to kill them immediately.
Director: Tatsuya Yoshihara
Writer: Kazuyuki Fudeyasu
27
Light
25 min | Apr 09, 2018

The one who saved Asta from the group calling themselves the Eye of the Midnight Sun was the Wizard King, Julius, who was waiting for them at their base. Asta and the members of the Eye of the Midnight Sun are in awe of Julius's power.
28
The One I've Set My Heart On
25 min | Apr 16, 2018

Finral invites Asta and Luck to go to a mixer with him. Noelle hears about this and ends up following them because she's concerned about Asta. To deepen her cover, she even gets a job at the pub they go to.
29
Path
25 min | Apr 23, 2018

Months have passed since Asta and Yuno became Magic Knights and took their first steps toward becoming the Wizard King. Father and Sister Lily couldn't be happier about all of their hard work.
30
The Mirror Mage
25 min | Apr 30, 2018

The Black Bulls get a day off after getting paid, and Gauche goes to visit his beloved little sister Marie. To his surprise, he finds Asta already there and playing with her.
31
Pursuit Over the Snow
25 min | May 07, 2018

Asta, Gauche, and Theresa go to find the abducted children. Gauche is able to track the faint trace of mana from the magic mirror that Marie always carries with her. On their way there, Asta spots Marco in the snow and goes to him.
32
Three-Leaf Sprouts
25 min | May 14, 2018

Asta and the others arrive at the dungeon where the children were being held. Seeing that Marie was hurt by the enemy, Gauche loses his mind. Asta is enraged at the fact that the children had their magic stolen, and he and Gauche go after Baro and Neige.
33
To Help Somebody Someday
25 min | May 21, 2018

Sally's gel magic is extremely incompatible with Gauche's mirror magic. She uses her dark magic item and turns Baro into a giant mud monster, which makes Gauche take Marie and flee.
34
Light Magic vs Dark Magic
25 min | May 28, 2018

After defeating Sally and Baro, Asta and Gauche suddenly end up having to face Licht, the leader of the Eye of the Midnight Sun. Licht's attacks are too fast for Asta to see, and he gets injured.
35
The Light of Judgment
25 min | Jun 04, 2018

Yami and Licht continue their battle and Asta faces off with Valtos. Meanwhile, Finral manages to get all of the kids and Theresa back to the town and Theresa gets treated for her injuries.
36
Three Eyes
25 min | Jun 11, 2018

With the help of Gauche, Yami and Asta are able to defeat Licht. However, their victory is short-lived, as the three who call themselves the Third Eye appear and come to Licht's aid.
37
The One With No Magic
25 min | Jun 18, 2018

Three of the Magic Knight captains—Jack the Ripper, Charlotte, and Nozel—appear and come to Yami and Asta's aid in fighting the Third Eye. Asta is told that his grimoire and swords belong to Licht's master, and Licht wants them back.
38
The Magic Knights Captain Conference
25 min | Jun 25, 2018

The Wizard King summons Asta after his work dealing with the Eye of the Midnight Sun. Yami tells Asta he can come with him to the royal capital, since he has to go to a conference of all the Magic Knights Captains.
39
Three-Leaf Salute
25 min | Jul 02, 2018

Thanks to Asta, Julius and Marx were able to undo the protection spell that was on the captives from the Eye of the Midnight Sun and ask them who the traitor among them was.
40
A Black Beach Story
25 min | Jul 09, 2018

Entrusted with a mission by the Wizard King, Asta and the other Black Bulls head to Raquey, a place that's surrounded by strong mana. With Captain Yami gone off somewhere, the other members decide to play around on the beach in their swimsuits.
41
The Water Girl Grows Up
25 min | Jul 16, 2018

Asta and Noelle train for their upcoming mission and meet a girl named Kahono, whose dream is to become an idol who can sing, dance, and use magic.
42
The Underwater Temple
25 min | Jul 23, 2018

Because of Noelle's hard work, the Black Bulls are able to get through the harsh mana currents and safely arrive at the Underwater Temple. Everyone is nervous, since they've never been here before, but the underwater people welcome them with open arms.
43
Temple Battle Royale
25 min | Jul 30, 2018

Asta and the other Black Bulls are split up throughout the Underwater Temple due to Gifso's magic. They are forced to go head-to-head with the temple mages in a battle royale.
44
The Pointlessly Direct Fireball and the Wild Lightning
25 min | Aug 06, 2018

One of the members of the Third Eye, Vetto, appears at the Underwater Temple along with his underlings.
45
The Guy Who Doesn't Know When to Quit
25 min | Aug 13, 2018

Magna, Luck, and Gio, the most powerful Underwater Temple mage, risk their lives fighting Vetto. Asta and Kahono's older brother, Kiato, also arrive at the scene.
46
Awakening
25 min | Aug 21, 2018

Kahono and Noelle reach Asta and the others. Noelle is astonished at how powerful Vetto is, but Kahono remains confident. She is the granddaughter of Gifso and cherishes everyone at the Underwater Temple, which she is willing to do anything to protect.
47
The Only Weapon
25 min | Aug 28, 2018

Despite being greatly injured in the battle against Vetto, Asta stands up to face him again. Seeing this, Vanessa and Finral come to assist Asta, too.
48
Despair vs. Hope
25 min | Sep 03, 2018

Asta continues his attacks against Vetto with support from Vanessa and Finral. They finally manage to land a blow on Vetto, but it's not very effective. Vanessa and Finral remember when they were younger and much weaker.
49
Beyond Limits
25 min | Sep 10, 2018

Asta's never-give-up attitude has a impact on his fellow Black Bulls. Vetto recalls his youth, while Yami comes to a realization and takes action.
50
End of the Battle, End of Despair
25 min | Sep 17, 2018

The members of the Black Bulls all surpassed their limits and defeated a powerful enemy. They manage to safely get the magic stone and successfully complete their mission, and all the members other than Captain Yami go recuperate.
51
Proof of Rightness
25 min | Sep 24, 2018

The Black Bulls return home after their battle against Vetto in the Underwater Temple. Yami, Asta, and Charmy go see the Wizard King to report on the battle.
52
Whoever's Strongest Wins
25 min | Oct 01, 2018
The Golden Dawn continue fighting the Diamond forces. The Diamonds soon realize they are about to be overpowered when William uses his world tree magic, basically ending the fight.
53
Behind the Mask
25 min | Oct 08, 2018
During the attack on the Clover Kingdom by the Diamond Kingdom, Yami saves the captain of the Golden Dawn, William Vangeance, from Lotus's attack. Yami then asks William a question that's been on his mind for quite some time. Meanwhile, Asta runs into Yuno in Kiten and they are confronted by Finral's younger half-brother, Langris. Langris was always beaming with potential and joined the elite Magic Knight Squad of the Golden Dawn and became the vice-captain. He also despises his older brother Finral and considers him a total failure. Langris mocks his brother as well as the other Black Bulls and Finral finally stands up to him...
54
Never Again
25 min | Oct 15, 2018
After Kiten is successfully protected Yami introduces Asta to a recovery mage named Owen that works directly under the Wizard King so he can get his arms healed. Owen is known as the most powerful recovery mage in the Clover Kingdom, but Asta's arms were in a horrific condition. Finral happens to walk by the room when Owen tells Asta something about his injury, and then he tells the rest of the Black Bulls, who are shocked. The Black Bulls go to check on Asta and see that he's still not discouraged at the bad news, and they all come to a decision...
55
The Man Named Fanzell
25 min | Oct 22, 2018
Asta first met Fanzell Kruger shortly after he received his grimoire. He runs into him while training with his new anti-magic sword. Fanzell uses wind magic and is able to turn wind into a sword so he helps Asta train. One day while they're in the forest, someone comes for Fanzell's life..
56
The Man Named Fanzell Continued
25 min | Oct 30, 2018
A few months after being trained by Fanzell, he suddenly shows up at the Black Bulls' base. Fanzell recognized Noelle's staff and wanted to ask her about it. It was created by his fiancee, Domina, and he was thankful to find another clue as to her whereabouts. But then, more assassins who are after Fanzell also appear at the Black Bulls' base...
57
Infiltration
25 min | Nov 06, 2018
58
The Battlefield Decision
25 min | Nov 13, 2018
59
Flames of Hatred
25 min | Nov 20, 2018
60
Defectors' Atonement
25 min | Nov 27, 2018
61
The Promised World
25 min | Dec 04, 2018
62
Those Who Boost Each Other Up
25 min | Dec 11, 2018
63
Not in the Slightest
25 min | Dec 18, 2018
64
The Red Thread of Fate
25 min | Dec 25, 2018
65
I'm Home
25 min | Jan 01, 2019
66
The Eye of the Midnight Sun's Secret
25 min | Jan 15, 2019
67
A Fun Festival Double Date
25 min | Jan 22, 2019
68
Battle to the Death?! Yami VS Jack
25 min | Jan 29, 2019
69
The Briar Maiden's Melancholy
25 min | Feb 05, 2019
70
Two New Stars
25 min | Feb 12, 2019
71
The Uncrowned, Undefeated Lioness
25 min | Feb 19, 2019
Asta and Yuno end up seeing Mereoleona scolding the members of the Crimson Lion Kings after the Star Festival. Mereoleona is the older sister of their former captain, Fuegoleon, and was unhappy with their performance at the Star Festival. She calls her brother a fool and Leopold and the other squad members defend him. She then says they're going to a volcano for a training camp and also ends up taking Asta, Yuno, Yami, Charlotte and Noelle with them as well...
72
St. Elmo's Fire
25 min | Feb 26, 2019
Asta and Yuno end up seeing Mereoleona scolding the members of the Crimson Lion Kings after the Star Festival. Mereoleona is the older sister of their former captain, Fuegoleon, and was unhappy with their performance at the Star Festival. She calls her brother a fool and Leopold and the other squad members defend him. She then says they're going to a volcano for a training camp and also ends up taking Asta, Yuno, Yami, Charlotte and Noelle with them as well...
73
The Royal Knights Selection Test
25 min | Mar 05, 2019
Kogoro arrives in Okura, Fukuoka with Conan and Ran. Company president Fukamachi, his senior from his days as an MPD police officer, accidentally fell, and he's unconcious in the hospital. Managing director Kiriyama hires Kogoro to catch the culprit who graffitied the office. If Fukamachi is unable to return to work, Kiriyama will become the next president. Kiriyama believes Fukamachi's son Torahiko graffitied in the office in order to prevent that. Kogoro investigates the graffiti, but the possibility that Kiriyama pushed Fukamachi arises...
74
Flower of Resolution
25 min | Mar 12, 2019
75
Fierce Battle
25 min | Mar 19, 2019
76
Mage X
25 min | Mar 26, 2019
77
Bad Blood
25 min | Apr 01, 2019
Klaus and Luck demonstrate how their skills have improved and after a short fight they are victorious as Luck defeats Rob with a powerful lightning kick that also destroys the crystal. Noelle is teamed with Yuno and En Ringard from the Green Praying Mantises. The instant the match begins Solid is determined to defeat and mock Noelle. Taking advantage of this Noelle moves to attack Solid's crystal knowing he will be unable to resist chasing her. Yuno faces Alecdora Sandler, a fellow Golden Dawn member who hates Yuno for becoming Vangeance's favourite despite being a peasant. Solid's teammate Dmitri Brint is immobilised by En's Mushroom magic. Noelle faces Solid alone and though Solid scratches her face she realises that his water magic no longer frightens her. Yuno easily defeats Alecdora without any help from Sylph. Meanwhile, Noelle finally destroys Solid's crystal with her Sea Dragon's Roar, knocking him out.
78
Peasant Trap
25 min | Apr 08, 2019
Much to the irritation of both the Clover King and Solid, Asta and Yuno have made it through the first round. For the second round Asta's team face Kirsch's team. Zora looks forward to his chance to humiliate a royal. Asta confronts Zora about his cheating, but Zora points out he has not technically broken any rules. Kirsch covers the entire battlefield in a storm of flower petal illusion magic. Asta uses the Anti-magic demons power to perform a new move, Black Hurricane, which erases the petals, nullifies Kirsch's illusions and even nullifies all Zora's traps. Zora is irritated until Asta tells him he never cared about his tactics; he only wanted them to work as a team. Zora has a flashback to his father and decides to cooperate by revealing how his magic works. Kirsch is furious his beautiful spell was ruined by Asta's peasant magic, and abandons Magna and Sol to attack alone. Asta tries to draw him into Zora's new traps but Kirsch avoids them with detection magic. He begins to attack Asta but suddenly falls into a pit Zora dug by hand, so as to avoid it being discovered by Kirsch's detection magic. Asta then knocks the furious Kirsch unconscious and thanks Zora for working as a team.
79
Mister Delinquent vs. Muscle Runt
25 min | Apr 15, 2019
Sol hides their crystal inside her golem and traps Mimosa. Magna attacks with a new fireball Asta is unable to deflect. Kirsch dreams of a starving peasant child he saw stealing and felt only disgust. Sol remembers when she was almost kidnapped by bandits and a boy who had promised to protect her was too scared to fight, and she was saved by Captain Charlotte instead. Sol berates Kirsch for fighting only for selfish reasons. Asta begins to anticipate Magna's attacks and Zora casts a trap that knocks Magna unconscious. Kirsch tries to unleash his full power on Asta but is caught in another trap and knocked out by Asta again. Sol finds her golem has been infiltrated by Mimosa's plants, allowing Asta to destroy the crystal. Zora points out where Sol, Magna and Kirsch need improvements. Mimosa recalls the starving child being fed by another starving child which made her realise that a peasant's difficult life can sometimes make them the kindest people. She congratulates Kirsch on acknowledging Asta's peasant strength and claims he has never looked more beautiful to her. Kirsch admits to himself that watching Asta duel with Magna was beautiful in its own way. The Clover King is furious a royal was defeated by a peasant. The next match is to be Finral's team against Langris' team.
80
Special Little Brother vs. Failed Big Brother
25 min | Apr 22, 2019
Langris recalls how his parents doted on him and arranged for him to marry a noble lady named Finnes Calmreich, whereas Finral was neglected. Langris was enraged to find Finnes preferred the weaker Finral instead of him. Langris attacks Finral's crystal, expecting to defeat Finral easily but is shocked when Finral cancels his attack. Finral explains that when two different spatial spells collide the mana currents cancel each other out. Leopold and Hamon attack the enemy crystal and duel with Flagil. Finral teleports Sekke away to the Black Bulls base where he is punished by Yami for disturbing him on the toilet. Enraged that Finral dare stand up to him Langris prepares his most powerful attack spell. Finral, who always regretted not being closer to Langris, begs him to stop. Further enraged at Finral's attempt to act like an older brother Langris attacks and though Finral tries to fight back his crystal is destroyed and parts of his body are violently teleported away. Langris' team are declared the winners. Langris recalls that while his parents loved him for being powerful everyone else loved Finral for being kind. Unable to handle his rage Langris prepares to attack and murder the unconscious Finral, but is stopped when Asta and the Bulls furiously storm onto the battlefield to defend Finral.
81
The Life of a Certain Man
25 min | Apr 29, 2019
The Wizard King intervenes while Finral's wounds are treated. Asta insults Langris' behaviour as unworthy of a magic knight. Langris requests the Wizard King allow him to fight the Bulls for their semi-final match, then attacks Asta. The Wizard King intervenes with his Time Magic and decides to allow the fight on condition it is fought by exam rules using their normal teams. Many people notice that Langris is not acting like himself. A flashback shows that the Wizard King suspects a magic knight might be a traitor without even realising it and is using the exam to identify the unwitting knight. Langris abandons his teammates and attacks Asta, demanding that he admit Finral is weak and Langris is a true knight. Asta loses body parts but keeps fighting with help from Mimosa's healing magic. Knowing he cannot use his demon power again Asta manoeuvres Langris into Zora's trap. Zora remembers his father, a magic knight who was murdered by his own squad for being a peasant. Zora then took on the character of a doll his father gave him, a warrior who protected the country in secret, and became a vigilante specialising in punishing magic knights who abused their powers.
82
Petit Clover! The Nightmarish Charmy SP!
25 min | May 06, 2019
As Asta and Zora battle Langris. Charmy wanders into the forest, seeking exotic ingredients to cook something tasty for Yuno and the Wizard King. After sampling a toxic mushroom she passes out and she and her sheep chefs begin to experience vivid hallucinations in the form of short 30 second sketches that feature members of the Black Bulls and other Black Clover characters in their Chibi forms. Charmy eventually awakens and, realising she has been dreaming the whole time, resumes her search for exotic ingredients. Back on the battlefield Zora prepares to punish Langris for failing to uphold the ideals of an honourable magic knight.
83
Burn It into You
25 min | May 13, 2019
Langris manages to send several spatial attacks past Zora's trap, but Zora reveals he had inscribed a trap onto his own body and Langris' spells are reflected back at him. Langris survives using even more powerful magic while Zora is left exhausted. Langris boasts of his superiority and attacks the weakened Zora but has his spells nullified by Asta in his demon form. Asta admits he admires Langris' abilities but has no respect for his forgetting that the exam was supposed to be about working together. Langris tries killing Asta but is knocked out, causing his crystal to be destroyed. At the same moment Asta's own crystal falls apart and their match is declared a draw. As always Zora both mocks and gives advice to everyone, including himself for not trusting his teammates. Asta passes out surrounded by all the magic knights who agree they must work together. The next match is Luck's team against Captain Rill's. Luck, Klaus and Puli combine their magic into a super-fast lightning arrow, but Rill redirects it, destroying their crystal instantly. In the next match Yuno beats the opposing team by himself without help from Noelle or En. The Wizard King announces that the final match will be Yuno, Noelle and En versus Captain Rill's team.
84
The Victors
25 min | May 20, 2019
Yuno and Rill prepare to fight. Asta is upset he missed his chance to duel Yuno in the final match. Yuno and Rill begin their duel while Rill's teammates duel Noelle and En. Yuno is unable to get past Rill's defences. As Rill is a squad captain Yuno decides to use a spell he was saving for his duel with Asta. Combining his battle experience with his vast amount of mana Yuno merges himself with Sylph. Using the full power of Sylph Yuno attacks Rill, and though Rill manages to block Yuno's spell his crystal is destroyed. The Wizard King determines that Rill used so much power he accidentally blew up his own crystal, resulting in victory for Yuno, Noelle and En. The Wizard King announces that based on their performance during the exam he will select between 10 and 20 knights to become Royal Knights. The Wizard King determines that Langris was the knight being secretly manipulated by the Midnight Sun but remains suspicious that something else is going on. Despite feeling upset Asta swears to Yuno that he will catch up to him one day. As he is leaving Zora is confronted by the Wizard King who reveals he knew Zora's father, Zara, and that he created the star system to honour Zara, so that magic knights would get recognition for their deeds, whether they are noble or peasant. He further reveals he plans to make Zora a Royal Knight, but suggests that from now on Zora only wear the robes of the magic squad he already belongs to.
85
Together in the Bath
25 min | May 27, 2019
Having failed to face Yuno in a duel Asta becomes depressed and unresponsive to the Bulls efforts to cheer him up. The other Bulls are all nervous about the results of the exam and excited to find out which of them has been chosen as a Royal Knight. To snap them all out of their odd behaviour Yami orders them to participate in a team bath. While in the bath Yami reminisces about his past when he first joined the Grey Deer squad, now known as the Aqua Deer squad, with the Wizard King as his squad captain. He was hired by villagers to protect their harvest from bandits in exchange for food since the villagers had no money. Yami agreed but while fighting the bandits was overwhelmed by their numbers, until he received help from Captain Vangeance, who at that time was only another member of the Grey Deer's, not yet a captain. Together they captured all the bandits except the leader who escaped. Before going their separate ways Yami and Vangeance decided to become rivals and see who would become a Squad Captain first, and their rivalry continued for many years afterward.
86
Yami and Vangeance
25 min | Jun 03, 2019
Several years later both Yami and Vangeance were promoted to vice-captain while their former captain became the Wizard King. The Wizard King asked Yami and Vangeance to deal with a bandit group, hoping to identify a traitorous magic knight. Vangeance spread false information, limiting the number of villages the bandits could attack to only two and sent Yami to one while he went to the other. The bandits attacked Yami's village and Yami found himself facing the bandit leader who escaped years ago, now armed with a powerful magic staff. Yami defeated him regardless but was trapped by two traitorous magic knights, Goht of the Crimson Lions and Mohl of the Silver Eagles. They attempted to kill Yami to cover up their crimes but Yami was rescued by Vangeance and they defeated the traitors. The Wizard King promoted Yami and Vangeance to Squad Captains. Yami decided to only accept hooligans and outcasts and formed the Black Bulls while Yami formed the Golden Dawn and only accepted strong nobles. Asta fails to see the point of Yami's story, to never quit no matter how many times Yuno beats him, and is punished for being an idiot. Asta regains his former spirit and joins the other Bulls waiting for the exam results, only for the sudden and violent arrival of Mereoleona of the Crimson Lions.
87
Formation of the Royal Knights
25 min | Jun 10, 2019
88
Storming the Eye of the Midnight Sun's Hideout!!!
25 min | Jun 17, 2019
Asta and Noelle visit Leopold in hospital where Fuegoleon is still in a coma. Having both received encouragement from Fuegoleon Asta and Noelle swear to defeat the Midnight Sun on his behalf. Asta shares his confusion with Noelle about something Vetto said about not being able to forgive humans. Klaus warns them to be vigilant against the Midnight Sun's spies, though as they leave a shadow attaches itself to Asta and follows them. Klaus worries that despite being the strongest knights in the kingdom; most of the Royal Knights are also some of the worst troublemakers, such as Luck and Zora. The shadow attempts to spy on Mereoleona but she spots and exposes it as a spy whom she captures and interrogates. She decides they will attack the Midnight Sun in the morning rather than in three days, though Zora suspects she always intended to do so. To infiltrate the Midnight Sun's hideout they split into teams with orders to reach the centre by any means necessary. Mereoleona teams up with Asta and Zora. As the battle begins Rhya decides to join the battle, activating the Third Eye in his forehead while secretly revealing Licht is not in the hideout but is somewhere else entirely.
89
The Black Bulls' Hideout
25 min | Jun 24, 2019
Yami is summoned to the Golden Dawn so Captain Vangeance can apologise for Langris injuring Finral. Vanessa leaves to visit Finral, Magna leaves to train alone and Charmy leaves to search for new ingredients. Gauche, Grey and Gordon remain behind. Gauche becomes interested in why all the rooms keep rearranging and recalls stories Charmy and Vanessa told of seeing a ghost. The base is suddenly attacked by zombies summoned by Rades Spirito, along with Sally and Valtos. Gauche destroys the zombies before learning from Sally that Licht has forbidden them from killing him. Sally reinforces one of the zombies, making it more powerful, but it is destroyed by Gordon's poison magic. She tries to attack with her gel salamander, but Grey uses transformation magic to turn the gel to crystal, which Gauche shatters. Rades summons a new zombie, No. 0 Mikael Caesar, which is made from the corpses of two squad captains and uses both Wind and Plant magic. Zombies swarm into the base, infuriating Grey and Gordon, who consider the base to be their real home, and they both speak loudly and clearly for the first time that they will protect it. An alarm suddenly sounds from the base which violently rearranges itself in response to being invaded, revealing a mage with long, light blue hair concealed inside, who demands to know what is going on.
90
Crazy Magic Battle
25 min | Jul 01, 2019
91
Episode 91
25 min | Jul 08, 2019
92
Episode 92
25 min | Jul 15, 2019
93
New Future
25 min | Jul 29, 2019
94
Reincarnation
25 min | Aug 05, 2019
95
The Black Bulls Captain VS the Crimson Wild Rose
25 min | Aug 12, 2019
96
Episode 97
25 min | Aug 19, 2019
---
Editions
| Barcode | Format | Region | Released | Edition |
| --- | --- | --- | --- | --- |
| 704400025761 | | 1 | Nov 06, 2018 | |
| 704400024566 | | 1 | Aug 07, 2018 | |
| 704400019890 | | 1 | Jan 15, 2019 | |
| 704400019906 | | 1 | Apr 09, 2019 | |
| 704400019883 | | 1 | Jan 15, 2019 | |
| 9317731146237 | | | | |
---
---