Black Mirror
Black Mirror: Season 1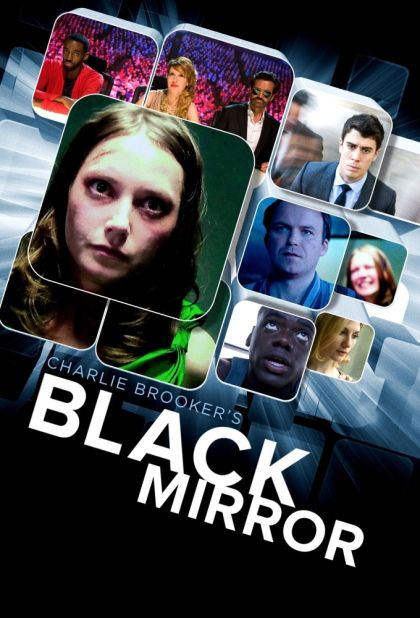 Zeppotron (2011)
Drama, Science Fiction, Fantasy, Thriller
UK | English | Color | 3h
Charlie Brooker, the author of E4's BAFTA nominated Dead Set, returns with a new three-part 60 minute mini-series for autumn 2011. Charlie authors two of the three films while the third is written by Jesse Armstrong (Peep Show, The Thick of It, Four Lions).

Over the last ten years, technology has transformed almost every aspect of our lives before we've had time to stop and question it. In every home; on every desk; in every palm - a plasma screen; a monitor; a smartphone - a black mirror of our 21st Century existence. Our grip on reality is shifting. We worship at the altars of Google and Apple. Facebook algorithms know us more intimately than our own parents. We have access to all the information in the world, but no brain space left to absorb anything longer than a 140-character tweet.

Black Mirror is a contemporary British re-working of The Twilight Zone with stories that tap into the collective unease about our modern world. The three stand-alone dramas are sharp, suspenseful, satirical tales with a techno-paranoia bent.
---
---
1
The National Anthem
60 min | Dec 04, 2011

A twisted parable for the Twitter age, The National Anthem looks at how life is very much harder for the rich and supposedly powerful now that information is disseminated so quickly and public opinion is so loud, powerful and quick to change. It's a political thriller in which the Prime Minister faces a huge dilemma - and that's all that can be revealed for now... The cast includes Rory Kinnear and Lindsay Duncan.
Director: Otto Bathurst
Writer: Charlie Brooker
Guest stars: Rory Kinnear, Lindsay Duncan, Tom Goodman-Hill, Donald Sumpter, Lydia Wilson, Anna Wilson-Jones, Alastair MacKenzie
2
15 Million Merits
60 min | Dec 11, 2011

Set in a sarcastic version of a future reality, 15 Million Merits is a satire on entertainment shows and our insatiable thirst for distraction. In this world, everyone is confined to a life of strange physical drudgery. The only way to escape this life is to enter the 'Hot Shot' talent show and just pray you can impress the judges. The cast includes Julia Davis, Rupert Everett, Daniel Kaluuya and Jessica Brown-Findlay.
Director: Euros Lyn
Writer: Charlie Brooker, Konnie Huq
Guest stars: Julia Davis, Rupert Everett, Daniel Kaluuya, Jessica Brown-Findlay, Allen Leech, Ashley Thomas, Paul Popplewell
3
The Entire History of You
60 min | Dec 18, 2011
In Memoriam (working title), written by Jesse Armstrong, is set in an alternate reality where everyone has access to a system which records everything they do, see or hear. You need never forget a face, a holiday or a night out again... but is that always good thing?
Director: Brian Welsh
Writer: Jesse Armstrong
Guest stars: Toby Kebbell, Jodie Whittaker, Tom Cullen
---
Editions
| Barcode | Format | Region | Released | Edition |
| --- | --- | --- | --- | --- |
| 8717344756808 | | | | |
| 8436022309210 | | | | |
| 6867441057390 | | | | |
---
---